North American Arms Black Widow .22 Mag. Revolver and Desert Gun Leather Holster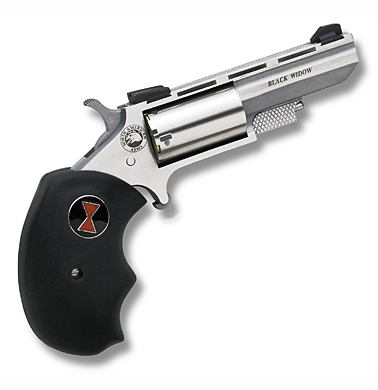 Illustration courtesy of North American Arms
In 1980, I purchased a North American Arms (northamericanarms.com) .22 LR revolver and enjoyed carrying it almost daily for many years. Unfortunately, somewhere between then and now it disappeared from my collection. I always liked that little revolver, so I recently decided to purchase one of their larger and more powerful models, the NAA Black Widow in .22 Magnum (NAA-BWM).
The Black Widow is available in .22 LR or .22 WMR. There is also a Black Widow Convertible model supplied with both cylinders.
After my .22 Magnum Black Widow arrived I examined my new acquisition. The fit and finish of this satin polished, stainless steel mini revolver is stellar. Its faux ventilated rib and squarish two inch barrel highlight its overall contemporary design.
The standard model comes with removable, dovetail mounted, front and rear fixed sights with three white dots. Adjustable sights are optionally available, as are lasers, for the NAA Black Widow. The standard sights are well proportioned and fully functional. (The smallest NAA mini revolvers lack a rear sight, but not the Black Widow.)
The widest part of this revolver is the ergonomically formed rubber grip that fits the palm of even a large hand. With a width measuring one inch thick it looks a bit over sized, but it is functional and comfortable to shoot.
When held to a bright light not a glimmer can be discerned between the cylinder and the barrel, nor at the rear of the cylinder. These are really tight tolerances, especially for a revolver with a 2017 MSRP of $288.00.
Loaded with 40 grain cartridges the revolver weighs a mere 9.4 ounces and balances perfectly when placing your index finger below the frame immediately in front of the trigger. That's nice!
There is no trigger guard to keep fingers off of the trigger, but this is a single action revolver; the hammer must be manually cocked before the revolver can be fired. The firing pin is a blade integral with the hammer and the cylinder has notches between the chambers, so it is safe to carry the gun with the cylinder fully loaded (five cartridges) and the hammer down with the firing pin in one of the notches.
As with most NAA mini revolvers, loading/unloading is accomplished by removing the cylinder pin and the cylinder. The cylinder pin is then used to push out the fired cases. Reload and reinsert the cylinder to continue shooting. This is a simple process, although slower than a Peacemaker style single action revolver with a loading gate and ejector rod mounted under the barrel.
I have not done an accuracy test from a bench rest, but every time I pull the trigger the little revolver goes bang. Through a chronograph three shots of Armscor 40 grain jacked hollow point ammo averaged 1134 FPS at 10 feet from the muzzle. This is about the same or slightly higher than standard velocity .22 LR rounds fired from a 22 inch rifle barrel.
NAA-BWM Features
.22 Magnum caliber
5-shot capacity
Heavy vent barrel
Marble Arms low profile fixed sights
Bull (un-fluted) cylinder
Oversize black rubber grips
Specifications
Model: NAA-BWM
Caliber: .22 Magnum
Capacity: 5
Length: 5.88"
Height: 3.69"
Barrel length: 2"
Action: Single action
Grips: Black rubber w/BW logo
Country of origin: USA
2017 MSRP: $288
The Holster

The Desert Gun Leather Black Widow Magnum pancake holster (in brown).
Finding a proper holster for the Black Widow was not as easy one would think. The typical pocket holster is inexpensive and it is essentially designed like a mitten. Removing the handgun requires little effort; it simply slides out. (Getting the gun back in a pouch holster, which collapses after the gun is withdrawn, is a different matter.)
This may be fine and dandy, as long as you are in a vertical position, but should you find yourself grappling with an assailant on the ground your gun could slip out and possibly provide an opportunity for a bad guy to get his nasty hands on it. This is not good, not good at all.
A proper holster should be one that fits more like a glove. The holster should be made of durable leather, specifically designed for the NAA Black Widow revolver. Hopefully, it will not break the bank.
After an intense search of the internet I found a link to Desert Gun Leather in Phoenix Arizona. They make holsters for many of the NAA revolvers, as well as other handguns. Luckily for me, they made both a pancake and a pocket holster for the Black Widow.
I spied a brown pancake holster that appeared to be perfect, but there also was a pocket holster that was black with blue stitching. I called one of the owners, Rick Jorgenson, and asked it the pancake holster could be made in black and blue and if it would cost more for the customization.
His reply was, "Sure I can do that and without any additional cost." I ordered the holster and about 10 days later it arrived.
The holster is beautiful and its wet molded design fits my Black Widow like a glove. The leather is sturdy with 1-3/4 inch wide belt loops. The stitching is nicely done with double rows on either side of the imprint of the revolver. The muzzle end is open, so there is no concern about debris from collecting in the bottom. The holster is contoured to wrap around your waist, which makes it comfortable to wear and ideal for concealment when wearing a shirt over the Black Widow.
Another feature I really like is that the grip of the revolver is completely exposed, thus allowing for precise extraction. This makes your revolver quite accessible, even when in a sitting position. A stiff belt measuring 1-1/2 inches wide is highly recommended.
A custom holster of this quality with a $50.00 price tag is almost unheard of these days and it even ships for free. What a bargain! To top it off I ordered the pocket holster and I didn't even ask Rick what the price was, knowing that the cost for his quality holsters is a non-issue for me.
There you have it, an easily concealed Black Widow .22 Magnum and a fine holster to carry it in. For Desert Gun Leather NAA holsters, visit desertgunleather.com.
Note: For a full review of the NAA Black Widow Convertible Revolver, see the Product Reviews page.