North American Arms Magnum Bug II Combo: The Bug with a Bite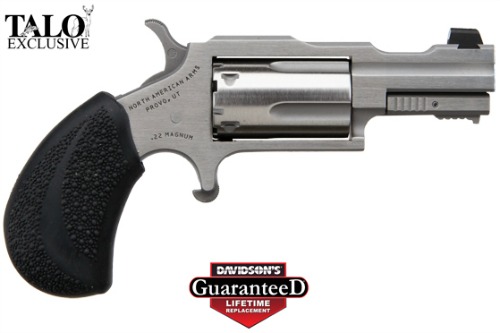 Illustration courtesy of Davidson's.
"The purpose of the pistol is to stop a fight that somebody else has started, almost always at very short range." -Jeff Cooper
There is nothing glamorous about self-defense, but the singular rule that applies is that to defend yourself, you need to have the means to do so. Carjackings are hitting all time highs in some areas. Chicago recorded nearly 1000 incidents in 2017 alone. There is no sign that the situation is improving. The problem with concealed carry is that often concealed carry holders don't, for reasons of inconvenience.
The chances of being forced to use a gun in self-defense are low. I have had to exactly once in my life. However, without the means to defend yourself, you are a soft target, essentially defenseless in many cases.
The North American Arms BUG II is available in .22 WMR only, or as a Combo, with two supplied cylinders, one .22 LR and one .22 Magnum. Either way, you have five shots at your disposal with a minimum of bulk and a maximum of reliability.
The BUG II has a 1-1/2 inch stepped barrel and an XS Sights Big Dot front sight. The XS Sights Tritium front sight is a very good addition, for an estimated 70% of defensive gun uses happen in low light conditions.
This is a TALO distributor exclusive with wide-spread availability. Your local gun shop should have little problem getting one for you in a jiffy. I just checked Davidson's "Gallery of Guns" for the combo set I am reviewing.
Specifications
UPC: 744253002984
Model: Bug II TALO
Type: Single action revolver
Caliber: .22 LR and .22 WMR
Capacity: 5
Barrel length: 1.5"
Finish: Stainless steel
Front sight: XS dovetailed white dot
Safety: Safety-notched cylinder
Grips: Hogue black rubber
Grip style: Bird's head
Description: NAM COM BUG II 22LR/22M SS TL
Country of Origin: USA
2018 MSRP: $299.95
The retail price in this area (Naperville, IL) is $255.20 for the dual cylinder version. The Magnum Bug II, with only one cylinder, is about $25 less. Of course, individual dealers set their own prices. As with most all North American Arms mini revolvers, the Magnum Bug Combo comes nicely presented with a metal, lockable, padded hard case.
The cylinder pin is called the "Sheriff Style," with a serrated surface that makes it easy to pull out the pin to reload or to change cylinders. The back of the stepped barrel is channeled, to make sighting quicker, easier and more accurate.
The classic Safety-Notch NAA cylinders make this little gun safe to carry and also safe to drop, although dropping is not a grand idea with any firearm. One qualifier: NAA warns not to use PMC ammunition.
The rubber, pebbled texture slip-on grips by Hogue are not the most beautiful that NAA offers, but they are among the most functional. Check the NAA website (northamericanarms.com) for many other options.
The Bug II is easy to hang on to and quite controllable with .22 WMR loads. It does not take much shooting before you appreciate the Hogue grips and the XS Sights Big Dot / channeled frame sight picture.
The Bug II works well as a anti-carjacking device and as a back-up handgun. It fits almost anywhere, from biker wallets to women's accessory purses. Our idea of a "pocket handgun" has a lot to do with the size of our pockets. The Bug II is pocketable by essentially everyone.
You can expect around 950 fps or so muzzle velocity with Hornady 45 grain Critical Defense ammo. Hornady FTX 45 grain Critical Defense .22 WMR loads deliver roughly the same penetration in ballistic gel (9-1/2 inches) as .380 ACP rounds. Loads such as this, with low muzzle flash propellants, give the Bug its significant bite.
Though the polar opposite of a target pistol, the BUG-II (like all NAA Mini-Revolvers) has no problem putting hits in the A-zone at intimate defensive ranges. The Bug-II is a fix, not for the times you have full size handgun at the ready, but for the times you do not.
The platform of the BUG II has been used by DEA agents to make drug busts on the beach, dressed only in their Speedos. Some folks have asked: "How"?
In a few cases, it was a Big Gulp full of iced tea. Pour it into your hand, and Bingo! It is an instant appearing revolver and, "You're Busted!"