NcSTAR GREEN LASER / FLASHLIGHT COMBOS
By Rocky Hays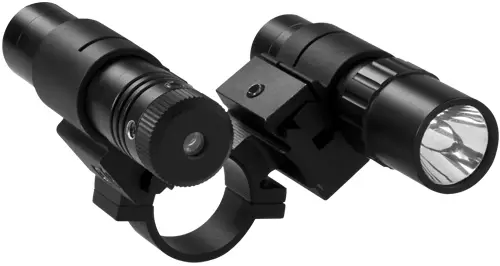 Model ASFLG1. Illustration courtesy of New Century NcStar, Inc.
Last year, I needed a cheap red dot scope for a project. Looking through catalogs, I found an NcStar 1x30mm Red Dot Scope. The company I ordered from offered free shipping for orders over $50; so I had to order two of the Scopes to get the free shipping. When the NcStar Red Dot Scopes arrived, I was pleasantly surprised to find all aluminum bodies, integral Weaver Picatinny rail mounts, positive click windage and elevation adjustments with aluminum covers, bright clear red dot with 7-position rheostats and spring-loaded flip-up lens covers. These scopes are an excellent value for the price. This prompted me to stop in at the NcStar booth at the 2012 Las Vegas, NV, Shot Show, to examine their other products.
NcStar (www.ncstar.com) is a multi-line manufacturer, an original equipment manufacturer and a contractor. They have been around for many years and at the turn of the 21st Century, began selling under the New Century Star brand name. They have a full line of optical products, including rifle scopes, pistol scopes, spotting scopes, binoculars, monoculars, flashlights and laser sights. Most of their products are geared towards tactical scope sights and mounts. Because of this, Guns and Shooting Online (written for and by recreational shooters) has largely overlooked NcStar, as we don't have much interest in AR15/M16, AK47, SKS, etc. About as tactical as we get is personal and home defense.
At the NcStar booth, I found several tactical products that would work very well in the Personal Defense category, similar to products that I own and use from other manufacturers. I chose to review two similar products; both are Green Laser and LED Flashlight Combos that retail at $79.99 each: the ASFLG1 (see illustration at top of page) and the AQPTFLG (see illustration below). These are the NcStar product designations.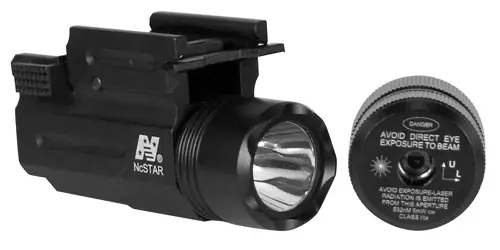 Model AQPTFLG. Illustration courtesy of New Century NcStar, Inc.
AQPTFLG is a single body with inner-changeable front bezels that change it from a wide-angle flashlight to a green sighting laser. It is solidly built of anodized aluminum and weighs 3.3 ounces (flashlight) and 3.8 ounces (laser). It is 3 inches long, 1.5 inches high and slightly over 1 inch wide, but the side push on/off switch makes it 1.3 inches wide. The on/off switch is a sideways push lever with a positive click that can be easily activated, even when wearing heavy gloves. The flashlight front is a one watt, bright LED with a peak output of 35 lumens.
On the Lux Meter, it easily exceeded this with a new battery. The flashlight is non-adjustable. It has a wide angle of illumination, intended to light a person's full field of view. At 75 feet distance, it very effectively lights a path greater than 75 feet wide; at 150 feet, it is out of its effective range. In close quarters or inside a building, it lights everything in the field of view.
With the flashlight bezel removed and the laser bezel attached to the body, the AQPTFLG becomes a green sight laser (or cat toy). The laser front is fully adjustable for windage and elevation. It is a 5 milliwatt output laser, which is the maximum allowable by Federal law. This unit has a quick-release Weaver/Picatinny rail mount. By pushing up a spring-loaded lever, it is released from the Picatinny groove and simply slides off the rail. This is the best designed quick-release yet and I wish I could get it on rifle scope rings. Are you listening NcStar?
The ASFLG1 is a dual light fixture. It comes with a separate flashlight and a green sighting laser that are mounted in specially designed Weaver Picatinny mounts. These mounts are very innovative, in that they allow the light and the laser to be clamped tightly in place with separate screws from the Weaver rail clamp. This allows the laser to be rotated and clamped so that the windage and elevation adjustments can be oriented horizontally and vertically for easy adjustment. The combo is supplied with a scope rail mount, which has dual offset Weaver style Picatinny rails. The scope rail mount comes in three diameters: 34mm, 30mm and one inch. It is intended to add a laser sight and flashlight to a tactical rifle scope. When I saw this set-up, my first thought was that it would mount to the magazine tube of my home defense 500A Mossberg pump shotgun, and it does.
The laser and the flashlight on the ASFLG1 are both anodized aluminum. Each has a rubber-covered push button switch at the back and each is 3¼" long and less than 1" in diameter. The flashlight performs exactly like the flashlight on AQPTFLG; I suspect they are the same light.
I am an advocate of laser sighting devices for people who don't shoot frequently, but have a personal defense firearm. A laser makes sighting intuitive. Simply look at the target and find the laser dot. Every bad guy knows what a laser dot coming at him can mean and that, alone, can end a confrontation.
My main interest in these two NcStar laser combos was the green laser and I extensively tested the two against more expensive scientific-use 5mW green and red lasers. Using a Lux Meter, I determined that all three green lasers produced the same 1200 lumens at one foot. Against a flat black surface at 50 feet, I examined the three green dots for their relative size and shape and to determine if there were any stray beams of light. The scientific laser produced a slight oval-shaped dot 3/8" across without scattered errant beams and both NcStar lasers were 5/8" round dots with a slight amount of errant beams. The reason for the errant beams is most likely the quality of the lens in front of the laser and none of the errant beams would be noticeable under normal use as a sighting laser.
If you are planning to buy a laser, buy a green laser. Both of the NcStar lasers produce light at the 532 nanometer wavelength, which is squarely in the middle of our visible light spectrum of 400 to 670 nanometers. This means that our eyes are much more receptive to green light than red light. Red lasers operate around 650 nanometers, which is close to the infrared at 670 nanometers, and we cannot see this wavelength. A green laser is much more usable in all types of light, from daylight to dark, whereas a red laser only works in the dark or indoors.
I tested these NcStar lasers against lasers for which I had paid four times as much and the expensive lasers were no better as sighting lasers. The following is a quote from NcStar advertising: "NcStar continues to impact the optics and shooting industry by offering quality products at prices that are affordable." With a one year warranty on their electronic devices, their price/quality is hard to beat.