Nightforce NXS 12-42x56mm and NXS 8-32x56mm Riflescopes
By S. L. Clary
NXS riflescope. Illustration courtesy of Nightforce USA, Inc.
The Nightforce NXS 12-42x56 riflescope is a serious tactical scope for the serious target shooter. It is a physically large scope with a 30mm main tube and a 56mm objective lens. The windage and elevation adjustment knobs are large for convenient fingertip adjustment and it features a side mounted parallax correction knob. A sunshade is supplied with every scope. With sunshade attached, you have a 16.125" long scope that weighs 34 ounces. It is no lightweight.
The following comments with respect to construction, durability and reliability also apply to the Nightforce NXS 8-32x56. I used that model with great success at the 2007 F-Class National Championships and was going to equip both of my F-Class rifles with NXS 8-32x56 scopes when the option to "upgrade" to the NXS 12-42x56 was presented. The NXS 8-32x56 has been the "standard" for F-Class for years and it is excellent for the purpose.
Aside from the magnification, the only significant difference between the two scopes is the amount of internal adjustment for elevation and windage. The NXS 12-42x56 has less adjustment, which is easily compensated for with a 20 MOA mount rail. The choice between the two scopes is a matter of preference, not quality.
These scopes are constructed to be durable and reliable under all conditions. Nightforce uses the terms "rugged" and "precision optics" to describe their scopes. That is a pretty bold statement given that most instruments which are built to extremely high tolerances with absolute alignment are delicate instruments. However, the folks at Nightforce have proven that their scopes are an exception to the rule. These riflescopes are not delicate and their precision sets a high standard of excellence.
The tubes are machined from bar stock of aircraft-grade aluminum alloy. They are not extruded or formed as are most other scopes. The tube walls are two to three times thicker than most other scopes. That translates into less stress, greater thermal stability and an incredible shield for the optics inside.
Every air-to-glass surface is multi-coated to tolerances of 0.000005 inches and exceeds every Mil-Spec abrasion test. The benefit of this extreme care becomes apparent in low-light conditions.
The lenses of all Nightforce scopes are matched and aligned by hand to insure optimal performance. This is referred to as optical indexing and it provides the highest possible performance and resolution. This is a time-consuming and labor intensive process, but well worth the results.
With all that has been said above, there is a final aspect of Nightforce production that places them above other scopes on the market, their Quality Assurance testing. EVERY Nightforce scope is subjected to a seventy-five step series of QA tests. No other scope manufacturer has such a rigorous QA program. Their side impact tests would destroy most scopes. Each scope is side impacted at 12, 3, 6 and 9 o'clock and must maintain 1/8 MOA or less track-out within 40 minutes of vertical adjustment after each series of impacts. After each scope passes all QA tests, it is given a green tag that is initialed by the NF technician.
Folks who have visited the factory tell me that the technicians are brutal. They absolutely will not initial that green tag unless the scope meets all factory specifications. The factory keeps a record of every scope shipped and the technician responsible for the build and QA process.
If you ask any competition or military shooter who has experience with Nightforce scopes, they will tell you that they are the toughest in the world. However, they often overlook what I consider to be an equally important quality, the optics. The company uses the best optical glass available. They measure resolution in seconds of degrees in all of their scopes. Resolution is the ability for an optical instrument to resolve an image's fine detail at specified distances. Nightforce started down this path in order to produce the finest high magnification competition scopes in the world.
Here are some pertinent specs for the Nightforce NXS 12-42x56mm and 8-32x56mm scopes (8-32x56mm specifications in parenthesis when different).
<![if !supportLists]>· <![endif]>Magnification: 12-42x (8-32x)
<![if !supportLists]>· <![endif]>Objective lens diameter: 56mm
<![if !supportLists]>· <![endif]>Ocular lens diameter: 36mm
<![if !supportLists]>· <![endif]>Main tube diameter: 30mm
<![if !supportLists]>· <![endif]>Overall length: 16.1" (15.9")
<![if !supportLists]>· <![endif]>Weight: 34 ounces
<![if !supportLists]>· <![endif]>Eye relief: 3.8"
<![if !supportLists]>· <![endif]>Internal adjustment range: 45 MOA elevation, 35 MOA windage (65 MOA elevation, 45 MOA windage)
<![if !supportLists]>· <![endif]>Click value: .25 MOA
<![if !supportLists]>· <![endif]>Reticles: All NP reticles, CH-1, CH-2, CH-3, MLR, Mil-Dot
Both of my Nightforce NXS scopes have NP-R2 reticles. The reason is simply that I prefer the NP-R2 reticle for F-Class shooting. However, many other shooters prefer the Mil-Dot, MLR and NP-R1 reticles. It is a matter of personal preference. Regardless of the reticle you order, it is etched on compound optical glass. This insures a clear reticle in your field of view, with no distortion at maximum magnification. As an extra added bonus, there is an internal lighting source to illuminate the reticle against the target under low light and low contrast conditions. The illumination is adjustable to suit individual preferences.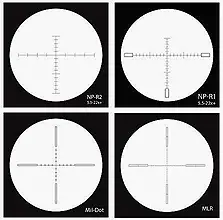 NXS reticles. Illustration courtesy of Nightforce USA, Inc.
Given the quality of this riflescope, you must ask yourself whether your firearm is equal to the Nightforce. If you are going to invest in a Nightforce scope, you should have a rifle that is up to the task. I have one Nightforce NXS mounted on a custom rifle by Charley Robertson of Score High Gunsmithing, Albuquerque, New Mexico. This 6mmBR rifle is a real tack driver. It is built on a Remington Model 700 short action with a K-P bull barrel and McMillan Tooley MBR stock. The scope is mounted on a Nightforce 20 MOA rail with 1.125" Nightforce rings.
This was my first F-Class rifle. The 6mmBR cartridge is more economical to shoot than the 6.5mm-284 because the barrel is good for 2,000 to 3,000 rounds before it will need to be replaced for F-Class competition. A 6.5x284 barrel will probably need to be replaced between 1000 and 1,200 rounds. The only drawback to the 6BR is the effect of wind on the 105 grain bullet. That is why the 6.5mm-284 Norma is more popular among F-Class shooters. With a 140 or 142 grain bullet, it is less subject to air movement. However, the 6mmBR remains a competitive cartridge. In addition, if you want to shoot in benchrest competition, the 6mmBR has the advantage. I shoot rifles in both calibers in F-Class matches.
My second NXS Nightforce scope was mounted on my Savage M12 F-Class rifle by Alan Warner, Warner Tool Co., Keene, New Hampshire. It also sports Nightforce rail/rings and is chambered in 6.5-284 Norma. This is rapidly becoming the "standard" F-Class Open cartridge, although 7mm's are popular with shooters outside the U.S. and a few Americans are experimenting with the 300 WSM.
At this point, some readers may wonder why I had professionals mount my scopes. Competition scopes are not like your run-of-the-mill hunting scopes. They are precision pieces of equipment that may require lapping of the rings to avoid strain on the tube which might effect the adjustments. They require perfect alignment with the barrel for optimal performance. I can shoot, but I leave the preparation of my equipment to the experts like Charley and Alan. That way, I know that if the rifle/scope combination doesn't perform to my expectations it is my fault, not the equipment.
A world class shooter from Ireland with whom I competed in the 2007 Nationals told me (before I bought my Nightforce), "If you don't have a Nightforce, you might as well throw rocks at the target." Some folks might say that is an exaggeration, and it is. However, it underlines the Nightforce reputation among top competition shooters. While it is true that there are a couple of other target scopes in the Nightforce class, they cost almost $1,000 more.
If a single picture is worth a thousand words, then the following just about says it all when it comes to the ruggedness and reliability of Nightforce scopes.
NSX scope with bullet hole just forward of zoom ring. Illustration courtesy of Nightforce USA, Inc.
That is a 7.62x39 bullet hole in the Nightforce, fired at an American soldier by the enemy. The magnification ring of the scope was "locked" at 15x. However, the focus, tracking and windage/elevation adjustments still functioned perfectly and it retained its point of aim. The soldier wrapped some duct tape around the scope to keep the sand and dirt out and completed his mission over the next three days. Maybe these scopes aren't bulletproof, but there is one G.I. out there who would probably argue the point with you. Most important of all, he was not injured in the incident. Nightforce scopes are used by many of the Special Forces teams in the free world. These soldiers depend upon their equipment for their survival. The fact that they prefer Nightforce is a testament to the rugged nature and reliability of these scopes.
While my experience with Nightforce scopes can't compare to that of soldiers in the field, I can attest that in competition shooting, they have no peer. The adjustments for windage and elevation are quick, reliable, efficient and repeatable. Given minor changes in shooting conditions, the NP-R2 reticle allows me to hold off center to compensate and still place the round in the 10-ring. You will never regret spending your money on a Nightforce scope. It is the standard by which all other target scopes are judged.