Nikon 1.5-4.5 EER Handgun Scope
By Chuck Hawks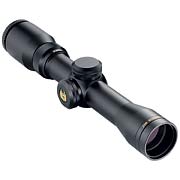 Illustration courtesy of Nikon USA
Nikon products generally reflect solid design, high manufacturing standards, and rigorous quality control combined with optical excellence. And so it is with Nikon EER Pistol Scopes. (EER stands for "Extended Eye Relief.")
The sample Nikon EER handgun scope that is the subject of this review is the variable power 1.5-4.5x24mm model, which has since been discontinued. This is a big pistol scope, measuring approximately 9" in length with an objective bell 1 1/4" in diameter and an ocular bell 1 3/8" in diameter.
It is built on a one-piece, 1" diameter aluminum alloy main tube and is nitrogen gas filled and o-ring sealed to make it fog and water proof. It could be purchased in black luster or silver finish. The test scope is the latter.
The 1.5-4.5x24 features Nikon's Super Multi-coated optics and blackened internal metal surfaces to reduce flare, which is well controlled. Images seen through this scope are well defined and contrasty, with good edge to edge sharpness.
The eye relief is adequate for shooting one-handed with my arm fully extended when the scope is set at 1.5 power, and I have fairly long arms. At 2x I can shoot from a Weaver stance. At 3 power I can still shoot from a bench rest. At 4.5 power the eye relief has decreased to the point that I am not comfortable shooting from any position. At all powers the alignment of the eye in relation to the axis of the scope is critical.
As with any variable power scope, the field of view also decreases as the magnification is increased. And the apparent "jiggle blur" increases. For these reasons I usually shoot with the power ring set at 1.5x or 2x.
This Nikon 1.5-4.5 EER scope is mounted directly to the solid barrel rib of a Ruger Super Blackhawk Hunter .44 Magnum revolver with the supplied Ruger rings. The scope's silver finish nicely matches the fine matte finish of the stainless steel Ruger revolver. Its accurate 1/4 MOA windage and elevation adjustments made sighting-in the big revolver easy. The variable power ring turns smoothly and precisely and holds its setting perfectly.
Although no longer in the Nikon line, this scope is clearly a quality product and has the same basic features as the current EER models. Most important to me is its rugged construction, which has stood up to the recoil of a .44 Magnum revolver without any problem for several years. Its clear, bright optics that give an excellent view of the target are a close second. My long term experience with this scope has been very positive.
In summation, I would certainly give the Nikon 1.4-4.5x24mm EER scope "two thumbs up." The recoil acceleration of magnum handguns is very high, so the high quality and solid construction of any EER scope is crucial to long term owner satisfaction. This Nikon EER scope is clearly up to the challenge. Nikon Monarch handgun scopes are not inexpensive, but they are a good investment.