Nikon Buckmaster 3-9x40mm Riflescope
By Chuck Hawks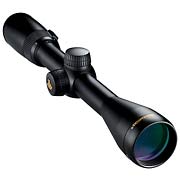 Illustration courtesy of Nikon USA
Nikon made their worldwide reputation as a manufacturer of professional grade 35mm cameras and lenses. However, they also manufacture many other premium optical products in the medical, industrial, and consumer fields. One of those, introduced (if I remember correctly) during the 1980s, is telescopic sights.
Nikon's Buckmaster riflescopes constitute their medium priced line. One of the most popular of these is the scope reviewed here, the Buckmaster 3-9x40mm. Nikon bills this scope as a: "Classic variable, excellent for game from deer to varmints."
3-9x variable power scopes are the most popular type on today's market. They offer lots of magnification for target shooting and sighting-in at the rifle range at the higher (6x-9x) powers, and adequate field of view for most big game hunting applications at the low (3x-5x) end of their magnification scale. Actually, the 2-7x or 2.5-8x variable power scopes are probably an even better all-around big game hunting scope, as they offer a greater field of view at minimum power, but magnification is easy to sell so the 3-9x is more popular.
The Nikon Buckmaster 3-9x40mm is Nikon's most popular entry in this mainstream scope market. It is widely available from online retailers, sporting goods stores, gun shops and discount department stores across the U.S.
Specifications
Model # -
6425 (black matte), 6415 (silver).
Actual magnification -
3.3-8.5x
Objective diameter (mm) -
40
Exit pupil (mm) -
12.1-4.7
Eye relief (inches) -
3.5-3.4
Field of view (ft. at 100 yds.) -
33.9-12.9
Tube diameter (inches) -
1
Objective bell diameter (mm) -
47.3
Ocular bell diameter (mm) -
42.5
Length (inches) -
12.7
Weight (ounces) -
13.4
Adjustment gradation -
1/4 MOA: 1 click
Maximum internal adjustment -
80
Parallax setting (yards) -
100
2014 MSPR -
$269.95
Like most modern scopes, the 3-9x40mm Buckmaster is nitrogen filled and O-ring sealed to make it waterproof and fogproof. It is supplied with a Nicoplex reticle, one of the better copies of the famous Leupold Duplex. Nikon claims that their Brightview multi-coatings provide 92% light transmission. Finger tip steel to brass windage and elevation adjustments are standard. The external finish of our test scope is a durable, scratch-resistant, deep satin black.
Nikon Buckmaster scopes are covered by a Lifetime Limited Warranty. Included with each scope is a Nikon Fog Eliminator wipe to help eliminate exterior fogging in even the most extreme conditions.
The specific Buckmaster 3-9x40mm scope featured in this review was purchased prior to the Oregon deer season from the sporting goods department of our local Bi-Mart discount department store. It was mounted on Guns and Shooting Online Technical Advisor Bob Fleck's Weatherby Mark V Deluxe rifle in .270 Weatherby Magnum caliber using Weaver bases and rings. Testing was conducted by Bob and yours truly at the Isaac Walton outdoor rifle range south of Eugene, Oregon. Shooting was done from a bench rest using sandbags or a Caldwell Lead Sled rest at Outers Scorekeeper targets.
Our initial range experience with the Buckmaster was completely uneventful. The windage and elevation controls were positive in use and sufficiently accurate. They made sighting-in the rifle quick and easy.
We bore sighted the rifle to get on the paper at 25 yards and walked the bullets into the 10-ring at that distance. Then we moved to 100 yard targets, where we set the point of impact 2.5" directly over the point of aim, a zero consistent with the .270 Wby. Magnum's trajectory when using 150 grain factory loaded ammunition. The .270 Weatherby's rather sharp recoil was not a problem for the sturdy Nikon scope.
Our view of the 100 yard targets was bright and clear. Sharpness and contrast were good, and lens flare was well suppressed. The Nicoplex reticle is just about right, easy to see and offering a precise point of aim. The conventional focus and zoom controls worked properly.
The truth is that testing mid-line scopes from reputable manufacturers such as Nikon, Sightron, Bushnell, Leupold and Weaver is generally pretty boring--in a positive sense. Everything works as advertised and there are seldom any problems to report. So it was with the Buckmaster 3-9x40mm scope.
During the fall deer season this Weatherby rifle/Buckmaster scope combination was pressed into service and performed admirably. Most of the time the scope's magnification setting was left at 3x to take advantage of its maximum field of view. You will probably have time to increase the magnification for a shot at a distant and unaware buck, but you assuredly will not have time to zoom it down for a shot at a buck that breaks cover at short range, where the large field of view offered by a 3x scope is critical.
The weather during the deer hunting season was generally mild; only once did we hunt in the rain. On that occasion the scope proved that it was indeed waterproof and fog proof, just as Nikon claimed.
In summation, the Nikon Buckmaster 3-9x40mm riflescope passed with flying colors. It is a good scope at a good price and a good value. Nikon is world famous for fine optics and reliable products and this scope will help to maintain that reputation.