Nikon Buckmaster Riflescopes
By Chuck Hawks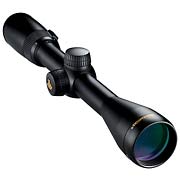 Buckmaster 3-9x40mm. Illustration courtesy of Nikon USA
Nikon's Buckmaster riflescopes constitute their medium priced line. One of the most popular of these is the Buckmaster 3-9x40mm. Nikon bills this scope as a: "Classic variable, excellent for game from deer to varmints."
The Nikon Buckmaster 3-9x40mm is Nikon's most popular entry in this mainstream scope market. It is widely available from online retailers, sporting goods stores, gun shops, and discount department stores across the U.S., usually selling for something over $200 in 2007.
3-9 variable power scopes are the most popular type on today's market. They offer lots of magnification for target shooting and sighting-in at the rifle range at the higher (7x-9x) powers, and adequate field of view for most big game hunting applications at the low (3x-4x) end of their magnification scale. Other Buckmaster scope options include 1x20mm, 4x40mm, 3-9x50mm, and 4.5-14x40mm AO.
All Buckmaster scopes are nitrogen filled and O-ring sealed to make them waterproof and fogproof. They are usually supplied with a Nicoplex reticle, one of the better copies of the famous Leupold Duplex. Nikon claims that their Brightview multi-coatings provide 92% light transmission. Finger tip steel to brass windage and elevation adjustments are standard. The standard external finish is a durable, scratch-resistant matte black, although a satin silver finish option is available on selected models.
Nikon Buckmaster scopes are covered by a Lifetime Limited Warranty. Included with each scope is a Nikon Fog Eliminator wipe to help eliminate exterior fogging in even the most extreme conditions.
Our initial range experience with a sample 3-9x40mm Buckmaster was completely uneventful. The windage and elevation controls were positive in use and sufficiently accurate. They made sighting-in the rifle quick and easy.
Our view of the 100 yard targets was bright and clear. Sharpness and contrast were good, and lens flare was well suppressed. The Nicoplex reticle is just about right, easy to see and offering a precise point of aim. The conventional focus and zoom controls worked properly.
In summation, the Nikon Buckmaster riflescope passed with flying colors. It is a good scope at a good price and a good value.