Nikon Buckmaster Laser 600 Rangefinder
By Chuck Hawks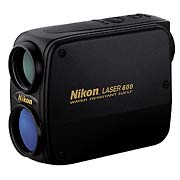 Illustration courtesy of Nikon USA.
The Nikon Buckmaster Laser 600 is a compact, literally shirt pocket size, rangefinder. Included with a new Laser 600 is a neck strap, a soft nylon case with a handy belt loop on the back, instruction manual, warrantee (one year on materials and labor), and a long-life CR2 lithium battery.
This unit features a Dach-prism monocular with multi-coated optics and 6x magnification. It uses a large, easy to read, LCD display. The display, when activated, shows a crosshair reticle for targeting, meter or yard mode designations, and a battery indicator. There are Power and Mode buttons on top of the unit where they are easy to press while using the rangefinder one-handed. The unit supplied for review was an overall charcoal black color; a camo finish version is also available.
Here are the little Buckmaster's specifications:
Type - Roof prism monocular
Magnification - 6x
Objective lens diameter - 20mm
Angular field of view - 6.3 degrees
Eye relief - 17mm
Exit pupil - 3.3mm
Diopter adjustment - +/-4
Laser wavelength - 870nm
Laser pulse duration - 13 ns
Laser output - 633mw
Structure - polycarbonate case, water and dust resistant.
Operating temperature - Centigrade degrees -10 to +50
Operating humidity - 20% to 50% (without dew condensation)
Battery - 1.3 volt CR2 lithium
Dimensions (W x H x D) - 96 x 42 x 72mm
Weight - 210 grams without battery.
The Nikon Laser 600 is a relatively simple unit to operate, excellent for use in the field. Here are its key features as listed in the owner's manual:
Distance Measurement Display - half yards or meters at less than 100, 1 yard or meter at distances over 100.
Easy to aim 6x optical system.
Water and dust resistant.
Invisible/Eyesafe FDA class 1 laser
8-second results display.
Compact, ergonomic design.
Automatic shut-off after 8 seconds unattended.
Default to "last use" settings.
10-second continuous measuring function.
Focusing eyepiece--diopter adjustment.
Measuring range - 10 meters/11 yards to 546 meters/600 yards.
Not mentioned among the above key features is one that I feel is of great importance: excellent optics. You can focus this unit to your eye, and the views it provides when focused are sharp and clear, edge to edge. I had no problem focusing to my unaided eye, or when wearing prescription glasses.
The eye relief was not sufficient to allow me to see the entire field of view when wearing glasses. However, I could see the display area and had no difficulty measuring distances. The eyepiece is rubber covered to protect eyeglasses from scratches.
The Laser 600 is easy to use. Press the power button once and the crosshair reticle appears. Press again and the unit measures the distance to the target and displays it digitally. (If the Laser 600 cannot measure the distance, three horizontal dashes "---" will appear.) Hold the power button down for continuous mode, in which you can move from target to target, reading the distance to each. The unit turns itself off after 8 seconds of inactivity. After you remove your finger from the power button the last distance measured remains displayed until the unit turns off.
To select between yards and meters, press and hold the "Mode" button for longer than 1.5 seconds, until the display changes. That is really all there is to operating the Laser 600.
Like any device, the Nikon Laser 600 has limitations that may result in inaccuracy or failure. Among those listed in the owner's manual are:
Slender or small target.
Target has diffusing reflecting surface.
Target does not reflect laser beam (glass, mirror, etc.).
Black target.
Target has pronounced depth.
In rain, fog, or snow.
Target measured through glass.
Reflective surface measured from diagonal direction.
Moving target.
Obstacle moving in front of the target.
When targeting the surface of water.
Most of these limitations are of little concern to hunters. The biggest limitation from the hunter's point of view is that the unit does not have a "rain" mode. We tested the Nikon 600 in the middle of July, when even in usually rainy Western Oregon the weather was sunny and clear. So I had no opportunity to find out just how limited its performance in the rain actually is. Those who do a lot of hunting in inclement weather should be advised that the Laser 600 might not be the best choice.
In regards to the water resistance of the Laser 600, drops of water will not harm the unit. But it is not waterproof. Do not submerge it or hold it under running water. And the instruction manual advises not to adjust moveable parts--the eyepiece--in wet conditions.
I tested the Laser 600 by looking through the mini blinds of my kitchen window at an American flag waving 22 yards away, and it had no problem ranging that. It also had no problem ranging a distant target through a thin screen of wind blown foliage, as long as the foliage was less than 11 yards away.
I checked the near range limit, and found it to be quite accurate--11 yards. I couldn't find anything that was exactly 600 yards away, but the Laser 600 refused to read the hillside across the river from my home, which is well in excess of 600 yards.
When we took the Laser 600 to the rifle range and ranged targets at known distances of 25, 50, 100, and 200 yards, it proved quite accurate. I can't imagine that any user would have a problem with the little Nikon's accuracy.
Guns and Shooting Online staffers Rocky Hays, Bob Fleck, and I did most of the experimenting with the Nikon Laser 600. No one had any serious complaints. Rocky commented that it was "kind of little." He would have liked it larger. Bob liked the Nikon's compact size, thought that it worked well, but commented that his Bushnell laser rangefinder had more modes and features. I found the Laser 600 simple to use (a big plus for techno-challenged me), very nice to look through, and I particularly appreciated its small size. I carry enough stuff when I go hunting, so the smaller the better as far as I am concerned. For me, it's a keeper!