Nikon Monarch 5 8x42mm Binocular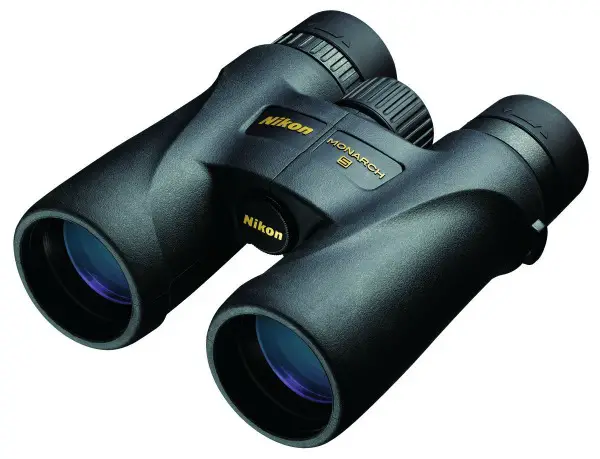 Illustration courtesy of Nikon Sport Optics.
Nikon is best known to most Americans for its cameras and lenses. The company was formed in 1917 as a merger of leading Japanese optics manufacturers. During World War II they produced everything from binoculars to periscopes for the Japanese military.
After the war they changed their focus to civilian optics. Their cameras, such as the famous SP and F series from the 1950s and 1960s, became the 35mm cameras of choice for most professional and advanced amateur photographers. Cameras remain a core part of their business, but they are also a major player in sports optics, including binoculars, spotting scopes and riflescopes.
Nikon got my attention with their lightweight Monarch 5 binoculars. I was looking for a good medium sized binocular that is petite enough to fit into a hiking or survival kit. A guiding principal of such kits is size and weight, meaning that every ounce must be scrutinized. At the same time, the optic has to be satisfactory to fulfill its role, which in my case means versatility in a number of situations. These may include hiking a ridge, hunting in the woods, or city observations in low light. A blurry or dark image is useless, no matter how compact the binocular.
Here are some key characteristics of the Nikon Monarch 5s:
8X42, 10X42, and 12X42 sizes
Extra-low Dispersion (ED) glass
Dielectric high-reflective multilayer prism coatings
Phase-correction-coated roof prisms
Fully multi-coated lenses
Long eye relief
Turn-and-slide rubber eyecups
Rubber armored body
Waterproof, fog proof, nitrogen filled
It's of interest to see Japanese manufacturers following the trend prevalent in American optics and outsourcing production to China. With labor costs forming a major component of binocular price, these are roughly in line with similar mid-priced binoculars from companies like Vanguard. I purchased mine for $300. I suspect it is not possible to keep the price reasonable while building in first world countries with higher labor costs. By now there is plenty of evidence that excellent optics are made in China (as demonstrated by Nikon and Vanguard). The principal advantage of the Nikon Monarch 5 is its portability.
The ergonomics of this binocular are good. The center focus knob is smooth, but not loose. The eye cups can be gently turned in or out to adjust eye position. Eye relief is generous and pleasant to use with glasses. My six year old boy, who is not known for great patience, was able to get the binocular focused within a couple minutes. I was also relieved to note that his finger smudges on the objective lenses brushed off without affecting image quality. I enjoy sharing real tools with him and this one is sturdy enough to pass around our family.
Specifications
UPC Number: 7576
Magnification: 8
Objective lens diameter: 42 mm
Exit pupil: 5.3 mm
Field of view: 6.3 degrees
Field at 1,000 meters: 110 meters
Apparent field of view: 47.5 degrees
Eye relief: 19.5 mm
Near focus: 2.5 meters
Size: 14.5 X 12.9 X 5.4 cm (5.7 X 5.1 X 2.1 inches)
Weight: 590 grams (20.8 ounces)
Finish: Rubber armored
Tripod: Adapter optional
Warranty: 25 years, non-transferable
Peoples Republic of China
2014 MSRP: $299.95
The optical quality of the image is extremely good. Shapes maintain crisp borders even out to the peripheral edge of the field of view. This makes extended viewing pleasant. Color contrast is excellent and even in poor light conditions objects maintain their natural tones. The light from an evening street light reflecting off a wall at fifty yards comes through with a soft pink glow. At greater distances the 8X magnification is limiting, but image quality is still excellent. Looking from my front porch to Fort Ruger I can easily make out individual pill boxes and radio antennas on the ridges. That is a distance of 3.5 miles.
It is also good in the rain, as I had reason to find out while hiking with my son through a downpour. In fact we set out to test our equipment in these conditions and the Nikon held up well, with no fogging and good crisp images even in the dim light of the forest storm. This was also an opportunity to test its compactness, as it fit snugly into the outer side mesh pocket of our hiking bag. It took all the punishment from the sky without any special protection. When home, we simply put it down on a kitchen towel and a couple hours later it was dry.
The Monarch 5 line is an evolution of the older and popular Monarch ATB binoculars. These are now being replaced by Monarch 3s, 5s and 7s. The Monarch 5 strikes a nice balance in the new line. It is the least heavy in 8x42mm size. The optical quality is better than the Monarch 3, which is the less expensive option. The more costly Monarch 7 offers excellent optics and an increased field of view, but at the cost of less resolution at the periphery of the image.
There is no way to meet all needs with a single binocular, but the Monarch 5 is an honest effort. The image quality is very good, more than sufficient for the vast majority of uses. The ergonomics make it pleasant to hold and it is relatively lightweight. With all these virtues it sells for under $300. As a fanatic for compactness I found it impossible to resist, although if I could run Nikon for a day I would push for even lighter designs. How about a 7x35mm with the same features, proportions and price point? The Monarch 7 in 8x30mm, which weighs 15 ounces, may be closer to ideal for a do it all binocular. This is an old debate, but an enjoyable one, and the 8x42mm Monarch 5 is a solid choice in its class.