Nikon Monarch 2x20mm EER Scout Rifle and Handgun Scope
By Rick Ryals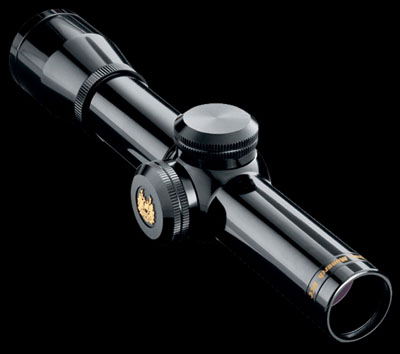 Illustration courtesy of Nikon, Inc.
The Nikon Monarch 2x20 EER scope is primarily a handgun scope. However, Nikon also markets this scope as suitable for scout rifle (forward mounted) use and it is reviewed here as such. I would offer a little background as to how I selected this scope. I purchased a Ruger Frontier and wanted to try the scout scope mounting system. I originally purchased a Leupold FX-II 2.5x IER Scout scope for this rifle. This is the only Leupold scope I have ever purchased with which I was disappointed. I am sure this is a fine scope. However, it has no means to focus the eyepiece. For those of us who require some type of bifocal or progressive lens eyeglasses, the lack of focus is a major drawback. I simply could not get a clear view through this scope.
I then looked at Burris and Nikon scout type scopes. I considered the Burris 2.75x scout scope. The deciding factor for me was the Nikon's slightly lower power at 2x. Because the scout scope is intended to be used with both eyes open, the Nikon's lower power seemed just a little better choice for my use. Specifications for the Nikon Monarch 2x20mm EER scope from Nikon's website are as follows:
Magnification: 2x

Objective Diameter:

 

20mm

Exit Pupil:

 

11mm

Field of View:

 

22 feet @ 100 yards

Tube Diameter:

 

1 inch

Eye Relief:

 

10.5 – 26.4 inches

Objective Outside Diameter:

 

25.4mm

Eyepiece Outside Diameter:

 

35.5mm

Weight:

 

6.7 ounces

Overall Length:

 

8.1 inches

Click Adjustments:

 

˝ inch @ 100 yards

Maximum Internal Adjustment:

 

120 MOA

Parallax Setting:

 

100 yards
The scope is advertised as waterproof, fogproof, and shockproof. It is nitrogen filled and O-ring sealed. Three finishes are offered: lustre (gloss black), matte black, or silver. The scope reviewed here has the lustre finish. It comes with protective lens caps, although these are not waterproof and are primarily for dust protection during storage.
The Nikon 2x20 EER is an attractive scope. The gloss black finish is accented by gold lettering and Nikon emblems. On the objective is "Nikon Monarch UCC." The word "Nikon" is shown on the left side of the adjustment turret and the Nikon emblem is on the windage cap. 
The scope is focused to individual eyes by twisting the eyepiece and then locking it in place with a lock ring. The ability to focus this scope is a big advantage for those of us with corrective eyeglasses. I mention this primarily because the most popular scout type scope does not have this feature. The adjustment knobs are turned by use of a coin or large screwdriver. Adjustments are ˝ inch at 100 yards. Quarter inch adjustments would be nice, but are really not necessary on this type of scope. The knobs are clearly marked in white for direction of adjustment and minutes of angle. Aluminum caps protect the knobs.
Optical performance is extremely bright and crisp. In fact, the view is so clear that even with the relatively low 2 power, the view of the target is incredibly sharp. I have had no trouble shooting 100 yard groups with this scope. The reticle is the Nikoplex, which is essentially a (Leupold) Duplex type. As pointed out elsewhere on this site, this is possibly the most useful all purpose hunting reticle ever devised. The cross wires are very fine at the intersection and bold at the outside. My only criticism of this scope is that I would prefer the outer wires to be thicker.
As pointed out earlier, this is marketed as a dual purpose scope. The eye relief range is suitable for both hunting handgun use as well as forward-mounted rifle use. It is designed to stand up the the recoil of both magnum handgun and magnum rifle cartridges. It would be suitable for use on scout type rifles, slug shotguns and dangerous game rifles. This particular scope is mounted on a Ruger Frontier rifle chambered for the .358 Winchester cartridge. It is a perfect match for this rifle. The light weight and short length looks good and does not negatively affect the rifle's balance.
The Leupold  FX-II 2.5x IER scout scope and the Burris 2.75x scout scope are the most frequently mentioned scout type scopes. However, the Nikon Monarch 2x20 EER scope has proven to be another high quality alternative for those considering such a scope. The Nikon Monarch is a well designed, attractive scope. It features clear, bright optics with the ability to focus the view to the user's eyes. Street price is around $190 to $200. I have found it to be excellent in almost every aspect for its intended purpose.