Nikon Monarch 4-16x42mm SF Riflescope with BDC Reticle
By the Guns and Shooting Online Staff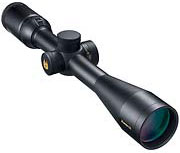 Illustration courtesy of Nikon USA
As soon as we removed it from the box, this new for 2007 Nikon Monarch scope impressed us with its relatively compact size. It incorporates side parallax focus and a 4:1 zoom range, yet is about the overall size of the 3-9x rimfire target scope that we removed from our Winchester 1885 Low Wall test rifle in order to mount the new Monarch. A compact scope is always an advantage, as it interferes less with the balance and handling of the rifle. This new Nikon Monarch is the most compact 4-16x scope that we have yet reviewed.
Also impressive is the optical quality of this new Nikon entry. It offers sharp, contrasty views of the target across the field of view at all magnification settings. Flare and the various optical aberrations are well controlled. As you would expect, the optics of the 4-16x42mm Monarch are fully UCC multi-coated. The external finish on the one-piece main tube is a smooth, even matte black. All of the controls and adjustments work smoothly and feel good. Nikon's new eyebox design features a large ocular that provides a four times magnification range and a claimed 4" constant eye relief. The overall impression is of a high quality riflescope that deserves to wear the prestigious "Nikon Monarch" name.
Additional features include side parallax focus, fast European-style eyepiece focus with a rubber ring to protect the shooter's eyebrow, increased mounting ring placement latitude, rearward facing numbers on the zoom ring and accurate ¼ MOA fingertip windage and elevation click adjustments featuring Nikon's interchangeable turret technology. Naturally, the Monarch is guaranteed to be waterproof, shockproof and fogproof. An anti-fog cloth and a Nikon wrap are included with the scope, as well as an Owner's Manual and a little booklet titled "Guide to Using the Nikon BDC Reticle," which is included with all scopes featuring this reticle.
This new Nikon Monarch is being made in the Philippines. Several of the better riflescopes that we have reviewed recently were made in the Philippines, which is rapidly becoming a center for optics manufacturing.
Here are some specifications for the Nikon Monarch 4-16x42 SF riflescope:
Product number - 8422

External finish - Matte black

Reticle - BDC (NikoPlex and Mildot also available)

Objective bell outside diameter - 49.3mm

Objective lens diameter - 42mm

Eye relief - 3.7-4"

Parallax focus - 50 yards to infinity

Adjustment graduation - ¼ MOA

100 yard FOV - 6.3' to 25.2'

Internal adjustment range - 40 MOA

Main tube diameter - 1"

Length - 13.5"

Weight - 18 ounces

2007 discount retail price - $449.95 (Midway USA)
We had no difficulty mounting the Nikon Monarch on our .17 HMR caliber Winchester 1885 Low Wall test rifle using Browning bases and rings. The scope's ring spacing, as advertised, is generous. Once we had the scope mounted and bore sighted, we set off for the Izaak Walton rifle range south of Eugene, Oregon to do a little shooting with the new scope. This outdoor range offers target stands at 25, 50, 100 and 200 yards. Our ammunition for this review was Hornady Varmint Express using a 17 grain V-Max bullet at an advertised MV of 2550 fps.
A word about Nikon's BDC (bullet drop compensating) reticle is in order here. The BDC reticle is a sort of hybrid version of the German 3-post and crosshair reticle with a very narrow horizontal "gate," or fine crosshair area. Below the intersection of the crosshairs are a series of four circles strung down the vertical wire. Each of these circles subtends approximately 2 MOA or 2" at 100 yards. With a flat shooting cartridge such as the .223/55 grain load that operates at muzzle velocities of 3100-3300 fps, the idea is to zero the rifle so that the bullets strike point of aim at 200 yards. The first circle below where the crosswires intersect then serves as a 300 yard aiming point, the second 400 yards and so forth. Naturally, trajectory of the cartridge and load determines the actual point of impact distance represented by each circle.
Four rounds were expended adjusting the scope to put bullets to the point of aim at 25 yards and three 3-shot groups at 100 yards had the rifle zeroed at that distance using the main crosshairs. We then moved to 200 yards to check the BDC reticle. We found that at 200 yards the second circle (below the crosshair) put the bullets into the bull's eye. (We found that the circle neatly encompassed the bull's eye at 200 yards.) There are no 150 yard target stands at the Izaak Walton range, but we estimated that the first BDC circle would be reasonably close at that distance. Due to the 200 yard limitation of the rifle range we could not experiment with the lower BDC circles, but the .17 HMR cartridge is about a 200 yard number in any case.
Our time was well spent with this impressive new riflescope from Nikon. Guns and Shooting Online Gunsmithing Editor Rocky Hays, the owner of our test rifle, could not bear to remove the Monarch 4-16x42mm SF scope from his Low Wall and purchased it for his personal use. We can give no higher recommendation than that!