Nikon Monarch African 1.1-4x24mm Illuminated Reticle Riflescope
By the Guns and Shooting Online Staff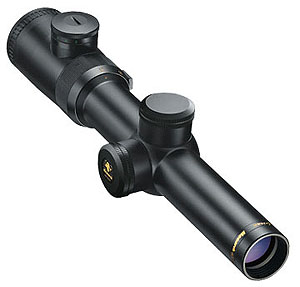 Illustration courtesy of Nikon, Inc.
Nippon Kogaku K.K. (Nikon) is perhaps the most respected name in Japanese optics and they have offered riflescopes to discriminating hunters for many years. Nikon's transferable Full Lifetime Warranty covers Monarch riflescopes. No receipt or registration card is required. New in the Nikon riflescope line for 2010 is the four-star-plus Nikon Monarch African 1.1-4x24mm Illuminated Reticle riflescope that is the subject of this review.
The typical dangerous game scope sold today is a low powered variable magnification model with an illuminated reticle (IR). While a fixed power scope of around 2x or 2.5x used to be the popular choice for a dangerous game rifle and is still a good choice, a modern low power variable in the 1-4x range offers a greater field of view at low power and potentially greater accuracy for the occasional long shot at its maximum magnification. Even when set to its maximum magnification, however, a good variable power dangerous game scope should offer sufficient field of view to allow the hunter to respond immediately to a short range charge by a large animal. A maximum magnification of about 4x is about ideal and 6x represents the absolute upper limit of allowable magnification (and restricted field of view) for a dangerous game scope. This safety requirement eliminates hunting scopes in the 2-7x (and higher magnification) range from consideration.
Basic features of the Monarch African include a one-piece 30mm main tube, fast (Euro style) eyepiece focusing, fully multi-coated optics, German #4 (three post and crosshair) reticle with an illuminated center dot for visibility in very low light and a 1.1x minimum magnification to maximize the field of view. The external finish is an attractive matte black. Threaded aluminum caps protect the adjustments and a small, gold Cape buffalo head and the legend "Monarch African" decorate the windage cap. With its straight main tubes (no objective bell), the new African has plenty of mounting latitude and can be mounted low over the rifle's bore for fast acquisition in snapshooting situations. Lens caps are included.
Specifications
Part #: 8447
Clear aperture: 24mm
Main tube diameter: 30mm
Reticle: German #4 (with illuminated center dot)
Finish: Matte black
Overall length: 10.51"
Objective outside diameter: 1.18"
Ocular bell diameter: 1.72"
Weight: 16.93 oz.
Actual magnification: 1.1x to 4.0x
Exit pupil: 6mm (4x)
Field of view at 100 yards: 29.3' to 108.0'
Eye relief: 3.7" (94mm) constant
Parallax free: 100 yds.
Elevation adjustment range: 80 MOA
Windage adjustment range: 80 MOA
Adjustment click value: ¼ MOA
Battery for IR: CR-2032
Country of origin: Japan
2010 online price: $859.95 (Midway USA)
The finely knurled, aluminum zoom ring is smooth in operation and features a square tactile bump over the 2x position. The Euro style fast focus adjustment is by means of a knurled aluminum ring with a rubber eyebrow protector at the rear of the ocular bell. The windage and elevation adjustments click in precise, but closely spaced, ¼ MOA increments; these adjustments are very accurate, positive and repeatable.
The combined illumination rheostat dial and battery case is located on top of the ocular bell at the 12-o'clock position. We do not prefer this location, although it is common, as it makes the scope bulkier and can interfere with turning the zoom ring. There are click stop intensity settings and a choice of a red or green center dot. The "off" position is in the middle of the dial, between the red and green illumination intensity scales. The illuminated dot at the center of the crosshair is bright enough to be used in daylight, if desired. We found the red dot more visible than the green dot against foliage. In dim light, as during pre-dawn, twilight or nighttime, the IR worked well and provided a highly visible aiming point. When switched off, the dot disappears, leaving the intersection of the crosshairs as the precise aiming point.
We tested the scope on a CZ Safari Grade bolt action rifle chambered for the powerful 9.3x62mm cartridge, an all-around African big game hunting cartridge. It was easy to mount, but 30mm mounting rings are required; these are not as common as 25mm (1") rings. Once mounted, everything about the Monarch African worked exactly as advertised. There were no problem with the Nikon scope during our time at the range and everyone on the Guns and Shooting Online staff commented positively about the scope's clear optics.
This scope is optically excellent. It provides sharp, contrasty views of the target and optical aberrations are well controlled. Internal flare suppression is good. The field of view at the lowest magnification setting (1.1x) is huge, 108' at 100 yards. We recently reviewed a number of safari type scopes and the optical quality of the Monarch African was among the best of the bunch. (See the article, "Compared: Dangerous Game Riflescopes from Zeiss, Weaver, Leupold and Nikon.") It also has good eye relief, suitable for hard kicking rifles, and an adequately generous eye box for rapid target acquisition. Unlike many European and Euro-style scopes, the Monarch African's German #4 reticle is located in the second image plane, which means that it does not change size as the magnification is changed. This is the kind of reticle with which we prefer to hunt.
Our overall impression of the Nikon Monarch African 1.1-4x24mm IR is that it is a premium scope, suitable for use on the finest safari rifles. We recommend it without reservation. You can see all of the fine Nikon riflescopes at the Nikon USA website: www.nikonusa.com