Nikon ProStaff Riflescopes
By Ed Turner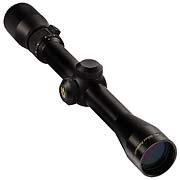 ProStaff 2-7X32mm. Illustration courtesy of Nikon USA
ProStaff is Nikon's line of moderately priced riflescopes. ProStaff scopes are available in 4x32 Rimfire, 2-7x32mm, and 3-9x40mm models.
The ProStaff scopes are fairly trim and lightweight, made to fit a large cross section of rifles, shotguns and muzzleloaders. The variable power models have plenty of magnification to easily sight in your rifle at 100 or 200 yards and a large field of view at the lowest magnification setting. ProStaff optics are multi-coated to minimize glare and their aluminum tubes are nitrogen filled with O-ring seals to make them water and fog proof.
I have a total of five ProStaff scopes mounted on various hunting rifles. Every one was a breeze to mount with almost 4" of eye relief available and the moderate size of the objectives. I have never claimed to be a bench rest competitive shooter, but I do know how to sight in a big game rifle in fairly quick order if all the pieces and parts are working correctly. And, apparently, the ones in these scopes were. All five of these rifles sighted in quickly and with a minimum of fuss. I always "tap in" my adjustments using the plastic handle of a screwdriver, or something similar, and rarely see a change after setting my changes in this manner.
The adjustment of the ProStaff to focus the crosshair to our eye is of the "American" type, and requires multiple turns of the ocular bell. The windage and elevation click adjustments for changing the point of impact require a coin, screwdriver or similar tool. Both are tried and proven systems
Most of our major retailers including Cabela's, Bass Pro Shops and even Wal-Mart sell the 2-7x ProStaff scope for around $129. That is a significant saving compared to a Nikon Buckmaster scope.
Nikon's claim of 90% light transmission seems well in line with the terrific clarity and brightness I have found in actual dusk and dawn conditions. In simple English, on a full overcast day I had no trouble seeing the crosshairs clearly well after legal shooting time.
I saw a bright sharp image that did indeed impress me. I have been successfully using my Nikon ProStaff scopes, having collected three 8 point (Eastern count) bucks this season with three shots from rifles with these scopes mounted.
Nothing in the mounting, sighting in, and performance in the field of my Nikon ProStaff 2-7x32mm scopes has given me reason to do anything but heap high praise upon them. They are absolutely one of the finest values in a scope available, period. End of story.