Nitrex by Weaver TR one 4-16x50mm AO Riflescope
By the Guns and Shooting Online Staff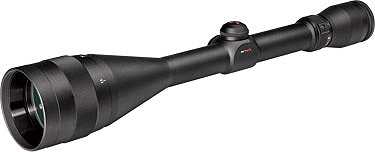 Illustration courtesy of Nitrex Optics by Weaver.
Nitrex TR one riflescopes are made in Japan for ATK, a world leader in weapons technology that also owns Weaver, Federal, Speer, CCI, Estate Cartridge, Alliant Powder, RCBS, Outers and several other well known companies. ATK states that every Nitrex TR one scope is subjected to some of the most rigorous testing in the industry: "We heat it, freeze it, thump it, bump it, and submerge it." All Nitrex scopes carry a Limited Lifetime Repair Warranty with a one year, over-the-counter direct exchange policy applicable to the original purchaser.
The Nitrex TR one line includes 1.5-5x32mm, 3-9x42mm, 3-10x50mm, 4-16x50mm AO and 6-20x50mm AO models. It is the matte black 4-16x50 that is the subject of this review.
This 4-16x50mm Nitrex is physically large, medium weight scope built on a one-piece main tube machined from aircraft quality aluminum alloy. Features include fully multi-coated lenses with extra hard-coated exterior surfaces, adjustable parallax correction (25 yards to infinity), low windage and elevation adjustment knobs, rubber covered Euro-style fast focus eyepiece ring and a Trex-Plex reticle. The scope is purged and nitrogen filled; it is claimed to be waterproof, fogproof and shockproof. The knurled aluminum zoom ring has a squared-off, tactile bump and turns easily, but not too easily. Lens caps, unfortunately, are not supplied. The front objective bell is threaded to accept a three inch sunshade that is available at extra cost.
Like all TR-one scopes, the 4-16x50mm AO features Trex three-point precision windage and elevation adjustments. The Trex three-point precision system uses triangulated contact points for precise and repeatable adjustments that eliminate drift and maintain zero. The hunting type windage and elevation adjustment knobs are protected by screw caps.
Here are some basic specifications for our Nitrex TR one 4-16x50mm AO riflescope.
Model number: 94590
Finish: Matte black
Tube diameter: 1"
Light transmission at 550nm: 94%
Windage and elevation click value: 1/4 MOA (1/4" at 100 yards)
Adjustment range: 192 clicks (48 MOA)
Parallax setting: Adjustable
FOV at 100 yards: 26.3" (4x) tp 6.6" (16x)
Exit Pupil: 12.5mm (4x) to 3.1mm (16x)
Eye relief: 3.2"
Length: 14.5"
Weight: 21 oz.
2010 discount retail price: Approx. $400.00
In order to get some range time with the new Nitrex TR one 4-16x50 AO scope, we mounted it on a .30-06 Remington Model 700 XCR-II rifle using Weaver two-piece bases and Leupold QRW rings. (See the Product Review Page for a review of this rifle.) Mounting was straightforward and we encountered no difficulties. Guns and Shooting Online staff members Nathan Rauzon, Bob Fleck and Chuck Hawks participated in the evaluation.
After preliminary bore sighting, we initially zeroed the rifle at 25 yards before moving back to 100 yards for the final sighting-in. (Bore sighting will usually get you on the paper at 25 yards, but seldom at 100 yards.) We found the range markings on the adjustable objective to be correct, which is not always the case. The accurate 1/4 MOA windage and elevation adjustments made zeroing a simple task and the Trex-Plex is a good Duplex type reticle.
The Nitrex TR one optics provided clear, contrasty views of the target with little falloff at the extreme edges of the field of view. Flare was well suppressed. The scope held its zero across the full range of magnifications. Overall, we were impressed by the view through this Nitrex 4-16x50mm riflescope.
We did feel that the 3.2" eye relief was barely adequate for a .30-06 hunting rifle. However, the 4-16x magnification range is more applicable for a light kicking varmint rifle than a powerful big game rifle and the eye relief is adequate for .17-.24 caliber varmint cartridges. If you are looking for a scope for a .300 Magnum rifle, you might want to look for a Nitrex model with more eye relief.
The other drawback that we noticed is a rather narrow eye box. The scope blacks out rather quickly if your eye is misaligned with the optical axis. Optical design is a series of trade-offs and you can't have everything. Overall, this 4-16x Nitrex is a good performer.
Everyone who tried this Nitrex 4-16x50m AO riflescope liked it. It provides clear views of the target and the controls work properly. It is a good value in what we like to refer to as the three-star class of riflescopes.