Nitrex TR one Riflescopes
By the Guns and Shooting Online Staff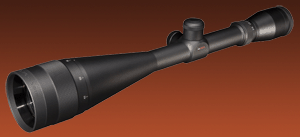 TR-one 6-20x50mm AO. Illustration courtesy of Nitrex Optics.
Nitrex is a new, premium brand of riflescope made in Japan for ATK. ATK is a world leader in weapons technology that also owns Federal, Speer, CCI, Estate Cartridge, Alliant Powder, RCBS, Outers and several other companies well known to recreational shooters.
The initial Nitrex scope offerings are the TR-one series. These scopes are made in Japan to ATK specifications. The initial Nitrex line includes 1.5-5x32mm, 3-9x42mm, 3-10x50mm and 6-20x50mm AO models. The standard finish for all models is an anodized matte black, but the 3-9x is also available in gloss black and sliver finishes, the 3-10x is also available in gloss and the 6-20x is also available in silver.
ATK states that every Nitrex scope is subjected to some of the most rigorous testing in the industry: "We heat it, freeze it, thump it, bump it, and submerge it—all in the quest to replicate the harshest hunting conditions. These steps are taken because we know hunters demand tough and rugged optics for their firearm." All Nitrex scopes carry a Limited Lifetime Repair Warranty with a one year, over-the-counter direct exchange policy applicable to the original purchaser.
The Nitrex scopes tend to be on the large side, although not particularly heavy. They are built on one inch diameter, one-piece main tubes machined from aircraft quality aluminum alloy. They incorporate fully multi-coated lenses with extra hard-coated exterior surfaces, rubber covered Euro-style fast focus eyepiece rings and a Trex-Plex (Duplex-type) reticle. The 6-20x50mm model has an adjustable objective that can be focused from 25 yards to infinity, a very fine Trex-Plex reticle and target type adjustment turrets.
All TR-one scopes feature "Trex" three-point precision windage and elevation adjustments. The Trex three-point precision system uses triangulated contact points for precise and repeatable adjustments that eliminate drift and maintain zero. The fingertip adjustable knobs click in 1/4 MOA increments and offer 176 clicks (44 MOA) of total windage and elevation adjustment, except for the target knobs on the 6-20x50mm AO, which click in 1/8 MOA increments and offer 240 clicks (30 MOA) of total adjustment. These are not particularly generous adjustment ranges, so we advise the use of scope rings such as Millett or Leopold STD rings/bases that provide windage correction to properly align the scope with the rifle's bore.
Eye relief is somewhat limited. Nitrex specifications show that the 1.5-5x model offers 3.62" of eye relief, the 3-9x42 and 3-10x50 models have 3.5" and the big 6-20x50 has only 3.27" of eye relief. These numbers are probably adequate for standard calibers in standard weight rifles, but are rather skimpy for magnum rifles or lightweight rifles chambered for standard calibers such as .270, .308 and .30-06.
The TR-one scopes are purged and nitrogen filled; they are waterproof, fogproof and shockproof. Parallax correction is set at 100 yards in models without an adjustable objective. Their knurled aluminum zoom rings have a squared-off, tactile bump. Lens caps, unfortunately, are not supplied with the scopes.
Guns and Shooting Online reviewed the Nitrex TR-one 6-20x50mm AO model (see the Product Review Page) and we found that the Trex windage and elevation adjustments were accurate and repeatable. The optics provided sharp, contrasty views of the target. The scope held its zero across the full range of magnifications. Overall, we were impressed by the view through the 6-20x50mm AO.
We all liked our sample Nitrex TR-one riflescope. Judging by its performance, the Nitrex TR-one line joins such stalwarts as the Weaver Classic and Bushnell 3200 series scopes at the top of what we refer to as the three-star class.