NovaTac EDC-120T Tactical Flashlight
By Chuck Hawks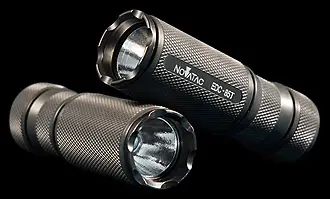 NovaTac EDC-120T. Illustration courtesy of NovaTac, Inc.
NovaTac, Inc. is a U.S. company that specializes in everyday carry (EDC), pocket flashlights for the law enforcement, firefighting, military, and first-responder communities, or anyone working in a challenging environment. NovaTac lights are available only through NovaTac dealers.
The NovaTac EDC-120T reviewed here is small and literally designed for everyday use. It measures 1.0 inch in diameter and 3.3 inches in length and weighs 3.1 ounces. The front edge of the bezel is scalloped in the approved tactical style. This little light packs a maximum output of 120 lumens into its compact size. It is designed to be easy to operate when holding a handgun and it allows for momentary-maximum activation or a disorienting strobe. NovaTac claims that the 120T is "virtually indestructible" and it certainly appears to be well made. I measured the light's main tube wall thickness at approximately 0.059 inch. Here are the basic specifications:
Case - Aircraft grade aluminum
Finish - Satin black with checkered body
Lens - Polycarbonate with anti-reflective coatings
Light source - White LED
Input voltage - 1.8V to 4.5V
Maximum light output - 120 lumens (10 lumen and 0.3 lumen settings available).
Regulation - Constant power regulation
Battery - One CR123A (3V) Lithium or Lithium-ion (4.2V) rechargeable
Run time - 30 minutes at 120 lumens, 14 hours at 10 lumens, 240 hours at 0.3 lumens
Dimensions - 1 inch by 3.3 inches
Weight - 3.1 ounces
Waterproof - 66 feet
Supplied accessories - Steel pocket clip/lanyard attachment, rubber grip ring, CR123A battery, User's Guide
Warranty - Limited lifetime
2009 MSRP - $149
The "rubber grip ring" accessory deserves some explanation. It fits into a groove approximately ½ inch from the rear end of the flashlight. It is intended for use with an autoloading pistol using the "Thorpe technique." (Otherwise, it serves no purpose.) This combat lighting method involves gripping the light between the index and middle fingers of the support hand (in a two hand shooting stance, such as the Weaver or Isosceles). All four fingers of the support hand are placed over the fingers of the weapon hand, drawing the on/off button into contact with the ring finger of the weapon hand. Tightening the grip of the support hand activates the light. Done correctly, it is supposed to throw the light beam in the direction the pistol is pointed. An insert provided with the flashlight describes and illustrates this technique, which I had not previously encountered. Unfortunately, I use a revolver for both home defense and concealed carry and I found that the Thorpe technique doesn't work very well with revolvers; the triggerguard/grip relationship is wrong.
The EDC-120T offers three levels of light output, all controlled by one, two or three clicks of the on/off button located at the rear of the flashlight. There is also a maximum power strobe, intended to disorient a possible assailant. The on/off button can be "clicked" or "pressed." A click is defined as less than 1/3 second (like a computer mouse click) and a press has a duration longer than 1/3 second. Here is how the system works:
From OFF: Press - Momentary maximum (120 lumens).
Click, press - Momentary disconcerting strobe.
Click - Turn light on to maximum output (120 lumens).
From ON: Two clicks - switches brightness level to 10 lumens; two more clicks switches back to maximum.
Three clicks - Switches brightness to 0.3 lumens.
Press - Momentary disorienting strobe (from any brightness level).
Click, press - Disorienting strobe.
Click - Turns light off (from any mode).
Note that the 120T can be powered by a disposable CR123A lithium battery or a rechargeable Li-ion battery. When changing from one type to the other, a "Battery-Detect-Reset" must be performed. I found this interesting; here is how it is described in the User's Guide:
Turn the light on.
Unscrew the battery case until the light turns off.
Screw the battery case back together; there will one second of dim light.
During the one second of dim light, press and hold the button.
You will see five seconds of bright light, followed by dim light.
Release the button when the light goes dim.
The Battery-Detect-Reset is complete.
Beyond the obvious, the EDC-120T has some other interesting features, such as an "intelligent power supply." This automatically reduces the light output to extend battery life as it starts to run down. As the battery becomes depleted, the light output is cut in half. This process repeats as the battery continues to weaken. The 120T's circuitry also protects against reverse polarity, incorporates thermal regulation and protects rechargeable batteries.
Held in the fist, it is easy to turn the 120T on and off with the thumb. The end cap switch is raised about 3/16 inch for easy operation. Since all functions are controlled by a single push-button switch without any markings, I suspect that if the light is not used frequently, most owners will forget how many clicks and presses do what.
The light pattern is not adjustable. It combines flood and spot types by delivering a wide, well-defined beam with a bright center. This is a good compromise indoors and an especially useful pattern outdoors.
While intended as a tactical flashlight, the little 120T is also a good outdoorsman's light. It is compact, durable, very bright and offers good run time on a small battery, so carrying a spare battery is not a hassle. Its strobe feature might be handy in an emergency. I intend to carry it in my hunting fanny pack, where I believe it will be useful. For more information, visit the NovaTac web site at www.novatac.com