Obenauf's Leather Care Products
By Gary Zinn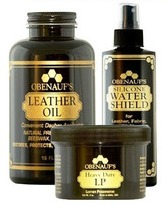 Image courtesy of obenaufs.com
Recently, I needed to do some outdoor boot maintenance. I had used up my stock of leather care products and the brand I liked is no longer available. After doing some research, I decided to try the line of products from Obenauf's. I did this partly due to uniformly positive user reviews on a website I trust and also because Obenauf's on-line store offered a good deal on a combo pack of products that would be useful to me.
Obenauf's is a business headquartered in Peck, Idaho. Founder Marv Obenauf developed his products based on his experience as a wild land firefighter, an occupation that is brutal on footwear. The product line includes a leather oil, leather cleaner, leather grease called Heavy Duty LP and a silicone-rich spray called Watershield.
For maintaining boots and other leather products that may see hard use, the leather oil and grease are of primary interest. The firm's website asserts that both of these are formulated with natural oils, beeswax and propolis. This is a more complex product than traditional leather treatments, such as straight neatsfoot oil. The ingredients are all natural, with no petroleum distillates or other caustic components. Some reviewers even claim that the LP makes a good skin lotion, first aid cream, or lip balm! (NOT recommended! -Editor.)
The basic sizes of product packaging offered on Obenauf's website are an 8-ounce jar of Heavy Duty LP, 16-ounce bottle of leather oil, 8-ounce spray bottle of Watershield and 16-ounce spray bottle of leather cleaner. I bought a Small Combo Pack (pictured above) of the first three products for $32.95 (November 2014 price), which was nine dollars less than if I had bought each item separately. Obenauf's ships within the U.S. for a $6.95 flat rate and my order arrived four days after being placed.
The first boots I treated were a stern test. These were a pair of six-inch pebbled leather work books that I wear when doing yard work, carpentry, painting and such. I have had these boots for several years and, frankly, have abused them. I cannot remember the last time I gave them any care, beyond brushing crud off of them. The leather had become very stiff and dry, with a lot of scuffs. I thought they might be beyond saving, but it was worth a shot. I removed the laces, brushed the boots thoroughly, carefully scraped off some paint splotches and other gunk and broke out the Heavy Duty LP.
When I opened the jar, I found that the LP was quite solid. I microwaved it for 30 seconds, which softened it just enough that I could finger spread it nicely. I gave the boots a good coating, being careful to get the seams, tongues and gussets evenly covered.
Obenauf's suggests gently warming the leather to speed absorption of the treatment. My approach to this used our clothes dryer, which has a drop-in rack to hold footwear or anything else that needs to be dried without being tumbled about. I put the treated boots on the rack, set the dryer on low heat for twelve minutes and left. When I came back, it was obvious that the leather has absorbed much of the LP.
I set the boots aside overnight. The next day they looked and felt nearly as dry as before I started; that leather was really parched. Therefore, I repeated the process, giving them a second coat of the LP. The next day the leather was much better, but still a bit dry. I then switched to the leather oil, applying a moderate coating. The next morning it was all good. The leather looked well treated and was supple. I wiped the boots to remove any oil or grease that had not been absorbed and called it done. The following day I wore the boots while doing fall cleanup of my lawn. They truly felt as good as new. I was impressed.
Next up were two pair of eight-inch smooth leather field boots. One pair has a Gore-Tex lining, the other is unlined. Neither pair was in nearly as bad shape as the work boots, but the leather on both was beginning to show signs of needing attention. I brushed them, applied a coat of LP and put them through the warming routine. That was all they needed; pretty easy.
Finally, I turned to a pair of lightweight hiking boots that I wear on walks, warm weather trips to the shooting range and sometimes to mow the lawn. These have suede uppers with synthetic fabric panels and tongues. I have had them for a couple of years and they had never been treated. I felt that the leather oil would be better on the suede than the grease, so I gave the leather a moderate oil treatment. After the oil was absorbed, I sprayed three light coats of the Watershield silicone on the fabric parts, letting it dry completely between coats. The boots look better and, more importantly, water rolls off both the leather and fabric.
I was on a roll, so I sought out some targets of opportunity. I applied light coats of oil to a pair of slide sandals, three knife sheaths and a field belt, plus I sprayed Watershield on my best field cap. No problems.
I did not buy and test the leather cleaner. I didn't really consider it, because I have long favored saddle soap for cleaning leather. Now, having seen how the other products perform, I will certainly give the Obenauf's cleaner a try.
As an aside, when I was doing my research I ran across a blog where several writers were lamenting that Obenauf's oil and grease darkened leather somewhat. I have two reactions to this.
First, in six decades I have never seen an effective leather oil or grease that did not darken the leather. Second, when it comes to outdoor footwear, I am interested in three things: comfort, performance and durability.
If Obenauf's, or any other brand of leather treatment, helps keep my feet dry and comfortable and extends the life of my boots, then I could not care less if it changes the leather's color. I am sold on the Obenauf's products I tested.