Oklahoma Leather Products Cavalry Style Flap Holster
By Chuck Hawks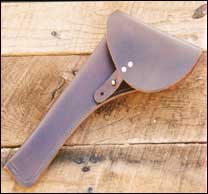 Illustration courtesy of Oklahoma Leather Products
Oklahoma Leather Products produces a line of holsters, slings, gun cases, tool pouches, knife sheaths, possible bags, and leather accessories for the black powder and single action shooter. Now in their third decade of operation, the company operates out of a 50,000 square foot manufacturing facility in Miami, Oklahoma, U.S.A.
They not only market products under their own name, but produce OEM and private label goods to special order in lots as small as 200 pieces. Oklahoma Leather products are available from major online retailers such as Midway U.S.A., Cabela's, Bass Pro Shops, and local retailers such as the Gunworks in Springfield, Oregon.
For the black powder revolver shooter, Oklahoma Leather offers Cavalry, Western, Slim Jim, and Modern Hunting style holsters. The holster examined for this review is Oklahoma Leather's Cavalry Style Flap Holster.
This style is available in oiled brown leather or dyed black leather. It can be had plain or embossed with "US" or "CS" for the Civil War buff. The entire body and flap of the holster is made from a single piece of leather, folded and stitched along the trailing edge and across the bottom. The closure, a leather strap that slots over a brass peg, is attached to the flap with two brass rivets and the belt loop is stitched to the back of the holster. The belt loop is mounted in such a way as to slant the holster properly for cross-draw wear. The list price direct from Oklahoma Leather (you can visit their web site at: http://www.oklahomaleatherproducts.com/) is only $23.99.
I purchased my right hand draw holster (left hand draw is also available) in brown finish for a Uberti/Remington Model 1858 revolver with an 8" barrel. The smooth leather outer is nicely oiled and the unlined interior is rough leather. Since my Uberti is a stainless steel model, the latter is of no consequence, but I have learned from experience that an unlined holster will accelerate wear on the finish of a blued revolver.
I like the basic design and quality of this Oklahoma Leather Products holster. The generous flap provides good protection in the field. In fact, this rugged holster provides such a high level of protection that it also serves pretty well, off the belt, as an impromptu protective case.
Along with my holster I purchased a matching brown leather gun belt. Called the Strap Leather Holster Belt, this is available in oiled brown or dyed black finish to match the Oklahoma Leather Products holsters. It features a brass plated buckle attached by two large brass rivets, fits 30" - 46" waists, and is 1 3/4" wide. This belt nicely complements the holster, and lists for only $17.99.
Together the belt and holster make a good field rig, as well as a fine choice for the mounted pistolero. I prefer cross draw carry for a large revolver in the field, as it allows freer body movement (particularly sitting) and the revolver does not interfere with a long gun carried in the strong hand.
This Oklahoma Leather Products holster and gun belt is not the fanciest rig I have ever owned, but it is a good looking and eminently practical set that nicely complements a black powder revolver. And, given its moderate price, it is a real bargain.