Olympia R300 Two-Way Radios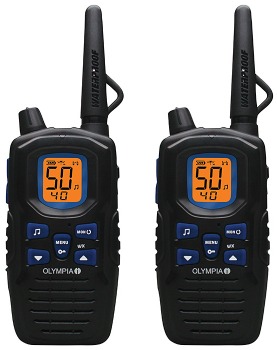 Illustration courtesy of Olympia Products.
Despite the fact that cell phone providers are expanding their coverage every year, there is still a need for two-way radios by sportsmen. Unless the country finds a way to provide coverage across the country via satellite, there will always be dead zones for cell phones. If you happen to be in a dead zone during an emergency or there are power outages, you are in a world of hurt. Given the affordable price of efficient and reliable, FRS/GMRS dual-service two-way radios such as the Olympia R300s reviewed here, it just makes sense to have them on every trip into the back country, even if you plan on using your cell phone for most communications.
We will be the first to state that you do not get any greater range out of a $150 radio than you do from a $35 radio. You do not get more radiated power from an expensive unit than you get from a bargain unit, due to FCC power output limitations (max. 5 watts).
All of these line of sight, five watt, FRS/GMRS UHF radios with fixed antennas have the same maximum potential transmitting range, as well as the same range limitations due to terrain and atmospheric factors. None of the manufacturers want to admit this, but it is a fact. It is also true that the manufacturers intentionally mislead consumers about their maximum range.
Under optimal (i.e. laboratory) conditions, such as from a mountain top or an aircraft transmitting to a plain below with no obstructions in the line of sight path and zero dust/moisture in the atmosphere, 100% battery charge and antennas at matching angles, most good radios will theoretically broadcast 30-40 miles. In urban environments, your maximum range might be a couple of miles. Of course, the R300 radios are not designed for serious use in cities. These are communication devices intended to provide the user with an extra bit of security in the field. The FCC estimates that you can expect a realistic communications range of five to twenty-five miles from a 5 watt GMRS band radio.
That said, how do you decide which two-way radios will meet your needs and not break the bank? With the dozens of two-way radio models available and prices ranging from $50 to over $300 a pair, deciding which ones will best fit your needs can be daunting.
First of all, do not buy the Family Radio Service (FRS) band only (1/2 watt max. output) radios that are available for $25 - $50 per pair in the big box stores. They are great for the kids to play with, but not what you would want to bet your life on in an emergency situation. Get more powerful FRS/GMRS dual band radios. Next, look for a brand name that you can trust and that has been around for more than a couple of years. Lastly, make sure the construction is solid, transmission clarity good and they have a reasonable warranty.
The Olympia brand has been around for over 100 years and is known for quality products that the Company stands behind. The R300 two-way radios that we chose to test are mid-priced models, not Olympia's most expensive units. We liked the emergency feature on the R300 and were impressed with its construction and warranty.
The R300 can use disposable alkaline batteries or a rechargeable NiMH battery. One of the reasons we like the Olympia R300 radios is their standard micro-USB charging ports. This allows their battery to be recharged using any standard cord from your vehicle in the field or with an Olympia solar charger.
The cell phone manufacturers were slow in adapting the micro-USB ports, but they finally have. Unfortunately, most two-way radio makers are still lagging behind. The lack of standard USB or micro-USB charging ports on most other radios is a critical limitation of those units.
Features and Specifications
Model: R300
Radio Service: FRS/GMRS
Frequency Range: 462-467 MHz UHF
Max. Radiated Power: 5 watts
Top/Mid/base ranges: 40 mi. / 9 mi. / 2 mi.
IP54 Rating: Waterproof
50 Channels with 121 Privacy Codes
11 Weather Channels (7 NOAA) with alert feature
Push-to-Talk Power Boast (PTT) Power Boost
Micro-USB Charging Port
Batteries: 3xAA alkaline or rechargeable (AA) battery pack.
Battery Life: 23 hours with alkaline or 8 hours with NiMH battery
Low Battery Alert and LCD Battery Meter
VOX / iVOX Hands Free Operation
Call tones: 20
Backlit Display with flashlight
LED Light (RX/TX/STBY)
Battery Save and Power Save Feature
Priority Scan and Monitor Features
Auto Squelch
Vibrate for silent call notification
Built-in LED flashlight
Drop-in Charging Base compatible
3 Year Warranty
2015 MSRP: $89.99/pair
The R300 package includes:
2 radios
2 belt clips
1 Y cable micro-USB charging adaptor with dual connectors
2 (AA) NiMH rechargeable battery packs
Owner's manual
While operating on FRS frequencies does not require an FCC license, a license is currently required to operate a GMRS system. Licenses are issued for a five-year term and can be renewed between 90 days prior to the expiration date and up to the actual expiration date of the license. After a license expires, an individual must request a new GMRS license. You may apply for a GMRS license if you are 18 years or older and not a representative of a foreign government. If you receive a license, any family member, regardless of age, can operate GMRS stations and units within the licensed system. Here is the official FCC statement about dual service FRS/GMRS radios:
Some manufacturers have received approval to market radios that are certified for use in both GMRS and FRS. Other manufacturers have received approval of their radios under the GMRS rules, but market them as FRS/GMRS radios on the basis that:
Some channels are authorized to both services, or
A user of the device may communicate with stations in the other service.
Radios marketed as "FRS/GMRS" or "dual-service radios" are available from many manufacturers and many retail or discount stores. The manual that comes with the radio, or the label placed on it by the manufacturer, should indicate the service the radio is certified for. If you operate a radio under the GMRS rules, you must have a GMRS license. GMRS radios generally transmit at higher power levels (1 to 5 watts is typical) than FRS radios and may have detachable antennas.
If you operate a radio that has been approved for both FRS and GMRS, and if you limit your operations to the FRS channels with a maximum power of 1/2 watt effective radiated power and an integral antenna, you are not required to have a license. (Note that some dual-service radios transmit with higher power on FRS channels 1 through 7; these radios can be used without a license only on FRS channels 8 through 14.)
As a practical matter, the radio cannot tell if you are a licensed operator when you switch from an FRS channel to a GMRS channel. If you are in an urban environment it is possible that you might interfere with a licensed operator and get reported, but in the field this is not an issue. Recognizing this and the large numbers of people with FRS/GMRS radios who are not licensed, in 2010 the FCC proposed to remove the individual licensing requirement for GMRS and instead license GMRS "by rule" (meaning that an individual license would not be required to operate a GMRS radio). This proposal is still pending.
To check for transmission quality, we used a R300 radio to call another two-way radio that cost three times as much. All of our testers agreed that there was no difference in quality of reception between the Olympia and the more expensive brand. It just goes to show that sometimes you pay more, but do not get better performance.
The R300 features an ergonomic design and large buttons that allow use with gloves. There are high and low power options, the latter to save battery life when longer range is not needed. The vibrate call notification feature can be used to eliminate sound from the radio while hunting. The R300 is compatible with many headsets. It is dust protected, splash proof from any direction and incorporates a built-in LED penlight.
However, we think the R300's best feature, and a good reason to buy this radio, is its emergency button. Press this button once and you can broadcast continuously without holding down the transmit key; potentially handy to have if you become injured in the field. Just remember that continuous transmission will deplete the battery.
With an MSRP of $89.99 for two radios with accessories, the Olympia R300 set is a bargain. We will definitely be taking these excellent units with us into the mountains on our upcoming fall hunting trips.