Olympia WD180 Wilderness Lantern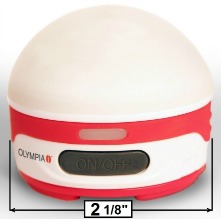 Approx. actual size. Illustration courtesy of Olympia Products.
Every now and then we get a product to review that stands out above the rest. The Olympia WD180 Wilderness Lantern is one such item.
We were so taken with the WD180 that we ordered two more so that Carl and Susannah could each have one in their backpacks during their summer archeological and GIS expeditions into the mountains. Mary and I wanted to make sure that our WD180s remained in our overnight packs. That is how fantastic this lantern is.
While we have used it extensively on our spring excursions, we are looking forward to having it in our blinds for our annual south Texas deer hunt. Being able to reduce the output to a low level, it is sure to provide enough light for us to be able to see in the blind before dawn, without scaring the animals.
We added the measurement of the WD180 to Olympia's picture to illustrate that it fits into the palm of your hand, yet still emits 180 lumens of light. The base has a magnetic stand that can be adjusted up to 60-degrees for lighting in a tent and has a built in clip so you can hang it.
A lot of thought went into this lantern. It has a rechargeable 2000 mAh lithium battery and the micro-USB port that makes it compatible with the Olympia SB5500 solar battery and SB56 solar panel. As such, if you have one of the Olympia solar panel chargers, you never need to worry about the WD180 running down in the field.
Runtimes are 6.5 hours on high, 12 hours on medium, 20 hours on low and 200 hours on SOS. For SOS mode, hold down the power button for two seconds.
It is water resistant, with an IPX6 rating. This means it is protected against water sprayed from all directions.
Features and Specifications
CREE XT-E LED with 180 Lumens
Rechargeable with built-in micro-USB charging port
Includes micro-USB cable for charging
Waterproof IPX6
4 light settings: High-Medium-Low-SOS
Runtime (hours): 6.5 on high, 12 on medium, 20 on low, 200 on SOS
Built-in hanging clip
Magnetic base
Weight: 90 grams (3.2 ounces)
Adjustable feet provide ability to angle the light to 60-degrees
2000mAh built-in Lithium Polymer rechargeable battery
2 Year warranty
2015 MSRP $29.99
As great as these lights are for hunters and backpackers, they also have another very important application. For any of you who have children that go camping with you, give your kids their own light. That way, if they wake up in the middle of the night and are scared, they can turn on their own light and look around, or they can set it on low power by their pillow for security. It just might make the difference between your kids having a wonderful camping experience instead of one that is frightening.
In fact, Carl took his seven year old cousin on our spring turkey hunt. He let the boy use a Wilderness Lantern in the tent at night. Long story short, the boy fell in love with the lantern, kept it on all night (on low) and thoroughly enjoyed his outing. As you might have guessed, Carl gave the lad his lantern. There is now, one happy little boy looking forward to his next adventure in the outdoors. The downside is that Carl now has to convince me to share my lantern with him; good luck with that!
All four of us recommend that you put one of these Olympia Wilderness Lanterns in your vehicle, backpack and camper. Better to have them and not need them, than to need them and not have them.