Olympia EX230 Headlamp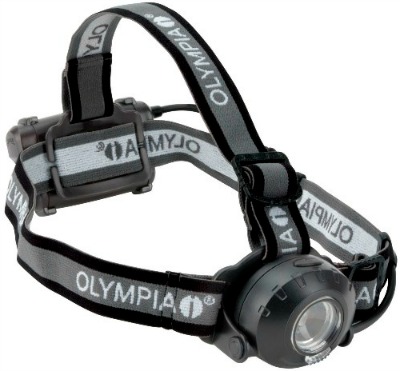 Illustration courtesy of Olympia products.
With the advent of LEDs, there are more headlamps on the market than we can count. Their prices range from $15 for cheap junk to just under $100 for some models. The question that every hunter asks is, "Which brand is the best buy?" Since most manufacturers fill their promotional material with hyperbole, it can be difficult for the average person to make an intelligent selection.
That is where Olympia makes it easy. All of their headlamps (and flashlights) meet NEMA ANS1/FL1 standards. The NEMA (National Electrical Manufacturers Association) established basic standards for reporting and documenting the performance of flashlights. This was done to help the consumer make intelligent decisions when buying.
Most headlamps on the market report the performance of their lamps in accordance with some ANS1/NEMA FL1 categories, such as, light output in lumens, beam distance and runtime from 30 seconds after the light is turned on until the output decreases to 10% of its initial output. However, they conveniently ignore the fact that their products fail to meet the ANS1/FL1 impact resistance and water resistance standards. In our opinion these are critical for hunters, because we are out in all kinds of weather and terrain.
The EX230 complies with the ANS1/FL1impact resistance standard of surviving a one-meter drop on cured concrete without damage and water resistance standard IPX4. We would like to point out that the water resistance test must be performed after the headlamp has been dropped, not before. These tests must be repeated several times to insure compliance.
We sent the EX230 into the field on three different occasions with university students who were conducting surveys of rattlesnake activity at night. (Better them than us!) They reported that the battery case in the back provides a perfect counter-balance to the headlamp, making it a very comfortable unit to wear. They were really impressed with the reliability of the EX230, as you do not want a headlamp failing when you are working with venomous snakes at night! We were lucky to get it back. In fact, we had to promise to allow them to use it throughout the fall, until Jim needs it for his deer hunt in October.
Features and Specifications
Water resistant
Luxeon Rebel White LED
4 light settings: High, Medium, Low, Strobe
Complies with ANS1 FL 1 Standards
Impact Resistance - 1 meter drop
Red rear light on battery case for safety indication
Regulated circuit
LED focus control (1x flood & 4x spot)
Pivoting head
Head strap color: Gray with red stripe
Compatible with: 3 x AA batteries (included)
230 Lumens
Peak Beam Intensity: 4700 Candelas
Beam distance: 140 Meters
Runtime: 10 hrs at 230 lumens, 20 hrs at 115 lumens, 160 hrs at 25 lumens
Headlamp Dimensions: 2.9 in. W x 2.1 in. H x 1.5 in. D
Battery Case: 3.2 in. W x 2 in. H x 1.1 in. D
Weight: 6.98 ounces
2014 MSRP: $49.99
With an MSRP of $49.99, the EX230 is competitively priced with other headlamps on the market and it is demonstrably better than most. We liked the fact that it takes AA batteries, which are available at just about every store in the country that carries any batteries at all.