The Olympia Solar Battery with Charger Panels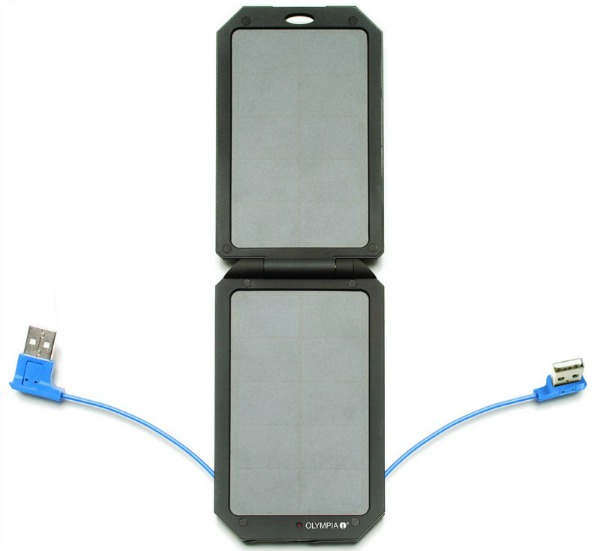 Illustration courtesy of Olympia products.
With the widespread use of cell phones, personal GPS units and two-way radios in the field, venturing into the wilderness has become a lot safer in the past few years. However, along with the benefits associated with their use came the concern of battery drain in the field and what to do about it. There was usually no problem to carry extra batteries for our GPS units and radios, but cell phones were another matter. If you were venturing out for an extended period, the extra weight of spare batteries was a pain.
The Olympia battery pack with solar charger panels puts all of those concerns to rest. There have been other solar panels for field use over the years and a few storage batteries for backups, but Olympia has combined both into a single compact and rugged unit with the SB5500. Weighing only nine ounces, this is a must have item for anyone who ventures into the field. An additional benefit of this unit is that there are two charger cables, one is a USB and the other is a micro-USB. Given that personal device manufacturers are finally standardizing their charging ports, Olympia got with the program ahead of all others in the industry.
The only question remaining is how does this unit work. Does it live up to their specifications?
We determined over a month's testing that the fully charged battery would return any 4G smartphone to full charge in under two hours. In fact, the battery has enough power to charge two phones before it needs to be recharged.
We then plugged the battery into Mary's Kindle Fire HDX. It brought the Kindle up to full charge in less than three hours, while Mary was using the tablet.
When the solar battery needs recharging, you open the panels and set it out in the light. Depending on the sunlight in your area, you can expect it to fully charge the battery within seven hours. All in all, this is a superb unit that performs as advertised, if not a bit better.
Features and Specifications:
5500mAh Lithium Polymer battery
Dual solar charger panels
Rechargeable via built-in USB cable or micro-USB cable
2 Output ports for charging other devices simultaneously
LED battery power indicator
Built-in USB cable and micro-USB ports for charging devices
Built-in aperture for carabiner or lanyard
Extra USB to micro-USB cable for charging the battery
Charges small devices (e.g., cell phones) in approximately 2-3 hours (or less)
Charges mid-size devices (e.g., tablets) in approximately 5-6 hours (or less)
2 Year warranty
Length: 6 in. (152.4 mm)
Width: 3.6 in. (91.4\'a0mm)
Depth: 0.7 in. (17.7 mm)
Weight: 9 oz. (255.1 g)
2015 MSRP $59.99
Given what this unit does and the peace of mind that it provides when we are in the field, we highly recommend it for everyone who ventures into the outdoors with a cell phone or tablet. As a side note, not all GPS units or two-way radios manufactured over the past several years have the standardized USB or micro-USB charging ports. If yours do not, you should consider replacing them with newer units that have standard ports.