Otis Ripcord One-Pass Gun Cleaning Cord
By Chuck Hawks with Jim Fleck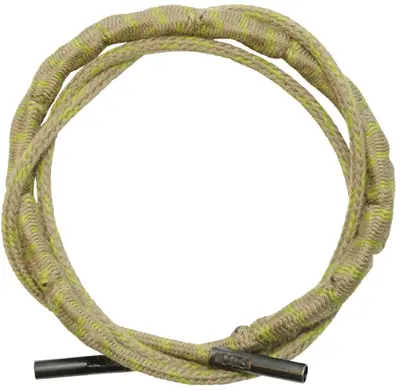 Otis .308 Ripcord. Illustration courtesy of Otis Technology.
The kind folks at Otis Technologies (www.otistec.com) sent me four samples of their new Ripcord pull-through gun cleaning cord, which is obviously intended to compete with the popular Hoppe's Bore Snake. The samples were for .22 caliber rifles, .308 caliber rifles, 9mm/.357 caliber handguns and ..44/45 caliber handguns, which are the four sizes available at the time this is written. Ripcords are made in the USA.
Ripcord is made of Nomex synthetic fibers, which are heat resistant, wrapped over a molded rubberized core. It is claimed that the Nomex serves as both a brush and a cleaning patch to loosen and remove fouling. The fattened section of the Ripcord intended to engage the rifling is wound in a helix (spiral) pattern to better engage the rifling. This cleaning section measures 10" long. The thinner section intended to drop through the bore measures 23-5/8" long for rifles and 11-1/4" long for handguns. There is about a 2" pigtail at the opposite end of the cleaning section. Both ends of the Ripcord have crimped-on brass ferrules that are threaded to accept standard 8-32 cleaning tips and brushes.
Otis claims the Ripcord's semi-rigid materials and construction removes fouling better than soft nylon products (meaning a Bore Snake). The bodies of the sample Ripcords are approximately OD green with another color woven-in to serve as color coding for different calibers (black for 9mm/.357, red for .22, etc.).
The Otis instructions for use are simple: "Insert the longer, narrower end in the chamber and feed out the muzzle. Pull through from breech to muzzle. Repeat as needed. Use only for caliber specified."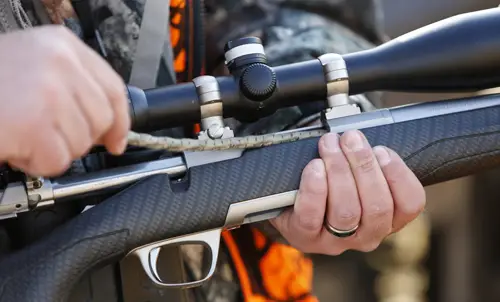 Otis Ripcord being inserted in rifle. Illustration courtesy of Otis Technology.
Features and Specifications
Manufacturer: Otis Technologies
Country of origin: USA
Overall length: 36" (rifles), 22.5" (handguns)
Cleaning surface: 10"
Core: Molded rubberized material
Surface: DuPont Nomex
Heat resistant outer layer (up to 700-degrees F)
Helix shape engages the rifling through the length of the barrel
Threaded and coated solid brass ends accept standard 8-32 accessories
Safe for all firearms
Most effective one-pass cleaning available
2013 MSRP: $14.99
Otis claims the Ripcord cleans barrels with one pass. I suppose that depends on how dirty the barrel is to begin with and with what it is fouled. I used one pass through a .30-30 barrel through which about 20 rounds of jacketed factory loads had been fired (I didn't have any really dirty barrels on hand) with the .308 caliber Ripcord and it seemed to work. At least the bore looked shiny afterward to the naked eye. The relative stiffness of the Ripcord's thin section that you pull on (compared to a Bore Snake) makes it easier to drop through a barrel and the price is competitive. However, I have a couple of observations that are less positive.
My first observation is that, while few handgun barrels are longer than about 10", many rifle barrels are 26" long. I tried the .308 caliber Ripcord in a 24", .30-30 barrel (Winchester Model 94 Sporter with .308" groove diameter, 1:12 twist). Because the chamber is fatter than the bore, about 2" protruded from the muzzle end of the barrel when the helix cleaning section engaged the rifling. This means that the rifle Ripcords will probably not be long enough to be pulled through 26" and longer barrels.
My next observation is that it was extraordinarily difficult to pull the .308 caliber Ripcord through my .30-30 rifle barrel. In fact, I could not do it with my bare hands. For a while, I was afraid I would not be able to get it out at all. Fortunately, I was able to get enough thin end through the barrel to take a couple of turns around a 15" long knife sharpening steel with a thick wooden handle. This gave me sufficient leverage to exert enough force to, very slowly, pull the rest of the Ripcord from the barrel. It took a LOT of force. At that point I suspended testing, not wanting to go through this hassle again or risk the Ripcord getting stuck in another gun barrel.
In response to this problem, Otis informed me that there had been a manufacturing dimension issue with some early .308 Ripcords that had since been corrected. Their supposition was that one of these oversize cords had accidentally been sent to me for review. They sent me a replacement (improved) .308 Ripcord, which I tried in the same rifle.
This time I was able to pull the Ripcord through the (already clean) barrel bare handed, but just barely. The thin portion of the Ripcord left deep indentations in the flesh where I wrapped it around my hand to get sufficient purchase to laboriously drag the fat portion of the Ripcord through the barrel. Testing discontinued after first pass. The replacement .308 Ripcord is better than the first sample I received, but still needs more modification and a longer pull cord (thin) section.
The .22 rifle, 9mm/.357 handgun and .44/.45 handgun Ripcords I gave to Guns and Shooting Online Chief Executive Technical Advisor Jim Fleck for him to use and report his results. In testing, he pulled the Ripcord three times through each test gun. Here are his comments.
.22 Ripcord in Marlin Model 39 lever action .22 LR caliber rifle with a 24" barrel: High resistance. I thought I had it stuck in the barrel for a few seconds. I had to takedown the gun to get the Ripcord to go through.
9mm/.357 Ripcord in Glock Model 19 9x19mm pistol with a 4" barrel: Medium light resistance. Very easy to pull through.
9mm/.357 Ripcord in Ruger New Model Blackhawk .357 Magnum revolver with a 6.5" barrel: Medium light resistance. Easy to pull through.
.44/.45 Ripcord in Ruger New Model Super Blackhawk .44 Magnum revolver with a 5.5" barrel: High resistance the first time, then medium high resistance. Difficult to moderately difficult to pull through.
.44/.45 Ripcord in Ruger New Model Blackhawk .45 Long Colt revolver with a 7.5" barrel: Medium light resistance. Very easy to pull through.
Based on these results, we would use the 9mm/.357 and .45 caliber handgun Ripcords for quick and convenient gun cleaning. (Use the .44/.45 Ripcord in .45 caliber handguns only.) We would not use the .22 and .308 caliber rifle Ripcords at this time. For cleaning rifles we suggest a conventional cleaning rod and patches, or another brand of pull through bore cleaner.