The Over/Under Shotgun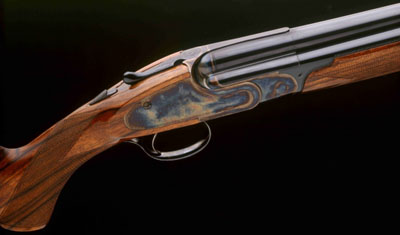 Robertson O/U shotgun. Illustration courtesy of Boss & Co. Ltd.
About four years ago, I published an article titled "Reasons to Avoid Over/Under Shotguns." That generated a fair amount of hate mail, because most of these folks didn't bother to read the sister article, "The Many Reasons to Buy an Over/Under Shotgun." There are fact-based reasons both pro and con. A lot of the discussion isn't really an exchange of ideas at all. It'sabout the "romance of the gun."
The romance of the gun is an interesting phenomenon. Unlike top quality firearms, most of the things we buy and use don't have a 30, 50, or 100 year service record. Not our phones, computers, power tools, or automobiles. We don't want a 30 year old car, tractor, or even house. Thirty year old roofs, thirty year old plumbing, thirty year old television sets, most folks wouldn't want it. We don't often want 30 year old motorcycles, 30 year old ATVs, 30 year old campers, 30 year old snowmobiles, 30 year old much of anything. According to some, a five year old digital camera, camcorder, or computer is Stone Age stuff. (However, some Guns and Shooting Online staff members are still shooting Charles Boswell and Lefever double-barreled shotguns well over 100 years old. - Editor.)
A shotgun is a simple mechanical device, compared to many things we use everyday. It isn't splitting the atom, it isn't the space race and it isn't cold fusion. It doesn't have hundreds of moving parts. In firearms, we wax enthusiastic about the notion of feeding families, food on the table, but the reality is that in most cases, shotguns are recreational devices, at least O/U's are. A shotgun is a relatively low-pressure firearm. A .22 Long Rifle cartridge has a Maximum Average Pressure twice that of most shotshells.
We like to talk about shotguns in terms of quality. We like to say "you get what you pay for," but this isn't always true. If we pay for over-priced junk, we likely get it. We like "Members Only" jackets, trendy things, exclusive things, prestigious things and so on. Shotguns aren't immune from the various human afflictions.
An O/U shotgun action is basically a hinge. Hinges have been around for a very long time. In a practical sense, the O/U shotgun was perfected in 1909 by Boss & Co. It wasn't by Thomas Boss, though; it happened close to a hundred years after Thomas Boss started in the British gun making world. It was from John Robertson, who joined Boss & Co. in 1891.
There is good reason why notions of the strongest or longest lasting O/U shotguns defy precise description. It comes down to who makes the better hinge. That is why we use terms like "hold up," "strong action" and assorted other imprecise terms when we struggle to assess O/U shotguns. A hinge that locks is an old idea and some of the cheapest and most utilitarian guns ever made (the H & R Topper, for example) both hinge and lock.
After all these years, we still can't quite come to grips with the idea that 12 gauge shotguns all fire the same shells. We seek "strength" in target guns, although target guns shoot low intensity shells compared to hunting guns, but they shoot a great many of them. Heavy 12 gauge target guns endure relatively less shock and vibration per shot, compared to hunting guns. Durability, not action strength per se, is what is needed in target guns. We don't like recoil, so 28 gauge and 20 gauge payloads (3/4 and 7/8 oz.) are becoming more common. Not only is 7/8 oz. a 20 gauge payload, it is a 20 gauge target load.
Both the Boss from 1909 and the Woodward O/U (1913) are considered low-profile actions and use trunnions instead of a hinge pin below the barrels. The notion of using trunnions, allowing a barrel to pivot, goes back to cannon, specifically siege cannon from the 1400's, not for ease of loading (they were muzzleloaders after all), but to change the elevation.
Making a proper hinge in an O/U shotgun was old news ninety years ago. Without the latest metallurgy and CNC machining, decades ago Boss, Woodward and Browning were making vertical double guns that can last indefinitely. Buy a new Browning Citori or a Caesar Guerini and try to wear it out by shooting, without abusing it. If you succeed, please let me know what it cost you in ammunition and range fees. (Improper gun handling, specifically slamming the action closed, creates excessive wear on any break-open action and is the primary cause of "shooting loose." -Editor.)
The better guns are easy to spot, so it is not necessary to waste time worrying about the hinge. Top quality materials, heat treatment, parts that fit perfectly, careful assembly, barrel regulation, wood to metal fit, metal to metal fit, polish, finish, bluing, grade of walnut, balance and trigger pull are among the factors that make a gun worth owning and they are mostly not hard to discern.
For many people, including myself, a desirable O/U shotgun may well be the most expensive firearm they ever buy. That's why a proper gun fitting, a custom stock, or a bespoke shotgun may be the way to go. Gun fit is the most valuable component of all. A gun that doesn't fit can make almost anyone come unhinged.