The Dynamic Pleasure of the Motorcycle
By David Tong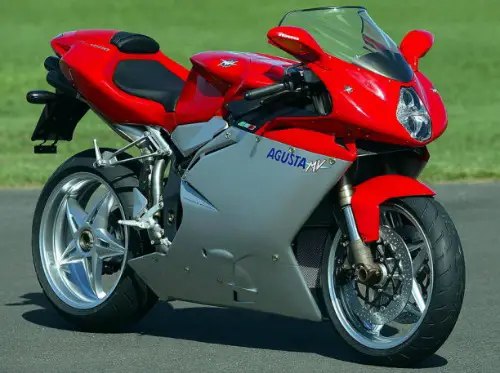 MV Agusta
This piece is about the joy of powered two-wheeling, my experience having spanned nearly three decades and eighteen motorcycles owned, plus a slew of others during my journalism days with national magazines.
I have likened my few aerobatic demonstration flights as "motorcycling in 3D." I believe the comparison is apt. The sensations of banking in turns, the g-forces of climbing and diving, the unfettered feel of near 360-degree visibility and the great responsibility of being master of your personal safety are similar.
The motorcycles that appeal to me the most are the ones that allow me to ride to the limit of what is personally safe, given my skill-set and will. This is generally some form of sport bike, as they are indeed the sports cars of motorcycles.
This is not to say sport bikes are comfortable, or often attractive. I greatly prefer simple smooth curves over metal and plastic origami, but I am willing to make rare exceptions.
The question of how the motorcycle feels is crucial. Does the suspension have sufficient vertical travel and is it well controlled (damped) to ensure a firm but not harsh ride? Is the steering so tactile that you can feel the paint lines and the slightest counter-steering movement initiates a turn, seemingly without conscious thought?
Is the engine loud and vibrating, or is it sweetly mellifluous? Is it raucous, or does it feel like a part of the Twenty-first Century?
What is the gearbox like? Is it harsh and noisy, or is it so smooth that shifting seems nearly an afterthought, with or without clutching up or down? Does the thing bring out the inner child in you, make you want to put on your race face, or simply make you smile?
I have ridden BMW, BSA, Ducati, Harley-Davidson, Honda, Kawasaki, Laverda, Moto-Guzzi, MV Agusta, Norton, Suzuki, Triumph and Zero (electric) bikes, while working with Motorcycles and Riding Online, Motorcyclist, Motorcycle Cruiser and Moto-Euro magazines. I have enjoyed test rides from local dealers and sampling the bikes of friends.
Just as a true sports car or an aerobatic airplane is an extension of your will, so too is an agile motorcycle. It should be capable of over 35 degrees of lean angle on both sides, with suspension sufficient to take you over a bump in a corner at speed without grounding or head shake. It should have a smooth power delivery, without a huge torque lunge just off idle, or an insane rush of horsepower over 8,000rpm. There is only so much one can use on the public roads, after all.
Please note that I am just writing about the kinesthetic joy of riding. While it is true certain bikes that I will not name may have some of these sensations, as well as comfort, luggage capacity and weather protection, these are not the point of this piece.
I would characterize the following bikes as my all time favorites, so far, that I have ridden purely for the sensation of speed and handling. These are not in any order of preference.
1981 Moto-Guzzi Le Mans II: Simple Pleasure.
2002 BMW R1100S: A sporting bit of kit with long legs that will do one's bidding.
2002 Honda CBR-600F4i: Complete competence.
2002 Honda CBR-929RR: More complete competence.
2002 MV Agusta F4S 750: Beautiful, Italian and reliable; uncomfortable as sin.
2002 Suzuki GSXR-1000: Utterly civil and linearly smooth power, but will straighten your arms.
2006 Harley-Davidson Street Rod 1135cc: A Harley hot rod that actually corners. Make mine orange.
2013 Triumph Speed and Street Triple R: Brash, British and brutish joy.
Obviously, this is a truncated list, out of the hundreds of bikes I have been blessed to have sampled over the years.
To my road compadres, be safe and try not to cackle out loud when car drivers pull up next to you at a stoplight. Most will not understand.
This may or may not make sense to many readers, but it is a distilled experience base of bikes that felt, and made me feel, good. To this day, riding any of them is bound to put a smile on my face.