RCBS Chargemaster Lite Electronic Scale and Powder Dispenser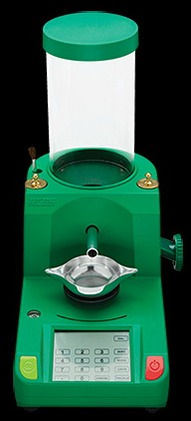 Illustration courtesy of RCBS.
For many years I used an RCBS electronic scale and a cast iron powder trickler to prepare powder charges. It was time consuming, but it got the job done. When RCBS came out with their Chargemaster Combo (electronic digital scale and powder dispenser), I never looked back.
It was and is a superb product. Compared to a manual (volumetric) powder measure, a combination electronic scale and powder measure is a very significent improvement in both speed and accuracy.
Now, RCBS has introduced their advanced Chargemaster Lite for 2017. It is RCBS part # 98940, runs on a 120/240 volt power supply and offers 1/10 grain measuring accuracy. Especially handy is the powder hopper with a quick drain system that makes changing powders more convenient. There is even a built in bubble level.
Features and Specifications
RCBS part #98940
2-300 grain powder dispense range
+/-0.1 grain accuracy (0-500 grains)
Ambidextrous scale pan
LCD Touchscreen display
Durable On/Off and Dispense buttons
Wind Cover
Powder hopper and quick-drain system
Built in bubble level
Limited One Year Warranty
120/240 switching power supply
EU/UK/AUS compliant
2017 MSRP: $299.99
The Chargemaster LIte is a terrific, time saving machine that I use constantly. I use it for smokeless powder charges and I use it exclusively for dispensing Blackhorn 209 muzzleloading propellant. Prior to going to the range, I make up a couple hundred charges of the Blackhorn 209, then bag and tag them with the date and respective weights of the powder charges in vials. It makes load development easy and it makes my muzzleloaders more accurate.
The Chargemaster Combo was a two-piece unit that was shipped assembled. The redesigned Chargemaster Lite does essentially everything the Chargemaster Combo does, except that it costs a lot less. Retailing for $299.99, the typical discount retail price is around $210. The RCBS Chargemaster Lite is an outstanding product at a reasonable price that will save you time every month for years to come.