RCBS Precision Reloading Dies
By Chuck Hawks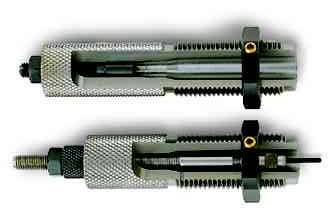 RCBS Precision two die set cutaway. Illustration courtesy of RCBS
RCBS is the largest supplier of reloading dies in the U.S., and they have been in the die making business for a long time. Reloading dies are actually pretty simple, but must be precisely machined. A bit of history: RCBS actually stands (or at least initially stood) for "Rock Chuck Bullet Swagers" and was founded by Fred Huntington.
In addition to reloading dies, RCBS manufacturers a line of excellent reloading presses, including the famous Rock Chukker, that accepts RCBS and all other standard dimension reloading dies. RCBS also markets a full line of reloading accessories.
RCBS reloading dies have undergone detail improvement over the years, to the point where there is very little possibility of improvement left. You could call them state of the art and get no argument from me.
RCBS actually produces several lines of reloading dies, including X-Dies, Competition Rifle Dies, Precision Dies, Carbide Pistol Dies, Cowboy Dies, and Custom Dies. It is the standard "Precision Dies" that are the subject of this article. RCBS Precision Die sets feature:
Sizing dies with tolerance twice as stringent as typical firearms and ammunition for consistent chambering round after round
Available in 2-and 3-die sets with satin/matte finish Fine body knurling for easy, non-slip adjustment
Hardened die bodies
Easy, adjustable expander-decapping unit locks in place, eliminating slippage
Three-piece expander/decapping unit lets you replace the decapping pin in a snap
Perhaps it would be worthwhile to review what a set of reloading dies does. Here are the operations accomplished by any set of reloading dies:
decapping (remove the spent primer)
resize the case back to its original dimensions
expand the case mouth to accept a new bullet
seat the new bullet in the case
RCBS Precision Dies are carefully machined from hardened tool steel. They are packaged in a long lasting and durable plastic box, along with an instruction manual that describes their set-up and use.
RCBS reloading dies come with a limited lifetime warrantee, which is one of the best and simplest in the business. I quote: "If any of your RCBS equipment breaks or doesn't work, we'll fix it or replace it (at RCBS' option). No time limit."
Before use, all reloading die sets must be correctly adjusted. The first (and most obvious) way to learn how to adjust a new set of RCBS reloading dies is to read the instructions that come with the dies. RCBS die sets come with excellent instructions. If for some reason you didn't get instructions with your set of dies (you purchased used dies, for example), see my article "How to Adjust Reloading Dies."
Bottleneck cartridges, which include the great majority of rifle cartridges and a few pistol cartridges, are generally reloaded using a set of two dies. The .308 Winchester is an example of a typical bottleneck cartridge. These two dies include a resizing/decapping/expanding die, and a bullet seating die. RCBS offers a very extensive line of two die sets for reloading bottleneck cartridges.
RCBS two die sets come with a die that decaps, resizes and expands the mouth of a bottleneck case so that it is ready to accept a new bullet, all in one operation. The second die is used to seat a new bullet in a resized, primed, and powder-charged case in a separate operation.
Straight-wall pistol and rifle cartridges are typically reloaded with a set of three dies. The .357 Magnum is an example of a typical straight-wall cartridge. Three die sets include a resizing/decapping die, an expanding die, and a bullet seating die. This is because it is impossible to resize and expand the mouth of a straight-wall case at the same time. RCBS offers a very extensive line of three die sets for reloading straight-wall cartridges.
The first die resizes and decaps the case. The second die expands (bells) the case mouth to accept a new bullet, and the third die seats (and, if desired, crimps) the bullet.
Some RCBS three die sets for reloading pistol cartridges are available with a tungsten carbide insert in the resizing die. These more expensive resizing/decapping dies do not generally require case lubricant for the resizing operation. They are used and adjusted just like a regular sizing die, except that they should be adjusted in the press so that the shell holder does not strike the bottom of the die. These tungsten carbide dies are a convenience and a time saver, and I generally purchase them whenever possible.
I have owned and used RCBS reloading dies for over 40 years now, and I have never had a single complaint. They are literally a lifetime investment.