Reduced Recoil 9.3mm and .375 Loading Data from Nyati Inc.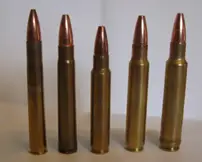 9.3x74R, .375 H&H, .375 Ruger, .375 RUM, .378 Wby.
Photo by Edward Hammond
To this date there is only one well known manufacturer that offers reduced power big bore ammunition and that is Nyati Inc. The average hunter going to Africa is ill prepared because he does not practice enough with his rifle. Some hunters arrive at their destination with a brand new .400 Louden Boomer Monster Magnum that has never been fired and the PH's sigh quietly to themselves. The hunter will face a large bull elephant marked for removal due to crop damage by the Rangers. In his hands he will be holding a rifle he is terrified to fire because he read a novel by Hemmingway that stated when he fired that gun it would break his shoulder and he believes it! Most African PH's would like to see their customers fire, at the minimum, 100 to 300 rounds or more before they make the trip and definitely not the week before they leave their home.
After extensive testing over a one year period, the powder used exclusively by Nyati for their reduced Loads is the excellent 5744 produced by Accurate Powder Co. This powder is used without any type of filler at all; it's perfectly suited for reduced loading in big bore cartridges.
The preferred projectiles are the Barnes Banded Solid for the low recoil practice round and the TSX bullet for the intermediate hunting round. We produced a short list of Videos at YouTube with the cooperation of RC Promotions for demonstrating the recoil effect of the low and intermediate ammunition.
If you decide to use this data, the most important tool that you should have is an electronic scale, such as the Hornady GS-1500, to weigh the components before final projectile seating. Due to the low powder density, a double charge could lead to a catastrophic failure. Reloading is a very safe pastime that many Americans enjoy with a little common sense and a good loading manual. All loads listed are far below SAAM maximum loads and will function perfectly in any modern, manually operated, rifle in good condition.
| | | | | | | | | | |
| --- | --- | --- | --- | --- | --- | --- | --- | --- | --- |
| Caliber | Bullet Wt | MV | ME | Powder | Gun | Recoil Energy | Recoil Vel | Powder Density % | Total |
| | | | | Wt | Wt | Ft Lbs | FPS | | Volume |
| 9.3 X 74R | 250 | 2000 | 2220.3 | 38 | 7 | 17 | 12 | 50.2 | 75.6 |
| | 286 | 1300 | 1073.1 | 27 | 7 | 7 | 8 | 35.7 | 75.6 |
| .375 H&H | 235 | 2000 | 2087.1 | 39 | 9 | 12 | 9 | 44 | 88.4 |
| | 300 | 2000 | 2664.3 | 43 | 9 | 19 | 11 | 48.6 | 88.4 |
| | 300s | 1300 | 1125.7 | 27 | 9 | 7 | 7 | 30.5 | 88.4 |
| .375 Ruger | 235 | 2000 | 2087.1 | 41 | 8 | 14 | 10 | 43.3 | 94.6 |
| | 300 | 2000 | 2664.3 | 45 | 8 | 22 | 13 | 47.5 | 94.6 |
| | 300s | 1300 | 1125.7 | 27 | 8 | 8 | 8 | 28.5 | 94.6 |
| .375 RUM | 235 | 2000 | 2087.1 | 43 | 7 | 17 | 12 | 38.4 | 111.7 |
| | 300 | 2000 | 2664.3 | 48 | 7 | 26 | 15 | 42.9 | 111.7 |
| | 300s | 1300 | 1125.7 | 27 | 7 | 9 | 9 | 24.1 | 111.7 |
| .378  Wby | 235 | 2000 | 2087.1 | 45 | 9 | 12 | 9 | 34.6 | 130 |
| | 300 | 2000 | 2664.3 | 50 | 9 | 21 | 12 | 38.4 | 130 |
| | 300s | 1300 | 1125.7 | 35 | 9 | 7 | 7 | 26.9 | 130 |