Redwing 606 Men's 6-inch Boot
By Chuck Hawks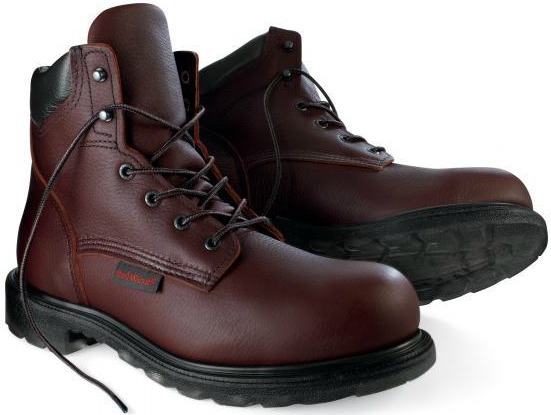 Illustration courtesy of Redwing, Inc.
Frankly, clothing reviews are not my forte'. I am neither concerned with nor interested in the latest styles. (I often wear short sock with my sandals in the summertime, because it is more comfortable.) You could say I dress to be unnoticed, rather than noticed. From head to toe, I tend to dress as economically as I reasonably can. I would rather spend my discretionary income on practically anything but clothes, which makes my recent purchase of a pair of Redwing 606 boots extremely unusual.
Redwing is an American footwear manufacturer founded in 1905 by Charles Beckman in Redwing, Minnesota. Beckman's vision was maximum durability plus comfort in the highest possible quality boot designed for working folks. Not a bad business plan, as Redwing boots are now worn around the world for work, hunting, fishing, hiking, motorcycling and trail running.
Redwing boots are expensive; they cost far more than I would usually spend for footwear. My late friend and Guns and Shooting Online Editor Gordon Landers convinced me to try Redwing (www.redwingshoes.com) a couple of years ago, when I needed new insulated, waterproof, ankle height (6 inch) hiking boots to wear to University of Oregon nighttime football games. (Go Ducks!) Late in the season, it tends to get cold in Autzen Stadium after dark and my feet seemed to be what suffered most. I figured I could also wear the insulated boots on cold days during deer season.
Anyway, I took Gordon's advice and was pleased with the #1246 boots I purchased at the Springfield, Oregon Redwing store. The Redwing Company is located in Redwing MN, USA, but these boots were made in Red China. (98.8% of all footwear purchased in the US is manufactured off shore, but over 60% of all Redwing footwear is still made in the USA.) However, they are comfortable and seem to be durable. I also wear them when riding my motorcycle in chilly weather. They were the most expensive foot wear I had ever purchased (over $100).
Earlier this year, as spring became summer, I wanted a pair of cooler (not insulated and not waterproof) six inch boots that would provide ankle protection for both motorcycling and hunting. Back to the Redwing store I went.
Redwing offers a lot of styles, but most are waterproof, insulated, or incorporate a steel toe (work boots). For my purposes, I wanted to avoid those features. My #1246 boots keep my feet dry and sufficiently warm in chilly and wet weather; this time I wanted boots to wear in the field or when riding my Harley in warm weather.
After inspecting the various styles that seemed to meet my needs (and even trying-on a couple of models), I decided on the #606. This is an American made work boot with six inch high, 100% genuine leather uppers. It is offered in men's sizes 6-15 and widths A-H. There might be someone who could not fit in these boots, but I haven't met him.
According to the Redwing website's customer reviews, all but one respondent gave these boots a score of 5 out of 5 for both quality and value. Most respondents purchased them for work boots and were wearing them in very hostile environments, such as exposed to sparks and slag from welding, corrosive chemicals, kicking cement blocks around and so forth. However, most respondents also used them on pavement and for general outdoor wear, including hunting, which speaks well for their versatility.
Specifications
Leather: Nutmeg ebbtide leather
Construction: Dual density Supersole welt
Insole: Poron
Last: 695
Outsole: Aztec SuperSole 2.0
Shank: Fiberglass
Defined heel: Yes, 90-degrees
Country of origin: USA
2014 MSRP: $219.99
At a price point north of $200, sticker shock was definitely a factor, but eventually I was able to grit my teeth and hand the Redwing sales clerk my credit card. He was kind enough to give my new boots some kind of treatment he said would soften and preserve the leather, in the store while I waited.
I should have bought a tin of the goop he used, but I knew I'd never treat the boots myself. I quit shining shoes forever the day I got out of the Air Force and that sentiment includes leather treatments.
It is the middle of summer as I write this and in the two months I have owned my Redwing 606 boots I haven't been hunting. However, I have hiked around the rifle range (which is a hilly field) and ridden my motorcycle almost daily, wearing these boots.
I can report they were comfortable when I first put them on in the store, because in a Redwing store they take the time to professionally measure your foot and get the fit right. This is not a K-Mart self-service operation. Redwing wants satisfied repeat customers for the long haul, not a quick sale today and gone tomorrow.
As I wore them, the 606 boots became even more comfortable, because genuine leather (unlike synthetics) tends to form to your foot over time. The soles are oil and slip resistant and provide very good traction. Paddling a 660 pound Harley-Davidson around on stained parking lot asphalt is a good, practical test of those qualities.
Closure is by laces. I would have preferred Velcro straps, but Redwing doesn't offer them. The four lower lace holes are complemented by two lace posts at the top. You never need to pull the laces from the lower holes to put the boots on or take them off.
The laces themselves are Redwing's round type. I usually have trouble with laces coming untied and tie an overhand knot over the bow, but these Redwing supplied laces stay put with a simple bow, pulled tight. I can skip the knot, making untying the laces to remove the boots at the end of the day a lot easier.
In summation, I must join the respondents who gave these boots a perfect, five out of five, score. The price is high, but it is more than justified by the value received.