Remington V3 Compact Shotgun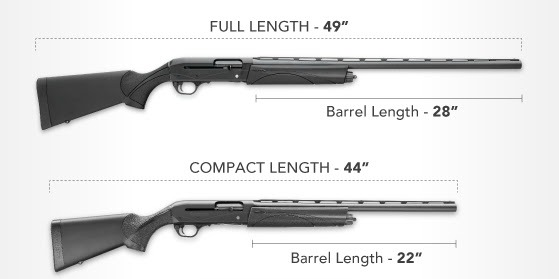 V3 Full and Compact length guns. Courtesy of Remington Arms.
It is clear that the Remington V3 gas operated, three inch chambered, 12 gauge has been a success. The new V3 Compact continues to fill out the line. With a 22 inch barrel, the black matte / synthetic V3 Compact answers the question as to how light Remington can make a V3; mine weighs in at 6 pounds, 14 ounces.
The supplied stock has a 13 inch length of pull. Spacers are included, so you can change that to 13-1/2, 13-3/4, or 14 inches, as you prefer. Shims are also included for cast and drop. The V3 shims are not the cheap, thin plastic type, they are metal. V3 shotguns all come with a metal shim installed, a neutral shim. Shimming a stock is not a substitute for a proper gun fitting. This is why so many shotguns are available with adjustable combs and some with both adjustable combs and adjustable ribs. Interchangeable shims cannot come close to the fine-tuning capability an adjustable comb offers.
A neutral metal shim is installed in all V3 models. This V3 Compact and the forthcoming V3 Turkey Pro come with additional metal shims. The metal cast shim is reversible, so it covers cast on and cast off. Those who have been around shotguns for a while realize that models like the Beretta 302 / 303 and Browning B-80 also have metal shims, but for drop only . . . nothing for cast. The V3 Compact includes two metal drop shims, one labeled "Drop Down" the other marked "Drop Up." In all, there are four factory metal shims that can be used in five positions.
Some people, of course, think that there should be dozens of shims included, forgetting the substantial tooling costs involved for each different shim. The V3 Compact is the first V3 model to be shipped with shims. It is my understanding that the Turkey Pro will also ship with shims. If you want a cast or drop shim for the V3 you already own, you can get them by calling Remington directly.
Remington advertises that: "Unlike other gas operated semi-automatic shotguns, the V3 VersaPort gas system is located directly in front of the receiver. This results in a properly designed forend for ideal ergonomics and centers the weight between the shooter's hands, delivering superior balance and swing performance."
As for the V3 action itself, nothing major has changed. When the V3 was first developed, the gas block was vented, just as it is on the previously released Versa-Max. As time has gone by, Remington revisited the gas action and found the vented gas block was not needed.
There is no vented gas block on the V3 walnut, V3 Compact, or the Turkey Pro models. There is no vented gas block on the V3 TAC-13, either.
Specifications
Order #: 83402
Gauge: 12
Magazine capacity: 3
Barrel length: 22"
Barrel profile: Light contour
Barrel finish: Black oxide
Length of pull: Shim adjustable, 13" to 14"
Country of origin: USA
2019 MSRP: $915
WHO IS THE V3 COMPACT FOR?
A lot of people, actually. All gun manufacturers would like their guns to fit everyone, of course, but that won't happen until everyone can wear the same clothes. Remington does have a bit of an historical advantage, for the standard 870 Wingmasters and 1100's fit more people than just about anything else.
For flushing game, many will like the Compact's 22 inch barrel (about 23 inches if you add an extended choke). Shorter barrels are handier in a turkey blind, as well. On that note, the V3 Compact barrel is the same barrel as on the V3 Turkey Pro and the butt stock is the same as well, minus the camo finish.
Those familiar with Remington might well remember the 1100 "Special Field" models that were produced with 21 or 23 inch barrels. The Remington 1100 Special Field Sam Walton Limited Edition in 12 Gauge came with a 23 inch barrel. The V3 Compact splits the difference at 22 inches.
When bundled up for hunting in cold weather, reducing the length of pull by 1/4 inch or so may be just what the doctor ordered. As a low-recoil shotgun that fits your son, daughter, or wife the V3 Compact is a good way to go. Particularly for youngsters who are growing quickly, the V3 Compact with its length of pull adjustable between 13 and 14 inches should take care of things.
All butt stocks and barrels are interchangeable for V3 synthetic models, so it is easy to customize things for your needs down the road. Right now, V3 barrel length options include 18-1/2 inch, 26 inch and 28 inch, in addition to the 22 inch barrel supplied with the V3 Compact.
The 2019 MSRP is $915 for the V3 Compact. This is discounted twenty percent, or so, by many dealers.
Note: See the Shotgun Information - Reviews index page for five more Remington V3 shotgun articles and reviews.