First Look: Remington V3 Turkey Pro Shotgun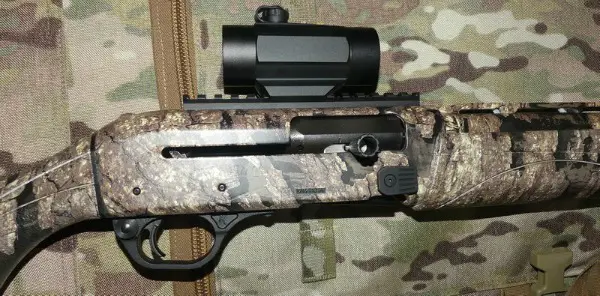 Photo by Randy Wakeman.
The Remington V3 Turkey Pro model was announced at the NASGW 2018 Expo in October, along with the V3 TAC-13. I will cover the TAC-13 and the V3 Compact models in separate articles; both are shipping now.
Remington's dedicated turkey shotgun line is extensive. Already, there is the autoloading, rifle-sighted Versa Max Sportsman Turkey Camo model with a 22 inch barrel and a 3-1/2 inch chamber.
In the pump gun line, there is an 870 Express Turkey camo with a 21 inch barrel, the 870 Express Super Magnum Turkey/Waterfowl and the 870 Express Shurshot Synthetic Turkey. Then there is the 870 SPS Super Mag Turkey / Predator with a TRUGLO 30mm Red/Green Dot Scope, Model TG8030DB, pre-mounted. Finally, we have the 870 DM Predator with an 18-1/2 inch barrel, thumbhole stock, detachable magazines, a pair of Trulock Specialty chokes and XS Ghost Ring sights. Remington offers a lot of ways to kill a turkey.
My understanding is the V3 Turkey Pro is in production and will be shipping in quantity around the first of 2019. My example may not be exactly what is available, for what I have comes with one extended turkey choke and there is no owner's manual or press release.
There are several changes apparent in the V3 Turkey Pro. The receiver has a beveled loading port, the bolt release is oversized and works extremely well, and the charging handle is also oversized. The safety has been changed; it is now a beveled button with circular ridges, apparently for a bit better feel.
The Turkey Pro has a 22 inch barrel and a green fiber optic front sight. A Picatinny rail is pre-installed with a TruGlo Red Dot 1x optic that gives you the option of either a red dot or a green dot, as you prefer. The five MOA dot runs off of a CR2032 button battery. The choke tube is a Tru-Glo Head-Banger TG180X with a .665 inch exit diameter.
With the choke tube removed, the barrel measures 21-1/2 inches from muzzle to breech. The Turkey Pro has a shorter than normal butt stock. I measured it at 13 inches length of pull. The trigger, like all V3 triggers I have used, is excellent. My sample breaks crisply at just over four pounds. It looks like the V3 Turkey Pro and the V3 compact use the same barrel and the same butt stock.
They also use a slightly modified synthetic forearm. While the six little vents on top are the same as the original V3 synthetic models, there is a pair of additional vents near the barrel ring. These are similar to the V3 Walnut's forearm, but not as pronounced.
In terms of basic configuration, the V3 Turkey Pro is set up with apparently the same, or very similar, TruGlo scope as the 870 SPS Turkey Predator model. I will run through the list of refinements as far as the shotgun itself:
Extended bolt release - Any hunter will appreciate this, it works beautifully.
Extended / enlarged charging handle - I think most people will like this, although I have never had any problems with the standard V3 charging handle.
Beveled loading port - I think most people will appreciate it, but loading has not presented any problems for me with the standard V3 models.
Beveled cross-bolt safety - This is really a small matter, for the standard V3 cross-bolt safety is already large and very easy to get off. It is a subtle change and not all that significant.
Extra vents on the forearm - Strictly an engineering tweak.
As for gripes, the only matter that I do not personally care for is the 13 inch length of pull. While I understand shorter shotguns are easier to handle inside a cramped blind, I personally much prefer a standard, 14 inch length of pull butt stock as standard equipment. The shorter butt stock makes more sense as an option, but not as standard issue.
The primary reason to opt for the V3 Turkey Pro is the lack of recoil compared to any other shotgun of similar weight. The next step is to see how it patterns, as supplied, with some 1-3/4 ounce Longbeard XR #5 loads that I have at the ready.