First Look: Remington's 1911R1 .45 ACP Pistol
By David Tong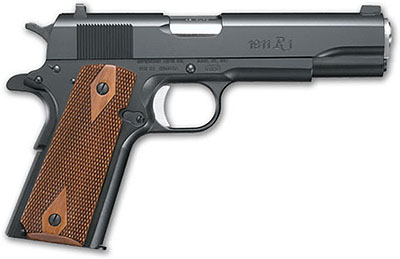 Illustration courtesy of Remington Arms Company.
There is a lot of internet chatter about the newest pistol offering from Remington, America's oldest gun maker. Many pistoleros may be unaware that Remington actually has a very long history of handgun manufacture, including the production of single a shot derringer and Model 1858 and 1875 single action revolvers, directly competing with Colt's percussion and cartridge revolvers. During the First World War, Remington produced Model 1911 pistols for the U.S. military.
Starting in the 1960's Remington offered the XP-100 single shot varmint pistol, for which they developed the .221 Fireball cartridge. This was more a truncated rifle than a handgun in the conventional sense, as it was essentially a Model 600 bolt-action carbine cut off at both ends. This bolt action was very strong and allowed for the use of high-intensity rifle rounds. It was space age looking in that it used a DuPont Zytel nylon one-piece stock and grip. Later versions, intended for hunting and silhouette target shooting, were chambered for more powerful cartridges and fitted with walnut or laminated wood stocks.
With the advent of the 1911R1 however, Remington returns to the repeating pistol in a big way. No one needs to educate the average Guns and Shooting Online reader about the 1911, America's favorite pistol. It served as our military service standard pistol from 1911 until 1985.
Remington built just over 21,000 of the original Model 1911 back in the waning days of the First World War, as a supplemental supplier of America's first issued semi-automatic pistol. The later World War II Remington-Rand made 1911A1 is not directly affiliated with Remington Arms. Remington-Rand was a typewriter manufacturer originally spun-off from Remington Arms and they produced a rather large quantity of 1911s for our services, along with other contractors.
The American public seemingly cannot get enough of the grand old pistol and it is and probably always will be the most copied handgun in history. More manufacturers now turn out variations of the 1911 than any other piece, with the emphasis on "variation." Remington's version differs from the majority of them, in that it is a very basic looking firearm in outward appearance. There are no extended thumb or grip safeties, no slant-cut cocking or press-check slide serrations, no full-length guide rod (hurray!) or long trigger. It looks very much like a dull-black (oxide) version of a WWI U.S. service pistol except for its high-visibility three-dot sights. It has Model 1911 style "double-diamond" checkered walnut stocks, but this is about the only stylistic embellishment on the piece.
The steel frame/receiver appears to be an investment casting. The evidence for this is visible largely under magnification, where one can see very fine surface porosity in one cast-in maker's mark on the right side, as well as some under the fine machine marks and finish overall. Considering the price point the company was striving to meet, one can understand why they would select this method of manufacture; it can create a dimensionally accurate part requiring little machine or labor time to finish, as anyone who owns a Ruger firearm can attest; however, the pistol appears to be fully finish-machined.
The barrel, barrel bushing and link are stated to be stainless-steel "match-grade" components. Indeed, when stripping the pistol by hand (as they are supposed to be, sans wrench), I had to retract the slide slightly to turn the bushing, indicating a very fine fit between the barrel and the bushing, the barrel being slightly flared as the bushing and slide return to battery.
Smaller parts, including the hammer, sear, slide stop, thumb safety, grip safety and mainspring housing are metal-injection-molded. I have written another Guns and Shooting Online article regarding the prevalent use of this precision small part manufacturing technique and many top brands worldwide use these parts. It also greatly reduces the amount of labor and machine time required to produce parts that would, in the old days, have been machined from forgings.
While I might personally quibble with the use of casting or MIM, as cost and quality cutting measures, and both methods can (but don't necessarily) produce parts of amorphous metal grain structure or porosity that can lead to component failure, these drawbacks can be overcome by rigorous quality control. Let us see how the pistol fares after thousands of rounds are fired downrange.
Specifications
Type: Single-action autoloading pistol
Action: Browning tilting barrel, short recoil operated, external hammer
Caliber: .45 ACP
Length: 8.5"
Barrel length: 5.0"
Weight (empty): 38 ounces
Sights: Dovetailed fixed blade front and square notch rear with three dots; rear sight is drift adjustable for windage
Safeties: Thumb, grip and firing pin drop
Capacity: 7 rounds from supplied magazines (2ea. included)
2010 MSRP: $699.00
Initial observations
The pistol is finished in a matte black oxide, as are most of the current Kimber products. Under 10x magnification one can see fine machine marks both within and outside the pistol. None of them would cause any functioning issues and are far finer than anything produced in a U.S. government contractor's factory.
The barrel has had its feed ramp relieved much as a Series 70 Colt, to allow it to feed ammunition other than round nosed ball. There were some fine tool marks on the ramp and the transition between this ramp and the chamber has been very slightly chamfered, rather than noticeably "throated," which can improve feeding.
A Colt Series 80 style, trigger-actuated firing pin safety system has been fitted to the piece. While there are those who remember the rather horrid original Colt trigger pulls first produced with this system, there is no reason this must be the case. One of the two Remington pistols I have examined had a good trigger, at roughly four pounds, crisp, with no over-travel and only minimal take up, exactly the way I like my 1911 carry gun to be. The other one however, had a glitchy pull of five pounds and some creep, so further tightening of QC on this would help.
Sights are the dovetail installed, three dot type. The Germans were the first, as I recall, to produce this type of sighting system in the original Heckler and Koch P7, and it is quite prevalent today as a combat sight.
The magazine well is beveled along both frame flats, while the round front strap is left full thickness. This is a good thing for further customization, if desired, as beveling the front strap area makes checkering impossible, because it decreases the wall thickness of the strap adjacent to where the front of the magazine floorplate protrudes through the area.
The trigger blade appears to be aluminum with electro-less nickel plating. In appearance, it resembles the early Series 70 Colt. The alloy part makes the trigger lighter, which helps the trigger action by taking some load off the disconnector and reduces the possibility of the piece going full-auto, given proper fitting of the sear and hammer notch.
The slide stop and thumb safety have fine MIM checkering, resembling that of the pre-WW II pistols. The thumb safety's lever is the small type, which makes using the part "thumb high" while shooting quite uncomfortable. If the thumb safety is not fitted properly, it makes the operation stiff. Again, one of the two pistols I looked at had a nice easy safety release, while the other was so stiff that I needed to use my support hand's thumb to push it down.
The grip safety and hammer spur are WW II A1 type, so most shooters should not have a problem with hammer bite. Those who do can easily bob the spur slightly to eliminate this. I did notice that there is some sideways hammer play in the frame.
The slide and frame fit are quite good; free running yet with minimal slop. The barrel, when placed in the stripped slide, had little fore-aft movement when in battery and only minimal gaps in the barrel hood to slide fit, which theoretically improves accuracy in a short recoil action. The breech face appears to be smooth and free of heavy tool marks, while the extractor is the original spring steel "leaf" type.
All well and good. The business like, yet well finished, Remington 1911R1 appears to be a serious contender in the flooded 1911 pistol market. We have requested a sample 1911R1 for a full Guns and Shooting Online shooting review.