Remington 2-N-1 Flashlight/Lantern
By Chuck Hawks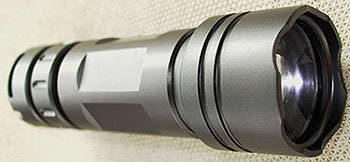 Remington 2-N-1 flashlight. Photo by Chuck Hawks.
2008 saw the introduction of Remington Lights, a portable lighting line bearing the famous Remington Arms Company name (www.remington.com). These are Remington approved, licensed products. The initial Remington Lights catalog features three flashlights (40, 120 and 150 lumens), three headband lights (40, 80 and 150 lumens), a 300 lumen camping lantern and a unique 2-N-1 compact flashlight/lantern (60 lumens). These high-tech lights are resistant to water, oil and corrosion and the flashlight bodies are machined from heavy gauge aluminum.
We saw examples of the Remington Lights at the 2008 Las Vegas SHOT Show and were sufficiently impressed to request a 2-N-1 flashlight/lantern for review. According to the Remington Lights catalog, these flashlights were, "Developed using input from professional hunters world wide for peak performance in the harshest environments. These lights feature the absolute latest in high performance LED technology . . . offering unique features while delivering the quality and dependability expected from the Remington brand."
The 2-N-1 Flashlight/Lantern is certainly all of that. In its flashlight mode it looks like a tactical light with a short, heavy-duty, machined aluminum body that is anodized an attractive, dark silver-gray color. The rubber covered "push on/push off" button is on the recessed bottom of the tail cap. Unscrew the tail cap to change the three AAA alkaline batteries (supplied) that power the light. Just forward of the tail cap is an easy to grip ring that, when rotated, changes the light seamlessly from a spotlight to a floodlight. The main body of the light has six wide facets and is easy to grip. Forward of the main body is the light head (bezel), with its front lens. The front of the bezel can be unscrewed and the sophisticated optical resin lens that it protects can be removed or replaced, but I do not recommend doing so. Be careful not to touch, scratch or damage the lens.
The unique feature of the 2-N-1 is that if you pull the head firmly, it will slide out, revealing a clear plastic tube, inside of which is the LED light source. This converts the flashlight into a small lantern, which will sit upright on its tailpiece on any reasonably flat surface. In lantern mode, light is distributed evenly in a 360-degree circle, as well as vertically through the front lens. It is not as bright as a regular camping lantern, but it works great. (If you need a traditional style camp lantern, Remington Lights offers the RM4DLN, a bright 300 lumen - 6 watt LED model.)

2-N-1 light in lantern mode. Photo by Chuck Hawks.
Here are the basic features and specifications of the 2-N-1 Flashlight/Lantern.
1 watt LED
Light output: 60 lumens
Two light modes: flashlight and lantern
Flashlight focuses from spot to flood
Impact resistant
Batteries: three AAA alkaline cells (included)
Run time: 10 hours
Length: approximately 5 inches
Bezel diameter: 1-5/8 inches
Weight: 7.7 ounces (including batteries)
2008 MSRP: $39.99
In use, we found that the 2-N-1 worked exactly as advertised. The off/on switch clicks in a positive manner. The flashlight's light pattern changed smoothly from a spot to a clearly delineated, circular flood pattern as the rear of the flashlight was turned. A little less than 1-1/4 turns is required to go from full spot to full flood and the "zoom" ring can be set anywhere between those extremes. The main body of the light is actually a double wall design of machined aluminum with "focusing" helicoids (like a camera lens). The front of the Bezel is scalloped and the rear of the tailpiece has three wide slots around its perimeter that could accept a wrist strap or lanyard if desired.
We took the 2-N-1 outside at night (in the rain, no less) and found that in spot mode it is noticeably brighter than a two D cell Maglight. Its wide floodlight pattern is useful
In conclusion, we couldn't find anything not to like about the Remington 2-N-1 Flashlight/Lantern. It is well made, versatile and, as premium lights go, reasonably priced. It even runs on inexpensive, easily available batteries.