The Remington R51 9mm Pistol in 2017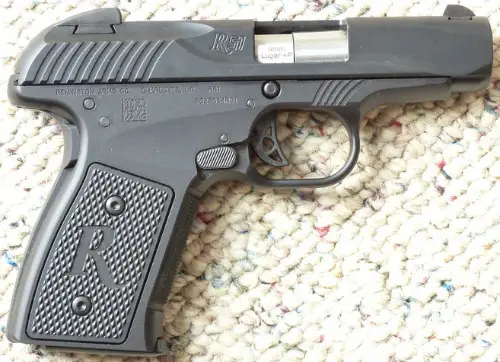 Photo by Randy Wakeman.
An astonishing 1.3 million rounds of ammunition were consumed by Remington in the extensive redesign and torture-testing of the R51, which was released on August 12, 2016, according to Remington's Director of handgun development, Mike Keeney. I did not review the original 2014 model, so everything documented here pertains only to the current product.
The R51 is the gun that changed Remington Arms. The original purchasers of the 2014 release model were rewarded by Remington for their patience with a Pelican hard case, the new model with extra magazines and the lifetime warranty that now comes with all Remington products. Remington even paid FFL transfer fees.
The 9mm concealed carry handgun market is crowded, but it is a vibrant and growing market and it looks to stay that way for a while. There are several 9mm pistols worthy of consideration. The smaller and lighter they get, the less comfortable they are to shoot, so that is a compromise that everyone needs to decide for themselves.
Since the Glock revolution of 1982 onward, things have not been the same. I have used the same Glock 19 since the late 1980s. We have all seen various designs modified or dropped in favor of a copy of the Glock Polymer 2 frame and the addition of a Glock Safe Action type trigger. The Glock influence is clear in two recent single stack 9mm pistols, a Ruger and a Walther.
The Walther PPS M2 is about a 21 ounce gun, unloaded, with a 3.18 inch barrel and a 6.1 pound trigger pull. It sells for a discount price of about $425. It is not rated for +P ammo. The Walther comes with a Legendary Lifetime Warranty that promises a 48 hour turnaround. The Ruger LC9s Pro weighs 17.2 ounces, the trigger breaks at just over five pounds and it sells for about $350.
The Remington R51 comes complete with a second seven round magazine, which is notable, as the Ruger nine round magazine is ridiculously overpriced at $44.95 + $8 for Priority Mail from Ruger. You read this right, it costs $52.95 to get a nine shot magazine direct from Ruger. A second seven round Ruger mag is still about $48 from Ruger.
I cannot think of anyone who would not want at least a second magazine. I am as guilty of sudden bursts of frugality as anyone else, but sometimes we shop a gun to death, but do not look at total acquisition cost. All of a sudden, that $350 or $400 handgun we thought was a good deal might actually cost $50 more, due to something as basic as a second magazine.
The Remington R51 trigger breaks at just over four pounds, as measured by my Lyman digital gauge. The R51 itself weighs about 22.4 ounces and it has a 3.4 inch barrel. It comes with a written lifetime warranty. It also sells for about $350, although naturally the individual retailer sets their own price. I have seen them priced as low as $335.
The Remington R51 is quite a bit different from most compact 9mm pistols, starting with the hesitation-lock action of John Pederson. John Douglas Pedersen had 69 patents to his credit and was called the greatest gun designer in the world by John M. Browning. The R51 has neither a plastic frame nor a Glock style trigger. The frame is aluminum alloy and the trigger is a crisp, single stage design.
As a direct result of the metal frame, the R51 has very good balance, avoiding the top heavy and muzzle heavy feel of most polymer framed guns. Many 9mm pistols have plastic guide rods that some owners replace with various aftermarket steel guide rods. There is no separate guide rod in the Remington R51.
The R51's slide is easy to rack and it has a grip safety that dispenses with all the usual levers. Squeeze the grip, it will go bang when you pull the trigger. Don't squeeze the grip and the trigger is blocked; it does not get much easier than that.
For complete reliability, a new magazine needs to have three full loadings shot through it. As good as any gun can be, a new magazine can cause jams without the requisite minimal break-in.
You will notice that the Remington R51 has far less initial trigger take-up and a lighter trigger pull compared to most copies of Glock Safe Action type triggers. The Remington has an ambidextrous magazine release, stainless steel barrel and is rated for +P ammo.
Another thing that most folks will readily appreciate about the R51 is the magazines, not just because two are included, but because they drop out more freely than on most pistols of this type. Many magazines just dribble out when released; some come out an inch or so and hang up. The Remington R51 positively ejects empty magazines.
Disassembly of the R51 is not difficult. It is not as quick as taking apart a Glock, but after you do it a couple times it becomes straightforward.
The R51 sights are the common and popular three dot Patridge type. Remington also offers an R51 Crimson Trace laser grip model. Sights options are naturally a matter of personal preference. Mine is generally for XS Tritium sights.
A debate about the best looking concealed carry pistol does not make a heck of a lot of sense to me. However, the Remington R51 does have very nice lines, reminiscent of the Walther PP, as opposed to the blocky look of many compact 9mm pistols.
My example R51 is mar-free, with no sharp edges and clean machining throughout. The frame and the slide have their respective black finishes well and evenly applied. When you take your new R51 apart for the first time, it will look like it has been shot. The reason is that it has been, several times, at the factory prior to shipment.
The R51 has a host of features that makes it very appealing, including the essentially all metal construction, excellent balance, stainless steel barrel, +P ammo rating, low muzzle rise, the light and crisp trigger, two magazines supplied and a lifetime warranty. In the sub-$400 compact 9mm arena, as long as it fits you, the Remington R51 is the best value out there.
I set up targets at 10 yards to give the Remington R51 its inaugural plink-fest. I tried a wide variety of loads. I did my level best to get the R51 to jam and I was rewarded, sort of. Early on in the shooting, I managed to get two stovepipes with the training version of Winchester less recoil Train & Defend ammo. This comes in a 50 round box and is a 147 grain FMJ 950 fps load. Other than the Winchester training fodder, the Remington R51 gobbled everything up and spat it out with authority: Remington, Federal, UMC, Hornady and so on. I went through over 180 rounds before I ran out of daylight.
If there are two rounds tailor-made for the R51, one would be the Hornady 9mm Luger Critical Defense 115 grain load, rated at 1140 fps from a four inch test barrel and good for 11.25 inches of penetration in ballistic gel through heavy clothing. The other is the Barnes TAC-XPD 9mm Luger +P 115 grain offering, rated at 1125 fps from a 4 inch barrel. The Barnes generally nets 14-15 inches of penetration in gel.
The two seven round magazines supplied with the R51 are excellent quality and have strong springs, strong enough to make loading that seventh round stiff. That speaks well to the longevity of the magazines, but I found it far easier to just use them as six round magazines. If you feel the need for more firepower in a concealed carry application, just use a holster that accommodates the extra magazine, as magazine changes are quick and easy.
Not only are both the Hornady and Barnes loads excellent, in the R51 the recoil is light with very little muzzle flip. Further, both the Hornady and the Barnes loads are formulated with low muzzle flash propellants, which became readily apparent to me as the sun went down. Once you try the R51 at your local pro shop with either of those loads, you will never want to shoot a blowback .380 again.
This is not true of all .380s, to be sure, but palm-slapping, hand-slicing, stove-piping little monsters with external hammers are something I genuinely revile. It is the exact opposite of what I would want to rely on in a high-stress, self-defense situation. In fact, the only .380 that I personally consider fun to shoot for extended periods is a 1-3/4 pound Baikal IJ-70a with rubbery Pearce grips.
The controls of the R51 are all ambidextrous. You do not have to reverse the magazine release, as there is one on both sides of the frame. The grip safety is intuitive and, of course, ambidextrous. There are no goofy levers to fuss with, no magazine disconnects that could render this pistol useless and no annoying, flip-up "loaded indicators."
The R51 is a real cream-puff to shoot and comes with a pair of stainless steel magazines. I am not easily thrilled with sub-compact 9mm handguns, but the Remington R51 is head and shoulders above the others in its class and the best value out there. It goes to show what can be accomplished with 1,300,000 rounds of testing.