Remington RM380 Deep Concealment Pistol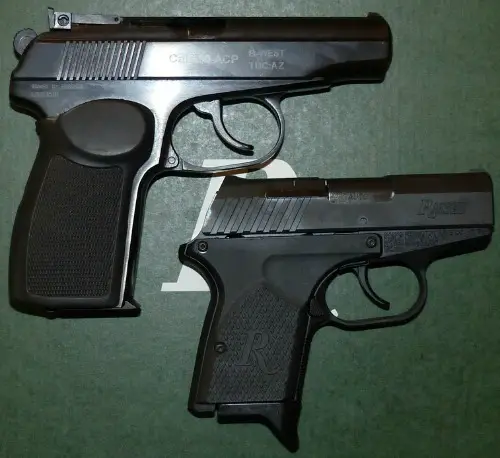 Remington RM380 (bottom) with Makarov. Photo by Randy Wakeman.
Compared to something like a 26 ounce, fixed-barrel, Makarov .380 (pictured at top of photo above), the 14.1 ounce Remington RM380 is radically lighter, thinner and far easier to carry. In addition, the little Remington's slide is comparatively effortless to rack. The Remington RM380 .380 ACP is remarkable in several respects, not the least of which is being the first product from Remington's new Huntsville, Alabama facility.
Those who have been following Remington know that Remington is one of the few large gun makers in the United States that actually manufacturers all of its rifles, handguns and shotguns in the United States. Remington is, of course, also a very large ammunition manufacturer.
You will notice that Remington's less than stellar products, such as the 887 NitroMag shotgun and the R51 pistol, have essentially vanished without fanfare. With the sweeping management changes of June 9, 2015, Remington is clearly headed in a better, more quality focused direction.
The RM380 is based on the Karl Rohrbaugh R9, formerly produced by Rohrbaugh Firearms of Long Island, New York. The Rohrbaugh R9 retailed for around $1200. The RM380 has a MSRP of $436 and normally sells in the general area of $350.
The RM380 is less than an inch thick with a 2.9 inch barrel, a length of 5.27 inches and a height of 3.86 inches. The barrel and slide are steel, the frame is anodized aluminum alloy and the grips are polymer. As tested, with the finger grip extension magazine installed, it weighs 14.1 ounces via calibrated electronic scale.
Specifications
Action: DAO semi-auto
Caliber: .380 ACP
Barrel length: 2.9 in.
Overall height: 3.86 in.
Overall length: 5.27 in.
Rifling twist rate: 1:16
Weight empty: 14.1 ounces w/magazine
Construction: aluminum alloy
Finish: black anodized frame, black oxide slide
Trigger: double action only
Trigger Pull: 8.75 pounds, as measured
Sights: Fixed
Country of Origin: USA
2016 MSRP: $436
The .380 ACP, known in Europe as the 9x17mm and the 9mm Kurz, was devised by John Browning in 1908. It is the round that was used in the infamous assassination of Austrian Archduke Franz Ferdinand and his wife Sophie by the terrorist Gavrilo Princip, which triggered World War I.
While the cartridge specifications have not changed, today's ammunition is vastly improved, making the .380 a far better self-defense round than it was just a decade ago. With the best modern ammunition, the .380 is roughly comparable to the .38 Special in stopping power, according to the latest studies.
Personal self-defense is the purpose of the RM380, for it is a true pocket gun with a snag-free design that has little in the way of sights. The front sight is essentially a nub at the muzzle and the back sight is a channel in the rear of the frame. For those looking for more, the RM380 is also available factory equipped with a Crimson Trace laser, a major upgrade in effectiveness. (In a gunfight, only hits count.)
The trigger is double action only. It does not have a clicky reset, for it is designed to be stroked like a double action revolver: pull, release, pull. You should not try to ride the trigger with this type of set-up. Though some claim to sometimes short-stroke DA triggers, I have never had that issue. Remington calls this a 10 pound trigger. My example is a bit lighter, breaking at about 8-3/4 pounds and the trigger pull, while predictably long, is quite smooth.
Remington, with their management changes and refocus as of last year, has really upped their game. This is evident with the RM380, which is extremely well-made and even the owners manual (like the Remington V3 shotgun) has been given extra attention.
It is an upgrade from its pricey predecessor, the Rohrbaugh R9, in that the RM380 has a slide stop, a better magazine release (not a heel clip) and a better recoil spring assembly. The Rohrbaugh R9 was apparently the gun you were supposed to carry, but rarely shoot, as the recoil spring had a ridiculously short recommended replacement interval of only 200 rounds. The RM380 is a big upgrade over its predecessor in this regard, with a 3000+ round service life for its dual spring array.
I have to say that I am impressed, for this little gun is extremely well-made, fun to shoot, completely reliable and easy to carry. It is also easy to shoot well, within the limitations of the rudimentary sights and short sighting plane.
It is, of course, not intended to be a target or range gun. It is a diminutive back-up or deep concealment pistol, carried when you don't want a handgun that weighs more, has a larger form factor, or could easily snag on clothing.
Like any handgun, how it fits your hand is paramount. It always makes sense to try any new pistol on for size and, better yet, run a box of ammo through it before hitting the wallet switch.
The RM380 comes with two 6-shot magazines, one of which has a finger grip extension, which I prefer. Otherwise, it is just two fingers on the handle for my right hand.
Remington took their time with the RM380 and it shows. It is far better than I expected and most folks will be quite pleasantly surprised.