First Look: Remington RP45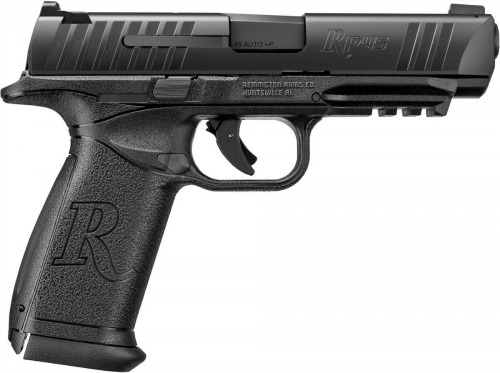 Illustration courtesy of Remington Arms Co.
The .45 ACP cartridge dates back to 1905, when John Browning designed it for then prototype Colt semi-auto pistol that eventually became the Government Model 1911. The pistol of interest here is the .45 ACP version of the 9x19mm Remington RP9.
The RP45 is 1.27 inches wide, has a 4.5 inch barrel, weighs 26.4 ounces unloaded and is sold with a pair of 15 round double stack magazines. It is the spitting image of the Remington RP9 9mm, is the same size, and has the identical weight. It comes in two flavors, one with night sights and the tested model, which comes with the familiar three white dot Patridge type sights. The rear sight is dovetail mounted and therefore drift adjustable for windage.
Features
Ergonomic polymer frame fits 95% of all shooters
Ambidextrous slide control
"
Fighting surface rear sight for one-hand slide operation
Optimized grip angle reduces felt recoil and increases shootability
Trigger guard undercut allows higher hand hold for increased control
Drift adjustable sights easily adjusts sights to user preference
Easy loading, double-stack magazines
PVD finish on slide and barrel for maximum durability
Small, medium and large replaceable backstraps
Remington lists the trigger at breaking at between 5.5 and 8.0 pounds (!). This example breaks at a heavy 6.0 pounds, but at least it is crisp. The standard RP45 has a 2018 MSRP of $418.09 (this must be someone's lucky number) and can be had for a surprisingly low discount price of $315 from some sources as I write these words. This is a significantly lower price than the 13-round Glock 21, the 13 round Springfield XD .45, or the 15 round FN FNX-45.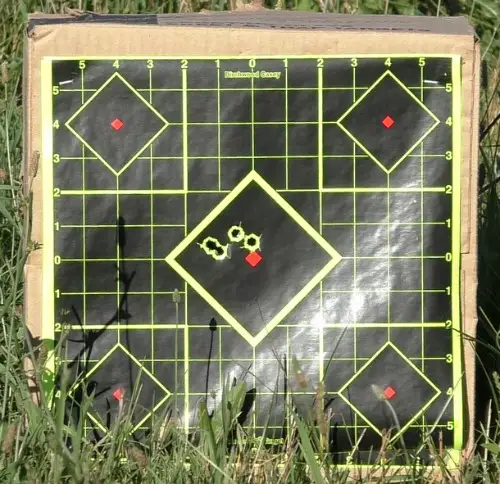 Target shot at 22 feet with Remington RP45 Pistol by Randy Wakeman.
The RP45 is soft shooting for a .45 and more accurate than it needs to be for a nightstand genre pistol. I like it quite a bit better than the RP9, for the same-size RP9 is a bit too big and bulky for a 9mm.
This is clearly not the case for the RP45, which weighs roughly a quarter pound less than a Glock 21. Three interchangeable back-straps are included, along with two 15 round magazines.
Some folks carry full sized 1911 pistols that weigh close to two and a half pounds, and some will carry this 26.4 oz. RP45, but that is up to the individual tolerance for bulk and weight. The way I look at it, this is a nightstand gun, a general home defense pistol, or a Constitutional Carry (open carry) firearm.
Just as the RP9 did, the Remington RP45 scores exceedingly well in several of the right places. Take-down of the RP9 is pathetically easy, requiring just the rotation of one take-down lever. It has smooth faced grips, rather than finger grooves that some find annoying. It is well-machined, reliable and affordable.
At the current RP45 price level, you probably cannot do any better. The 10 round Ruger American .45 ACP is significantly heavier in weight and higher in price than the 15 round Remington RP45. If you did not have strong preconceived notions, the RP45 in 2018 would be a fair value at $500 and an excellent deal at $400.