First Look: Remington V3 12 ga. Field Sport Autoloader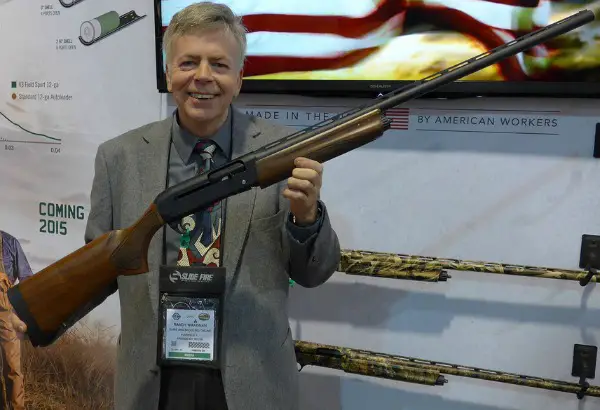 Wakeman with Walnut Remington V3 Autoloader at the 2015 SHOT Show.
There are a small number of V3 preproduction autoloaders in circulation, exactly how many I'm not certain. Since I became aware of the V3, I immediately wanted to test one in walnut trim with a 26 inch barrel. I still do, for what I received for openers is a black synthetic model with a 28 inch barrel and consider myself fortunate to have one at all. The V3 is close to being finalized, set to go into production soon with estimated availability of late Spring / early Summer 2015, subject to change, of course.
The parentage of the V3 autoloader goes back to the Benelli M4, the $2000 - $2400 (current MSRP) 18.5 inch barreled, 8-1/2 lb. tactical shotgun that is the M1014 Joint Service Combat Shotgun since 1999. For reasons unknown to me, Benelli has done nothing with it for general hunting and target shooting use.
Remington improved on the basic A.R.G.O. Action of 1998, patenting their own action and their VersaPort System, and it has been released for some time now as the Remington Versa Max 3-1/2 inch chambered gas-operated autoloader. The Versa Max action was designed by Gian Mario Molinari of Italy, filed for patent on May 24, 2007, claiming priority over the Benelli patent filed a year earlier. On November 29, 2011, it was awarded to Remington.
The V3 is a 3 inch chambered model that has been in the works for some three years, according to Remington, and shares no parts with the Versa Max. The V3 is not a 3-1/2 inch gun with a 3 inch chambered barrel stuck into it, rather it is a completely new design, designed to be a 3 inch autoloader from the start. Remington's goal is to offer an affordable, reasonably lightweight autoloader than is more reliable than any other autoloading shotgun and pound the morass of imported shotguns into the ground like a tent stake in the process. Something like that, anyway.
This example V3 weighs in at 7 lbs., 5.5 oz. It is reasonable to believe the 26 inch barreled models will come in a bit over 7 lbs. The trigger on the V3 is quite good, breaking at about 4-1/3 lbs. after a bit of excessive take-up. It is a noticeably better trigger than Browning autoloaders and an improvement over the Versa Max as well.
The V3 takes standard RemChoke tubes. The supplied test gun has just one choke tube and no extra stock shims.
The safety button is over-sized and easy to operate, while the trigger guard is nicely sized. Unfortunately, the trigger guard is plastic and has the cosmetic eyesore of having little triangular shaped dished out portions on both sides with a plastic "R" at the bottom, a tasteless touch. The gun is finished off with the by-now familiar and excellent Remington SuperCell pad.
The modified VersaPort system in the V3 has eight ports, four or which are automatically blocked off as a 3 inch shell unfolds. The V3 also has an extremely well done magazine cut-off at the bottom of the shell lifter. Just slide it forward and you can instantly exchange a duck load for a goose load, or just clear the chamber for stream-hopping, as conditions dictate.
There is no mainspring in the buttstock of the V3. The bolt return springs are in the receiver, so you can forget about rusty mainsprings, oiling the mainspring or bent mainspring tubes. The V3 is supposed to run on any twelve gauge shell with a 1 oz. or heavier payload. I would imagine that, like with all autoloaders, the shells you feed it need to look somewhat like shotgun shells, though.
With the shorter receiver comes a bit slimmer forearm, as compared to several gas autoloaders, something that most will appreciate. The bolt release button is larger than on the Versa Max and protrudes farther from the receiver. On my specific test example, the 28 inch barrel makes the gun too muzzle heavy for my taste; a 26 inch barrel is certain to help that. Whether this might be the case with the walnut version, I have no idea. Although the trigger of the V3 is quite good, the V3 trigger guard is in great need of cosmetic assistance.
What about recoil? Well, at this late date there is no question that gas-operated autoloaders are more comfortable to shoot than fixed-breech or inertia guns. Time will tell, but certainly the V3 is going to be a soft-shooter, as pleasant to shoot as any 7-1/4 lb. 12 gauge shotgun you can buy. As for being as soft a shooter as the Versa Max, there is no reasonable chance of that, for the Versa Max is a substantially heavier gun.
The reason for this shotgun is clear. Compared to the Versa Max, it shaves off more than 3/4 pound, getting Remington into the game in the approximately 7-1/4 pound autoloader category. The trigger is improved over the Versa Max, a well-designed magazine cut-off is added and the bolt release button is a bit larger and easier to use with cold or gloved hands. The forearm is a bit slimmer and locks firmly into place. Contingent on model, it appears to be very well-positioned in terms of likely retail price, something like $750 - $850 dollars. This places it well below such autoloaders as the Browning Maxus, Winchester SX3, Benelli Vinci, Benelli M2 and all of the Beretta A400 series models.
After an invigorating low of -14 degrees F last night at my home, it was supposed to warm up to a balmy +15 degrees, but with 32 mph wind gusts. The prognosticators got the wind right, but it was only +3 degrees F out in the field. It was also the last day of pheasant season and my lifetime tradition of a lack of common sense dictated that it was a hunting day. I did jump a few roosters, but they got up at 200 yards or so.
It was not the day to set up clay target machines or do any patterning work, but I did run the spectrum of 2-3/4 inch 1 oz. loads to 3 inch 1-7/8 oz. loads through the V3, for a very basic, brief function test. There were no miscues and the V3 is easy to load and use with cold, gloved hands, with which I was conveniently equipped. Ejection is strong and positive. Ejection distance was no greater with 3 inch shells than with 2-3/4 inch shells, so the VersaPort system clearly does work.
Throughout the years shooting gas autoloaders, the softest shooting guns are invariably the heaviest, to the great surprise of no one. In the 7 to 7-1/4 pound autoloader bracket, the sharpest recoiling actions have been the Beretta 303 / 390 / 391 offerings, with the Browning Gold / Silver / Maxus and related Winchester SX3 active valve actions the softest shooting.
I wasn't directly switching from gun to gun, so the best I can do is say according to my shoulder, the Remington V3 feels very close to a Winchester SX3 or Browning Silver in felt recoil. If there is a difference, someone else is going to have to find it. For its weight class the V3 is among the softest-shooting repeaters available.
The supplied test gun had obviously been used before. The dual short stroke gas piston design is a very simple system, essentially self-explanatory. As this preproduction V3 came with no manual, that is a good thing. There was really nothing to figure out, for even the magazine cut-off is self-evident.
As for the most reliable claim, that is difficult to prove. Certainly, if you've been through the Beretta 391 saga of broken gas pistons, bad bolt buffers, or twisted shell carrier problems, it is not hard to improve upon. The same goes if you have had cracked springs in your Browning / Winchester Active Valve piston. Not nearly as common as the 391 shell carrier issues, but clearly more than a once in a lifetime event. There is not much to go wrong with the V3 that I can see, but time will tell. It is a straightforward design.
There is far more testing to be done, but it looks to me like the Remington V3 is likely the best all-around autoloading shotgun Remington has produced since the Model 1100. I am not a black on black plastic fan, regardless of who makes it; the walnut versions will have far more appeal The 26 inch V3 walnut should cover most hunting and shooting needs.
I would like to see a redo on the plastic trigger guard, loosing the R on both sides. The pair of Rs on the forearm can also go away. Based on the very good trigger, soft recoil, safety, bolt release, slim and solid-feeling forearm, excellent magazine cutoff and the comparatively low retail price of $750 to $850, Remington is going to do extremely well with the V3 series.
The safety on the V3 is reversible for left-handed shooters. The initial models will be supplied with one choke tube, a RemChoke Modified. Several shims will be included with each gun to adjust cast and drop.
The V3 is expected to be released in tactical, sporting, youth and upscale models with (at least) a line of 20 gauge V3 models already in the works. As much as I personally use 20 gauge guns, the initial 12 gauge launch does make sense. The 12 gauge, rightly or wrongly, outsells all other gauges combined. The 20 gauge is secure in second place, but sales of every other bore is trivial compared to the 12 and 20.
The design of the V3 makes model variations easy to accomplish, with no mainspring and tube in the buttstock to consider. It means that youth stocks, steady-grip type stocks, folding stocks and so forth are largely just a matter of screwing them on.
Back in 2010, I did a comparison of three then-new autoloaders, the Maxus Stalker, Vinci Max-4 Camo and A400. I am adding the Remington V3 prototype along with the previous data:
LOWEST PRICE TO HIGHEST PRICE
The lowest-price configuration available for any of the three shotguns in 2010 would be the three-inch chambered version of the Maxus Stalker at $1199 MSRP. The Vinci and the 3-1/2 inch Maxus models are almost identically priced. The most expensive of the three is the A400 at $1725 MSRP.
The Remington V3 has a 2015 MSRP of $895 for black synthetic, $995 for the camo or walnut models.
WEIGHT, AS MEASURED
Maxus Stalker 3-1/2 in., 28 inch barrel: 6 lbs. 15 oz.
Vinci, MAX-4 Camo, 26 inch barrel: 7 lbs. 1 oz.
A400, non-KO, 28 inch barrel: 6 lbs. 13 oz.
V3, 28 inch barrel: 7 lbs. 5.5 oz.
TRIGGER PULL WEIGHT, AS MEASURED
Maxus: 6 lbs.
Vinci: 5 lbs.
A400: 4-3/4 lbs.
V3: 4-1/3 lbs.
WARRANTY
Maxus: No written warranty.
Vinci: Five years.
A400: One year.
V3: Two years.
The big eye-catcher for many folks is the sticker price, at least $300 less than the cheapest of the cited 2010 models at 2010 prices. The 2015 retail price of the 3 inch Maxus Stalker is $1379.99. Today, the V3 retails for a whopping $484 less than a Maxus with the same configuration. At 35% less than a directly competitive model, the made in the USA Remington V3 is going to be very hard to ignore.
I have spent a lot of time cleaning so-called self-cleaning actions, to make an understatement, and many so-called self-compensating actions are not. In the V3's Versaport you have a total of eight gas ports, all of which are used with 2-3/4 inch unfolded length shells. When you fire 3 inch shells, half of them are automatically blocked off leaving four ports that flow gas. Thus, close to the chamber, you have two basic gas flow levels: one for target and field loads and the second for 3 inch waterfowl and turkey loads.
It doesn't stop there, though, for Remington took into consideration the significant difference between a 1 oz. 2-3/4 inch shotshell and the other end of 2-3/4 inch load intensity, the 1-1/2 oz. 2-3/4 inch Magnum. Both of the short-stroke pistons have additional gas bleeds at the end of the piston channels. In the case of 1 oz. target loads, they are not used. In the case of the more energetic 1-3/8 oz. pheasant loads and 1-1/2 oz. Magnums, they vent off excess gas that controls the bolt speed.
The same holds true with 3 inch loads, for steel waterfowl loads are typically 1-1/4 oz. payloads at 1400 to 1450 fps velocity, while the blocker type pheasant load is 1-5/8 oz. of lead at 1350 fps. A lead turkey load may well be 1-3/4 oz. at 1300 fps, or 2 oz. at 1150 fps. Again, this helps maintain consistent bolt speed, avoids excessive ejection and lowers vibration levels of the hotter loads.
Good autoloading shotguns are nothing new. Good autoloaders have always shot more or less reliably, to the limit of the ammunition. While the old Browning Automatic-Five was a successful shotgun, the long recoil action is not conducive to shooting everything without adjustment.
Fast forward to another one of my all-time favorite shotguns, the Beretta A302 / Browning B-80 / Beretta A303. Good, tough, simple and reliable. However, to shoot 2-3/4 inch shells, you should use a 2-3/4 inch chambered barrel; if you want to shoot 3 inch shells, you should switch barrels.
It is a very simple, easy system, but we do not like switching barrels. Some owners are still grousing because their 3 inch chamber B-80s and A303 don't work well with light target loads. They were never supposed to.
Fast forward again to May 4, 1998, when the U.S. Army solicited submissions for a new shotgun. The winner was a short-stroke dual piston Benelli M4 Super 90, renamed the M1014. The Benelli inertia action was also tested and examined, but was not considered sufficiently reliable. The Civolani inertia action needs recoil to function and has had a rough time with light loads. The problem for a military application is weight: once you start adding rails, lasers, scopes, flashlights and other accessories to an inertia gun, it can become heavy enough to cease cycling. The M4 itself is a poor riot gun, for when shooting rubber buckshot loads it has to be manually cycled.
Now, off to the Versa Max and then the V3. Previous gas-operated shotguns can only partially compensate for different shells. They are only ported one basic way. This is the reason for the switch barrel B-80 / A302 / A303 approach, the reason for Rich Cole spring kits for the Beretta A390 and A391, the reason two different active valve pistons have been supplied with various F.N. SLP, Winchester SX2, SX3 and Browning Gold models. Only one basic barrel porting configuration can be considered ideal for one particular application; the rest is compromise.
The Versa Max changed that, for by blocking off gas ports in concert with increasing unfolded shell length, the primary porting array does indeed change with the shell. In the V3, with its 3 inch chamber, there is even a more aggressive change: 8 ports open for 2-3/4 inch shells, but only 4 ports open for 3 inch shells. Now, after all these years, we finally have a switch barrel gas gun that switches porting automatically, with no user intervention.
The basic dual piston portion of the V3 action has been proven since 1999. It has a 16 year track record and counting. That is why there just is not much to worry about. It is a straightforward, simple approach.
I am also not particularly mesmerized with the breech bolt return springs inside the receiver. It is not rational to completely condemn the tongue at the back of the breechblock in mainspring approach, for the two most successful autoloaders in history, the A-5 and the 1100, have both managed quite well with them. It is a bit better design, though, for it is simple. Two springs on guide rods and, unlike a mainspring inside the buttstock, it is comparatively easy to irrigate, lube and monitor.
REMINGTON V3 FAQ
Q. Where is it made?
A. Ilion, New York. After proof-testing, the barrel is stamped with the traditional Remington Star proof-mark.
Q. When Can I Get One?
A. Officially, Remington has printed only Coming 2015. Naturally, everyone at Remington would like to see it earlier rather than later, but all the final details have not been decided upon. One example of that would be the number of drop and cast shims supplied; it could be four, or it could be as many as eight. You can bet that Remington has no plans to ship out incomplete guns, so although details like this do not change the fundamental design, the shims still have to be manufactured and packaged to ship shotguns. My best speculation is July sometime for general availability, but that is just a guess.
Q. What don't you personally like about the V3?
A. I get asked that a lot! I would like to see a more streamlined, logo-free trigger guard, although the size and shape are both quite good. On the walnut model, I would prefer that no sling stud be screwed into the buttstock. I would like to see a 24 inch barrel option. With an extended choke tube, it is a 25 inch barrel and that is ideal for pheasant hunting and also makes for a slightly better handling gun in a turkey blind.
Q. How Reliable is the V3?
A. Over the the 3-4 year development cycle of the V3, Remington compared it to all the major players in the autoloading shotgun market. Most are familiar with the two basic failure to cycle modes: failure to eject and failure to feed. Remington took it quite a bit deeper than that, identifying something like thirty-six distinct possibilities that could cause a failure to cycle and fire. The design goal was come up with a 10% more reliable shotgun than any other autoloader on the market. What they ended up with was a surprise to everyone at Remington, for the V3 proved to be 50% more reliable in their testing protocol than any other autoloader: 50% more reliable than the second place finisher, which was the Benelli inertia action.
Q. I want a 20 gauge. Is this a possibility?
A. According to Remington, a 20 gauge is already in the works, but it is not expected until 2017.
Q. Do the VersaPort ports plug up?
A. No. The gas flowing through the V3 ports, unlike a farther downstream gas action, is at high pressure (around 8000 psi) and high heat (4500 degrees F) As a result, the VersaPorts are essentially high-pressure power-washed with every shot. The higher temperature gas moving through them does not allow for the particulate matter to solidify. Another advantage of the high pressure port / dual short-stroke piston action is that the barrel can be made as short as desired without affecting function.
Q. What does the magazine cut-off do for me?
A. It prevents shells from leaving the tubular magazine. The tubular magazine is blocked off by the shell elevator that moves approximately into its center. For example, if you are duck hunting and hear a goose, the magazine cut-off is activated, the chambered shell is quickly jacked out and in goes a goose load. A magazine cut-off allows for instant shell changes without disturbing the contents of the magazine, whether for a goose or an unlucky coyote.
I am reticent about reviewing preproduction guns, as significant changes may be made before the actual product begins to ship. Although that might be the case with the V3, it is highly unlikely that the basic action will be changed. Things already mentioned, like the number of included shims and so forth, are not yet fully decided upon, but the basics of the first three production models and their retail pricing of about $750 to $850, according to Remington, are not going to change.