Remington Outdoor Cap
By Chuck Hawks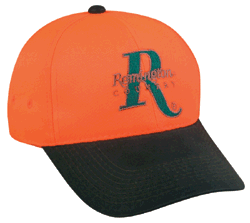 Illustration courtesy of Remington and Outdoor Cap.
The Remington licensed product that is the subject of this review is a "baseball cap" sourced from Outdoor Cap of Bentonville, Arizona and actually made in Bangladesh. Remington Outdoor Caps are available in various colors and patterns. Mine is blaze orange with a dark forest green bill, button and Remington "R" logo embroidered on the front.
The 2006 MSRP is $10.00, but I purchased my cap at a local Bi-Mart discount department store for $7.99. Of course, cheaper baseball caps are widely available, and some can be had as promotional items for free. However, this is a high quality, structured, pro style mid-crown cap. It is made with heavily stitched seams, inside seam taping, six panel construction, and sewn eyelets. The pre-curved visor is long enough to shade the eyes without interfering with gun mounting or sighting. There is an adjustable fabric strap and buckle at the back for size adjustment. Since, of course, it offers the ears no protection from the cold, it is best worn in reasonably warm weather.
The cap is made of rugged 7 ounce waxed canvas. Waxed canvas is one of the best fabrics in the headwear field. It is:
Wax treated
Breathable
Water resistant
You can sponge the cap with cold water if needed. Do not dry clean. Mud may be brushed off when dry. If necessary, you can use neutral soaps to clean. Retreat with British Millerain Wax to maintain weatherproof qualities and extend the cap's life.
Many locales require that hunters wear blaze orange, and this is one of the most functional and best looking blaze orange baseball caps that I have encountered. The dark green color of the bill and logo provides visual relief from the bright orange color of the rest of the cap. For bird and small game hunting these Remington caps, in any color, are ideal for those who prefer a baseball style cap. And when a blaze orange cap is required or preferred for big game hunting, Remington has you covered.