Remington High-Performance LED Headlight
By Chuck Hawks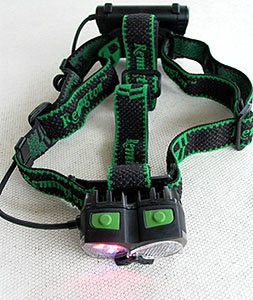 Remington High-Performance LED Headlight. Photo by Chuck Hawks.
2008 saw the introduction of Remington Lights, a premium portable lighting line bearing the famous Remington Arms Company name. (www.remington.com) These Remington approved and licensed products are made by the old American firm RayOVac, now a division of Spectrum Brands, Inc. (www.spectrumbrands.com) The initial Remington Lights catalog features three flashlights (40, 120 and 150 lumens), three headband lights (40, 80 and 150 max lumens), a 300 lumen camping lantern and a unique 2-N-1 compact flashlight/lantern (60 lumens).
To quote the Remington Lights catalog, "Developed using input from professional hunters world wide for peak performance in the harshest environments. These lights feature the absolute latest in high performance LED technology. Including benefits like color changing LED's and blood tracking modes, these lights offer unique features while delivering the quality and dependability expected from the Remington brand."
We saw examples of the Remington Lights at the 2008 Las Vegas SHOT Show and were sufficiently impressed to request a 2-N-1 flashlight/lantern for review. When the package from Remington arrived, we found that it contained not only the 2-N-1 (reviewed separately on the Outdoor Accessories page), but also a High-Performance LED headlight that we had not requested. Apparently our friends at RayOVac, who are very proud of their Remington Lights line, thought that we should see this product. As it turns out, we are glad that they did.
This hands-free, dual reflector headlight is the Model RMHL4AA-B. It features Extreme Track, a combination of two red and one blue colored LED's in the right hand reflector that illuminate blood to allow tracking a wounded animal at night. The red LED's can be activated alone to preserve night vision, a feature important to amateur astronomers. The left hand reflector houses a 150 lumen, 3-watt white LED main beam. An integral, rotating diffuser panel can be used over either reflector to change it from a spot to a diffused light source.

Note rotating diffuser panel.
Illustration courtesy of Spectrum Brands, Inc.
There are two rubber push type power switches, one for each side of the headlight. The main beam switch cycles from high power to low power to off. The switch for the colored LED's cycles between lighting the two red LED's (night vision mode), then adds the blue LED with the two red LED's (blood tracking mode), then goes to an emergency flasher mode using the two red LED's, and then off.
The runtime is 25 hours (low power) or 4 hours (high power) on a battery pack of 4-AA alkaline cells, which are included. Simply rotate the (non-switch) end of the battery pack about 1/16 turn and lift off the spring-loaded, O-ring sealed cap to change batteries. Remington claims that this is the brightest headlight on the market.
The headlight is mounted on an adjustable, three strap headband that circles the head. These heavy-duty straps are made of a soft, stretchy fabric that is amazingly comfortable to wear. I personally dislike wearing hats and for that reason had never tried a headlight, so I was surprised to find that the Remington headlight was comfortable as well as functional.
The housings of both the battery pack and dual headlights are plastic to minimize weight and are impact and water resistant. The battery pack is placed at the back of the headband to balance the weight of the headlight at the front and the whole thing works beautifully. There is even a switchable, soft red, flashing lamp on the rear of the battery pack (at the back of the head) to make it easy to "follow the leader" if needed. Inexpensive and commonly available alkaline AA cells power the headlight; no expensive or hard to find batteries are required here. The 2008 MSRP of this High-Performance LED Headlight is $49.99.
Although this headlight is clearly intended primarily for hunters, fishermen, campers and outdoorsmen, we could think of several other uses. For example, I live in a rural area where power outages, sometimes lasting hours or days, are common. This Remington headlight would be quite handy in such instances. The amateur astronomer, working at night in a dark site, would likely find the diffused night vision feature handy. It would also make an excellent night reading light for the traveler who does not wish to disturb his or her stateroom companion, as well as a viable emergency light. It would be a handy item to carry in your vehicle, making solo minor repairs or changing a tire at night a lot easier. In fact, a hands free, versatile lighting system like this could have dozens of applications. Check it out at your local Remington dealer.