Rio Grande Custom Handgun Grips
By Chuck Hawks
Rio Grande's popular "American Spirit" and "Confederate Flag" pattern grips for 1911 pistols. Images courtesy of Rio Grande Custom Grips.
Rio Grande Custom Grips of Brighton, Colorado has introduced an impressive line of premium handgun grips with colorful and durable graphics. These grips are unlike any I have previously encountered. Rio Grande currently offers grips for full size 1911's, full-size Bobtail 1911's, Taurus PT1911, Ruger Old-Model Vaquero, Blackhawk, Super Blackhawk, Single Six and 22/45 MK III pistols. Matching gun grip and knife sets are also available. Grips for additional handgun brands and models are in the works.
As the Company states:
"Rio Grande Custom Grips are molded using a high strength, engineered polymer that provides the toughness and durability demanded by this application. They are decorated with a revolutionary and patented method that provides one of the most permanent images available today. Unlike many decorated grips, the images on Rio Grande Custom Grips are salt, oil, solvent, water, impact and abrasion resistant. In fact, you would have to scratch through more than 2 mils of material to scratch through the image! We believe this is important to those who use their guns for more than show."
Rio Grande Custom Grips are designed and manufactured entirely in the USA. Before a new Rio Grande Custom Grip is produced and offered for sale, prototypes are handcrafted and tested on several examples of the handgun for which they are intended. Rio Grande Custom Grips currently offers a large and expanding library of stock designs and can supply grips with a custom design from an image submitted by the customer. (I am thinking that grips with a Guns and Shooting Online logo would look nice on one of my handguns.)
For this review, I requested grips for a stainless steel New Model Ruger Blackhawk revolver with Rio Grande's "American Tattoo" pattern. The grips arrived, blister packed, promptly and in good condition. I was immediately impressed with their handsome appearance and the quality of the full color graphics and wasted no time installing them on a stainless steel New Model Blackhawk .327 Magnum revolver, using the original Ruger grip screw. They fit tight, with no movement, which is very important for accurate shooting. If the grips on a handgun have any hint of slip or movement from shot to shot, accuracy is degraded.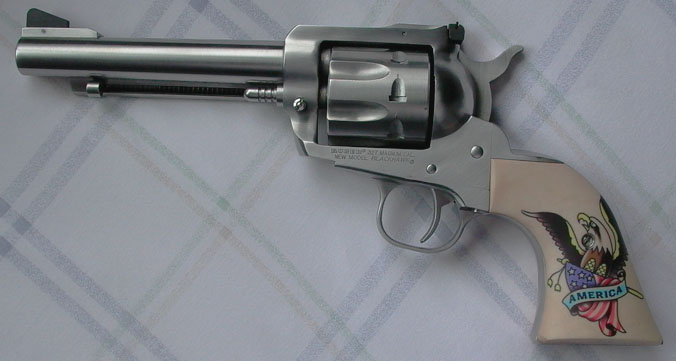 "American Tattoo" pattern grips on New Model Ruger Blackhawk revolver. Photo by Chuck Hawks.
As an experiment, I tried these same grips on an "old model" (three screw) blued Blackhawk .357 Magnum revolver. They also worked on this much older revolver, which I believe was made in the late 1960's or early 1970's, although the locating pin in the lower grip frame was very tight.
The ivory colored background of these particular grips looks classy and is appropriate for the American eagle and flag graphics. They feel good in the hand, much like the stock Ruger grips, and appear to be durable and well made.
My only complaint is that the grips are about 1/32" too short for this particular revolver's grip frame; there are minor variations in Ruger single-action revolver frame sizes, even between individual guns of a specific model. However, this minor flaw is not a big deal and does not really detract from the appearance or functionality of the grips. Otherwise, the grips fit, handle and look great.
Bryan Chambers, Rio's VP of Engineering and Product Development, explained that they used three New Model Blackhawks when developing the grips:
"When we designed the shape of these grips we bought three different models and made them flush with the bottom of the smallest frame, so that you wouldn't have the grips protruding below the frame. Unfortunately, you can't sand them down without removing the overlayed image, because you would have to remove too much material, so we erred on the short side."
Incidentally, Bryan also said that the Rio Grande grips for Blackhawks are intended for use only on New Model (two screw) revolvers. He was surprised I was able to get them on a three screw Blackhawk, as he didn't know that they would fit any old model Rugers. That being the case, I would not suggest purchasing Rio Grande Custom Grips for a three screw Blackhawk or Single Six revolver.
Handguns are the most personal of firearms, so why not personalize them? At a 2013 MSRP of only $64.95 for a single set, I consider these Rio Grande Custom Grips a heck of a good buy. You can purchase grips directly from the Rio Grande website (www.riograndecustomgrips.com), or from fine retailers, such as Cabela's (www.cabelas.com) and Brownell's (www.brownells.com). If you purchase at least two pairs of grips direct from Rio Grande, you qualify for a volume discount; call Rio Grande at 303-330-2812 for pricing and details.