River Rock Designs R-AR91A Nightfire LED Flashlight
By Chuck Hawks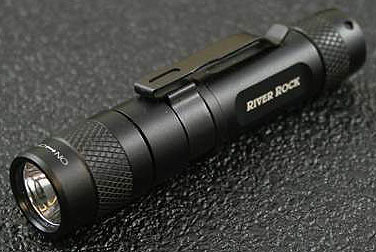 Illustration courtesy of River Rock Designs, Inc.
River Rock Designs is a relative newcomer in the outdoor lighting field, but has had a big impact. The Corporate office is located in Austin, Texas, where Company President John Sedovic personally designs River Rock lights, which are then produced to his specifications in Red China. During a conversation with John I learned that, before founding River Rock Designs about nine years ago, he designed many lights for retail giant Target and before that the fine Browning flashlight line. The URL of the River Rock website is http://riverrockledlights.com/
River Rock specializes in high tech, high quality, affordable lights designed to offer superior performance and features at each price point. River Rock lights are backed by a lifetime warranty against manufacturing and performance defects. The River Rock line includes LED flashlights, tactical lights, micro lights, lanterns, headlamps and even a 24-LED umbrella table lamp. The Nightfire series is part of the River Rock "Flashlight" lighting category and includes five LED flashlights with outputs ranging from 210 to 100 lumens and weighing from 6.5 ounces to the 1.0 ounce #R-AR91A reviewed here.
Guns and Shooting Online has previously reviewed several River Rock lights and each has gotten a favorable review. The littlest Nightfire is no exception. The first impression upon handling an R-AR91A is robust construction and high quality for a light of such small size and weight. Just turn the bezel counter-clockwise and you have all the light needed for most purposes.
In size and application, the R-AR91A could be compared to the popular Maglite Solitaire, which is similar in material, size, weight and also runs on a single AAA alkaline battery. Both lights are the soul of simplicity, being turned on and off by simply turning the bezel. I have owned several Maglite Solitaires over the years, so it is a natural comparison for me. The primary difference is that the Solitaire uses a high intensity bulb and the little Nightfire uses an LED light source. The result is that the Nightfire is about three times the price of a Solitaire, but produces about 43 times more light! (The output of the Solitaire is rated at 2.3 lumens.) Doubtless Maglite will eventually introduce a brighter, LED version of the Solitaire, but as of this writing the Nightfire R-AR91A clearly provides a lot more bang (light) for the buck.
Features and Specifications
Luxeon Rebel 100 LED
Metal pocket/belt/hat clip
Regulated circuitry extends battery life
Precision machined, high strength T6061 aluminum housing
Black anodized finish
Weatherproof - "O" ring sealed
Maximum brightness: 100 lumens
Effective range: 50+ yards
Expected LED life: 30,000 hours
Battery: AAAx1 alkaline
Battery run time: 0.7 hours; 1.0 hour useable light output
Length: 3.0"
Diameter: 0.7"
Weight: 1.0 ounce with batteries
Included accessories: Metal clip, Nylon wrist lanyard, AAA battery
Country of manufacture: Red China
2012 MSRP: $29.99
If the foregoing description sounds like a handy little light, you've got the idea. It will fit practically anywhere, in a shirt pocket, vest pocket, fanny pack, backpack, tackle box, travel kit, car console, motorcycle tool kit, nightstand, etc. With its bright beam that reaches over 50 yards in dark conditions, the R-AR91A makes an excellent emergency light. Never travel by airplane, ship or train without one; in a sudden crisis it could save your life.
The smallest Nightfire is easy to grip and use, despite its small size. There are checkered gripping rings around the bezel (where the light is turned on and off) and around the tail piece (which must be unscrewed to change batteries). Both ends are "O" ring sealed to prevent the entry of moisture.
Every River Rock flashlight has a unique reflector designed specifically for the LED it houses. The R-AR91A's circular, well defined light pattern has a bright center spot surrounded by a wide "flood" perimeter. I find this to be the most generally useful light pattern, particularly outdoors, where its bright center spot gives the R-AR91A serious reach. Outdoors at night, it produced a whiter, brighter and more evenly distributed light pattern than a comparatively massive two "D" cell Maglite (36.5 lumens, 23.8 ounces) with its bezel adjusted to throw a similar diameter circle of light. Compared to a couple of flashlights of approximately similar size that I happened to have on hand, a Maglite Solitaire (2.3 lumens, 0.9 ounce) and an LED Lenser K3 (14.7 lumens, 1.2 ounces), the R-AR91A easily outperformed both in my nighttime back yard testing.
River Rock Designs claim to offer the highest performance per category and, in the case of the Nightfire 1AAA flashlight, it is no idle boast. The R-AR91A offers excellent performance from a very small and reasonably priced package. It has become my mini flashlight of choice.