Doug Ritter's RSK Survival Knives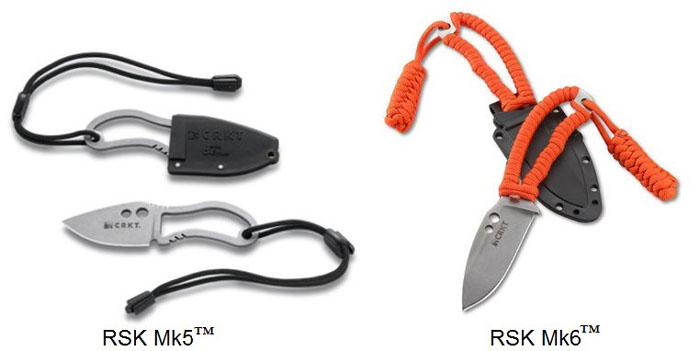 Illustration courtesy of Columbia River Knife & Tool, Inc.
Doug Ritter is a recognized authority on survival techniques and equipment. His Equipped to Survive Foundation, a non-profit organization, is dedicated to providing information and equipment to help sportsmen to survive if stranded in harsh conditions. His philosophy is: "If it isn't with you, it can't save you."
The RSK Mk5 survival knife is light and compact and can easily be stored in your personal survival kit, which everyone should have). At the same time, this knife is tough enough to accomplish most tasks in an emergency situation. It was produced through the collaborative efforts of David White, a well known knife maker from Georgia, and Dr. Andrew Osbourne.
Mk5 Specifications
Overall Length: 3.81"
Weight: 0.9 ounces
Blade length: 1.75"
Blade thickness: 0.12"
Blade material: 2Cr13 / HRC 51-53
Grind: High Flat
Style: Wide-Chord Drop Point
Edge: Plain
Finish: Stone Washed
Handle: 2CR13 extension of blade
Sheath: Black Glass Filled Nylon (0.3 ounces)
2014 MSRP: $29.99
2Cr13 is a tough, relatively inexpensive, stainless steel made in China. It is used in knife blades and impact cutting tools, including saws, hatchets and machetes. It is not brittle and it's easy to sharpen, but not particularly known for holding an edge under hard use, so a 2CR13 knife blade will probably need to be resharpened frequently. For use in a knife blade it is typically heat treated to a Rockwell hardness of C 51-53.
The big brother of the Mk5 is the RSK Mk6. The Mk6 is designed to fit comfortably on your belt, or it can be attached to your pack for convenient access. Larger in size than the Mk5, this knife has a paracord wrapped handle for ease of handling during prolonged use. The paracord lanyard can be unraveled, if necessary for emergency use.
Mk6 Specifications
Overall Length: 6.38"
Weight: 2.2 ounces
Blade length: 2.95"
Blade thickness: 0.14"
Blade material: 8Cr13Mov / HRC 56-58
Grind: Flat
Style: Drop Point
Edge: Plain
Finish: Stone Washed
Handle: 8Cr13Mov extension of blade - paracord wrapped
Sheath: Black Glass Filled Nylon (1.2 ounces)
2014 MSRP: $49.99
8Cr13MoV is a harder and more expensive stainless steel that is also made in China. It is a good all-around knife blade steel roughly equivalent to AUS-8 Japanese steel and holds an edge much better than 2Cr13. It is typically heat treated to a Rockwell hardness of C 57-59 in a knife blade, so the Rockwell Hardness C 56-58 specified for the Mk6 is reasonable. This higher grade of steel helps justify the price difference between the Mk5 and Mk6 knives and should give the Mk6 a distinct advantage in service.
We sent both knives into the mountains with our field testers. After several days of use, they determined that these were well-designed, easy to use and extremely useful around camp. They used them to cut kindling for the fire, cut their meat at night and to cut small branches to cover a lean-to at camp.
Their recommendation for both knives was positive. Better to have them and not need them, than to need them and not have them.