Rudy Project Shooting Glasses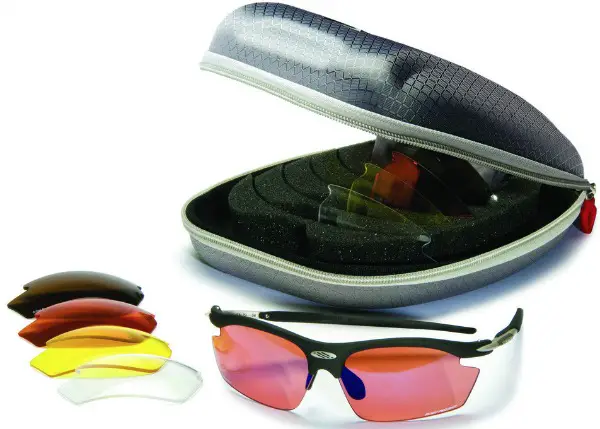 Rydon Performance Kit. Illustration courtesy of Rudy Project, Inc.
If you have not heard of Rudy Project before reading this article, you have been missing out on absolutely the finest sunglasses and shooting glasses ever made. Perhaps this is because we have not paid enough attention to our eyewear. We pick up a new pair of shooting glasses or sunglasses every year for $20 or $30, throw them around, stuff them in our pockets, fling them on the dashboard of the truck and toss them in the trash at the end of the season, because they are scratched beyond recognition.
It is almost as though we take our eyes and vision for granted, assuming they will always be there and work as expected. Unfortunately, as we get older, our visual acuity starts to wane and our trusty eyes begin to falter. For those of you under 50 (still kids!), you owe it to yourself to buy and use the best eye protection you can find. If you lose your eyes, your entire life changes.
I have had one gun explode on the range (a Bryco special) and another kaboom when I was repairing a rifle for a chap who had stuffed 30-30 rounds into a .44 Mag. lever action Marlin. (Yep, that was really dumb.) In both cases, I could have lost one or both eyes, but fortunately didn't. In the Bryco incident, I was not wearing shooting glasses and I was very lucky. From that time on, I wore glasses when at the shooting range or hunting.
However, we are slightly off topic, as this article is about Rudy Project eyewear. The story started in 1985, with Rudy Barbazza in Treviso, Italy. A friend convinced Rudy to make some sunglasses using the (then) new polycarbonate material for the lenses. After a bit of persuasion, Rudy agreed to take on this project. It became known as the Rudy Project. He was one of the first, if not the first, to incorporate completely new materials in his sunglasses.
The temples are constructed from Kynetium, an aerospatial aluminum which is composed of magnesium, silicon and titanium. The result is a frame/temple combination that is lightweight (magnesium), durable (titanium) and flexible (silicon). We have bent the temple ear pieces every which way in our tests. Our findings: regardless of how you adjust the temples, up, down, in or out, they hold their position.
The Ergo IV nose pads are truly ergonomic and can be adjusted to fit just about any face. We let several of our friends try on Jim's glasses and asked them to adjust the temples and nose pads to fit their head. Everyone was impressed. In fact, a couple of them even asked if they could buy Jim's glasses.
The Grilamid frames are flexible and very tough, yet lightweight. Rudy Project frames are true Grilamid, a polyamid made by EMS in Switzerland. Beware of the many cheap imitations on the market. A lot of Asian imports claim they have Grilamid frames, but in reality they are simply injected plastic that will warp and break. Real Grilamid frames will not warp and are almost unbreakable. The only caveat with polyamid material is not to use alcohol to clean it, as it can react with the polyamid and cause it to crack.
Another feature of Rudy Project glasses is interchangeable lenses. You can use any of the variety of lenses that are best suited for the conditions of brightness or weather you may encounter. You can also fit them with the shatterproof and photochromic ImpactX lenses, which change color according to different light conditions. With over thirty different lens options, ten colors of temples/nose pads and a variety of frame colors, you can design your personal glasses at no additional cost.
For those of you who require prescription lenses, they have a very reasonable prescription service. Rudy Project will fabricate your prescription lenses in polycarbonate or cutting edge and completely unbreakable ImpactX lens material. Rudy's digital surfacing technology has the ability to fill either single vision or progressive lens designs.
Mary ordered her Rydons with transparent frames and pink temples, with an extra set of red temples. Hey, a gal has to be able to change colors now and then. Her prescription lenses are superb, not only at the shooting range, but also when driving.
Jim ordered a modified Rudy Project Rydon Performance Kit Matte Black frame with ImpactX Grey, Impact X Clear, Yellow and Polychromic Racing Red Lens. He wanted to be able to cover all bases while hunting or at the shooting range.
In a pinch, I can pop a set of his lenses into my frames at the range or in the woods. The standard Performance Kit includes five sets of lenses: Laser copper, action brown, clear, yellow and racing red lenses, but you can easily customize and select your own. Rudy Project Polycarbonate RP Optics lenses provide 100% UVA/UVB protection. That is something that you do not get with most other shooting glasses.
The Barbazzas have taken lens technology one step further. Enter the ImpactX lens. These lenses are made from Trivex, which provides even crisper optics than polycarbonate lenses.
Frankly, we could not tell the difference, with respect to optical properties, between the Rudy Project polycarbonate and the ImpactX lenses and they are guaranteed for life. Even if you just scratch or nick them, Rudy will replace them. Oh yeah, you can bend them almost in half and they return to their original shape.
Do not get the idea that these glasses are only for shooting. That is not even remotely true. If you ride motorcycles, golf, cycle, hike, fish, drive, climb mountains or are active in any way, these are truly versatile glasses. They do not look like ordinary shooting glasses and you can wear them anywhere. These may well be the last pair of sunglasses you will ever need to buy.
To say we like these glasses is a gross understatement. Jim did not like glasses until he got his Rydons. Now, he doesn't leave home without them.
The Rudy Project brand has been passed to Cristiano and Simone Barbazza, Rudy's sons. Rudy Project is one of the few remaining, family owned, sunglass businesses. Almost everyone else, including Oakley, has been bought up by giant groups like Luxottica. That is a shame, because just like in the cutlery business, there seems to be a race to the bottom with cheap imports from China.
Not so with the Barbazzas. For this family, quality and customer satisfaction are still number one. If there were a gold standard for sunglasses, then Rudy Barbazza's Project would be it.
The 2014 MSRP for a pair of Rudy Project Rydon glasses ranges from $200 to $275, depending on the type of lenses selected. The Performance Kit, with its case and five sets of lenses, is a bargain at $300. Buy the kit and you will never need another pair of sunglasses. You can order directly from RACE (http://www.e-rudy.com), the exclusive distributor in the US and Canada.