Ruger SR1911 Pistol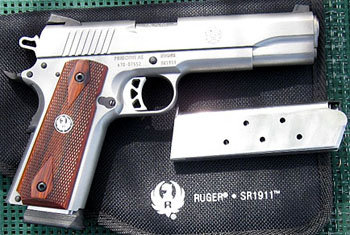 Photo by Randy Wakeman.
2011 has been the year of the 1911. Rightfully so, considering that John Browning's Colt Model 1911 (a.k.a. the Colt .45 Auto) was the United States service pistol from WW I through Vietnam, from 1911 to 1985. The U.S. procured over 2.7 million Colt 1911 pistols during that time. It is still in wide-spread use today in military, law enforcement and civilian applications. It was designated as the official firearm of Utah on March 18, 1911.
The pricing for 1911 pistols has historically run from mild to wild. One of the most truly pathetic examples I've ever spent time with was made by Llama. To refer to that Llama 1911 as junk would be insulting to junk. Of course, we have had all kinds of "improved" 1911's and, in many cases, the improvements can ruin a good thing. A compromise in reliability, for example, is no improvement in a handgun, no matter how much the improvement costs.
Several highly-regarded Ed Brown Special Forces models run around $2300. The Ed Brown Classic Custom is as good as any 1911 I've seen, just dripping with quality and handfitting. It currently goes for over $3000 and there are pricier custom 1911's out there. Many brands are sorely over-rated. Once you have had enough birthdays, you learn that more dollars spent does not necessarily guarantee anything except more dollars spent.
1911 manufacture is a crowded field, with a dozen companies claiming to be "the finest" and using bogus terms like "match grade" to obfuscate what they offer. Some of the allegedly match grade stuff might mean only that after a little quality time, you might want to take a match to it. So it goes.
The review of this Ruger 1911 almost didn't happen. The leading pro shop in this area is Mega-Sports, and when I can, I support my local dealer. If we don't do, there is no reason for local dealers to stay in business, especially independent pro shops. The group at Mega-Sports in Plainfield, Illinois was very excited about the Ruger SR1911. They were ecstatic about the looks, build quality, reliability, accuracy, trigger pull and price. Okay, it was time to find out for myself. Here are the basic specs of the SR1911.
<![if !supportLists]>· <![endif]>Catalog Number: SR1911

<![if !supportLists]>· <![endif]>Model Number: 6700

<![if !supportLists]>· <![endif]>Caliber: .45 Auto

<![if !supportLists]>· <![endif]>Slide Material: Stainless Steel

<![if !supportLists]>· <![endif]>Slide Finish: Low-Glare Stainless

<![if !supportLists]>· <![endif]>Grip Frame: Low-Glare Stainless Steel

<![if !supportLists]>· <![endif]>Sights: Fixed Novak® 3-Dot

<![if !supportLists]>· <![endif]>Capacity: 8+1

<![if !supportLists]>· <![endif]>Barrel Length: 5.00"

<![if !supportLists]>· <![endif]>Height: 5.45"

<![if !supportLists]>· <![endif]>Overall Length: 8.67"

<![if !supportLists]>· <![endif]>Weight: 39.00 oz.

<![if !supportLists]>· <![endif]>Width: 1.34"

<![if !supportLists]>· <![endif]>Twist: 1:16" RH, 6 grooves

<![if !supportLists]>· <![endif]>2011 MSRP: $799.00
At first blush, you might consider the new Ruger a better-looking pistol than many of its more expensive competition. I think that's fair, as this Ruger is one of the best-looking production 1911's I've seen in a long time.
The features of the Ruger SR1911 are largely common-sense and desirable. This includes the oversized ejection port, lightweight trigger with adjustable overtravel, skeletonized hammer, Novak sights, attractive hardwood grips and traditional Colt Series 70 styling.
I liked the trigger right out of the box. After minor initial take-up, it broke lightly and cleanly at 4.5 pounds, according to my Lyman electronic trigger gauge. It feels a bit lighter than that. The combination of the excellent trigger and Novak sights made it easy to hit with.
Off-hand, shooting economical Blaser, American Eagle and Winchester/USA ammo, I had no trouble producing 2.5 inch 25 yard groups. In addition, I fired a couple of three inch 40 yard groups off-hand. The gun can probably do better from a bench rest than my off-hand shooting allowed and there is also better ammo available.
There is no end to the search for the perfect pistol by those who fancy themselves gunslingers, of course. However, for most people (including myself), this is all the practical accuracy needed in a self-defense pistol.
For a current street price of somewhere around $750, the Ruger SR1911 is an impressive achievement in a contemporary stainless, feature-added M1911 pistol. It was perfectly reliable, fine handles well and feels great in the hand. There is no Series 80 type firing pin safety; a titanium firing pin and a strong spring make it unnecessary.
There is a certain pleasure in finding a pistol without a dumb flip-up loaded chamber indicator (there is a witness hole), a magazine disconnect safety and other aesthetically vulgar and worthless additions found on handguns these days. I'm impressed with the SR1911, to say the least. As a stainless Series 70 pistol, it doesn't have much competition in its price class. Congratulations to Sturm, Ruger & Company for a job well-done.
Note: A full length review of the SR1911 by the Guns and Shooting Online staff can be found on the Product Reviews page.