The Ruger 10/22 Rifle: Fifty Years and Counting
By Gary Zinn

10/22 Carbine. Image courtesy of Sturm, Ruger & Co.
Sturm, Ruger & Co. did not become the largest U.S. firearms manufacturer by building only two gun models, but I believe that two innovative designs should get much credit for Rugerís reputation and business success. These are the Ruger Standard (or Model 1) autoloading .22 pistol and the Ruger 10/22 autoloading .22 rifle. The Standard pistol was Rugerís first commercial product, in 1949. It introduced some innovative and economical manufacturing techniques into the firearms industry, found strong acceptance by buyers and established Ruger as a legitimate player in the industry. The Standardís direct descendants, the Mark III and 22/45, are still going strong in the Ruger lineup.
The 10/22 rifle, introduced in 1964, has been a cash cow for Ruger, with over five million sold and no end in sight. Due to its ďmodularĒ components design, the 10/22 spawned a robust industry devoted to aftermarket goodies for it. Go to the website of a major firearms parts vendor, such as Brownellís or Midway USA, and search ďRuger 10/22Ē to see what I mean.
I bought my first 10/22 rifle in 1978. At that time, as I recall, there were no variants. The 10/22 carbine I bought was almost exactly as the image above. This traditional looking carbine was styled after the popular U.S. Carbine M1 of Second World War fame and features an 18-1/2 inch barrel with open sights and a hardwood stock secured to the receiver by a single action screw, with a barrel band at the front of the stock. It has a cross bolt safety in the front of the trigger guard. The top of the receiver is drilled and tapped for mounting a "combination scope base adaptor" that accepts tip-off mounts and Weaver rings.
Currently (2014) there are six variants of the 10/22 available. They feature different barrel lengths or contours, stock material or style, with or without open sights. Three variants are available with black alloy steel or silver stainless steel barrels, the other three with alloy steel barrels only. The newest 10/22 variant is a take-down model. (There is, arguably, a seventh variant. The Ruger SR-22 rifle is a 10/22 action enclosed in an AR-type body. I canít decide if itís interesting, or just weird.) Following are the basic specifications for the standard 10/22 carbine, as illustrated at the top of this page.
10/22 Carbine Specifications
Model #: 1103
Caliber: .22 LR
Magazine capacity: 10
Receiver material: A380 aluminum alloy w/black finish
Trigger housing: Polymer
Barrel material: Alloy steel w/satin black finish
Barrel length: 18.5"
Twist: Hammer forged, 1:16" RH
Grooves: 6
Sights: Adjustable folding rear, gold bead front; receiver drilled and tapped for scope base
Stock: Walnut finished hardwood
Length of pull: 13.5"
Overall length: 37"
Weight: 5 lbs.
2014 MSRP: $279
The saga of my original 10/22 is a testament to both the functionality of the rifle and the ease with which it can be modified or customized. Between 1978 and 2005, I used it hard. A legion of woodchucks, squirrels, rabbits and starlings fell to it, as well as many hundreds of tin cans. I taught my two daughters and some nephews to shoot with it. Somewhere along the way the firing pin blunted, so I replaced it; a simple job that even a Geico advertising character could do.
By 2005, the gun was showing wear. The stock was dinged, the muzzle crown worn from cleaning the bore with metal rods, before graphite cleaning rods became available, and there were a couple of rust pits on the outside of the barrel (my bad--neglect). I decided that it was time to overhaul the rifle. At the time, Midway USA had a special featuring a 20-inch Adams & Bennett target barrel with a matching CoreLite synthetic stock for the 10/22. I bought them, switched out the barrel, bolted on the new stock and had a ďnewĒ rifle.
With the original barrel, I sometimes used the open sights and sometimes a 4x rimfire scope. The target barrel, however, was not designed for open sights, so the rifle now wears a variable power scope full time. Also, the 20-inch bull barrel makes the gun noticeably heavy and shifts its balance forward, which makes it awkward for a field gun. Therefore, I mounted a short bipod on the front of the stock and now have a great bench gun.
I have a second 10/22 that started out as a handgun, the Ruger Charger. First marketed in 2007, the Charger used the 10/22 receiver and all of its working parts, but became a handgun by virtue of a 10-inch heavy barrel and a laminated handgun stock. It came with a factory installed optic mounting base and a short bipod, the latter a tacit acknowledgement that this was, by nature, a bench handgun. Sure, it can be carried and used for hunting, but one has to employ some ingenuity to hold it steady off the bipod.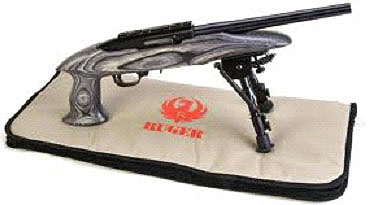 Charger Image courtesy of realguns.com
I bought a Charger in 2009 with a purpose in mind. I had taught my two grandchildren to shoot the 10/22 rifle and I wanted to introduce them to shooting handguns, too. Since they were familiar with how the rifle worked, I figured that a handgun that worked the same would be an easy transition. Later I could train them on more conventional handguns, after they had learned the basics on the Charger. I mounted a red dot optic on it and turned them loose on paper targets and tin cans. It worked, although it cost me a lot of .22 ammo.
By 2012, the Charger had served its original purpose and my grandson and I agreed that it would be nice to have a light, handy 10/22 rifle to complement my bench rifle. I bought a Shaw 18-inch field weight barrel and a Hogue rifle stock and converted the Charger into a rifle. (Yes, itís legal--I checked the ATF website. However, it is not legal to convert a long gun into a pistol.) I added a Bushnell TRS-25 red dot sight and itís all good. If I wish, I can switch back to the short barrel and pistol stock and have a handgun again. Evidently the Charger variant was not a commercial success, for Ruger discontinued it in 2013. However, anyone who has a Charger can also have a 10/22 rifle via the conversion I have described. Just be sure to stay legal; i.e., donít end up with an unlicensed SBR.
To me, the very best functional feature of the 10/22 is its ten cartridge rotary magazine. This little cube, arguably the best .22 rimfire magazine ever made, fits flush with the bottom of the stock, loads easily and works dependably with minimal maintenance. There are higher capacity aftermarket magazines available, but Iím not a fan. I bought a 25 round magazine once, but didnít like it, mainly because it was a bear to load. If I want to hose down the countryside, I load multiple ten round magazines and go for it.
Conversely, there are two features of the original 10/22 design that donít work well, but fortunately the aftermarket has come to the rescue. First, the original magazine release was a hinged tab that sat flush with the bottom of the stock at the back of the magazine well. To drop a magazine, the tab had to be pushed upward. I always found the darn thing hard to hit squarely with my finger, so it often took me two or three tries to drop a magazine. The aftermarket fix is an easily installed extended magazine release lever that works great. Just push it forward to drop the mag. Ruger has adopted this type of magazine release on more current production, so this is not an issue on newer 10/22s.
The second aggravation involves the bolt latch/release mechanism. To latch the bolt open, one has to pull the bolt handle fully rearward and rock the bottom of the latch, which protrudes slightly from the left front edge of the safety housing, back toward the safety; then gently release the bolt handle so that the latch will catch and hold the bolt open. To release the bolt, the handle has to again be pulled back and the end of the latch rocked forward, so that it will release the bolt and allow it to close. Awkward. The aftermarket fix is a modified ďautomaticĒ bolt release. Latching the bolt open still requires the first maneuver described, but unlatching is much simpler: just pull back on the bolt handle and let go. Pulling back disengages the latch, letting the bolt snap closed when itís released. Installing both the improved magazine release and automatic bolt release requires removing the trigger group module from the receiver to switch out the old and new parts, but itís not difficult if one follows the directions.
My original 10/22 has shown the durability and reliability that is typical of the design. It has fired a lot of rounds and the only necessary gunsmithing it has received is replacement of a worn firing pin. The other changes mentioned in this article were optional and made totally by choice.
Turning to maintenance, the 10/22 is a piece of cake. My normal internal maintenance of my 10/22s involves an occasional cleaning of the bore, along with dousing the receiver innards (bolt, recoil spring assembly and trigger group module) with Hornady One Shot Gun Cleaner and Dry Lube. When a magazine gets grungy, I carefully scrape any fouling off the metal feed frame and then squirt One Shot into the magazine, slosh it around a bit and then shake it dry. Thatís it; the guns and magazines run and run.
Gun haters notwithstanding, thereís just something appealing about the 10/22. Each spring and fall, my home shooting club hosts Ladies Day and Youth Day shooting events, open to the public. At each, I and my 10/22's will be on the .22 bench rest station. (A half-dozen 10/22's lined up across the shooting benches is a sight to warm the heart.) At least once each Youth Day, a youngster will finish shooting a magazine, run back to her or his parents and say, ďI want a gun like that!Ē At Ladies Days, I have had a number of women ask, ďWhere can I buy one of these?Ē
These events also demonstrate the dependability of the 10/22. Typically, we will run some 300 rounds through each of a half-dozen 10/22s at an event, with only a handful of minor malfunctions--failures to feed, fire or extract--on the whole line. This is with bulk ammo. We have been doing this for over a decade and have never had a 10/22 truly break down.
The Ruger 10/22 is fifty years old this year. Happy Fiftieth, 10/22! May you prosper as long as there is .22 Long Rifle ammo to be fired.