Ruger 22/45 Lite Rimfire Pistol
By the Guns and Shooting Online Staff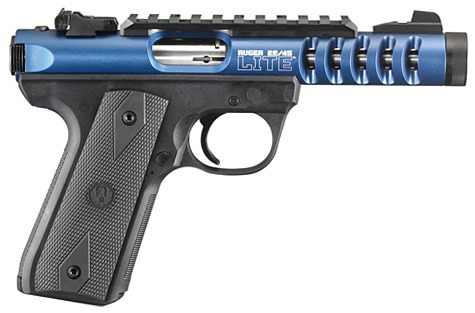 Illustration courtesy of Sturm, Ruger, Co.
Sturm, Ruger & Company, Inc. was founded in 1949 by Alexander Sturm and William Ruger (Sr.) to produce a .22 LR autoloading pistol designed by Bill Ruger in the style of the famous German P-08 Luger. It was a clever, blow-back operated, concealed hammer design; simple, reliable and economical. This pistol became the foundation of the Company that has become one of America's leading gun manufacturers.
The Ruger .22 pistol is now on its third generation (Mk. III). The Guns and Shooting Online staff has long experience with Ruger .22 pistols, including the original Standard, Mk. II and Mk. III versions. (For example, see Ruger 22/45 Mark III Hunter Pistol.) For 2015, the new 22/45 Lite model caught our attention and we requested a sample from the good folks at Ruger for this review.
The 22/45 Lite is definitely an attention getter. It looks like something out of a Star Trek movie. The grip frame is black polymer with removable rubber grip panels, while the barrel/receiver assembly is blue anodized aluminum with a slender, stainless steel barrel insert. The barrel is capped at the muzzle by a black, knurled, finger-tip removable, aluminum barrel nut.
The forward section of the receiver (around the barrel) is ventilated by five wide, vertical cuts. A long Weaver type accessory rail is screwed atop the receiver. The portion of the bolt visible through the oval ejection port is left in the white. No question, this pistol's appearance is striking. (See photo at top of page.)
What attracted us to the 22/45 Lite, beyond its striking appearance, was its moderate weight (22.7 ounces), fully adjustable rear sight and the supplied Weaver scope base, which makes mounting an optical red dot sight "bolt-on" simple. The Lite has the basics of a pretty good trainer pistol, as well as being easy to pack in the field.
Most people totally unfamiliar with firearms are startled by the weight of a real, full size pistol. "I didn't know guns were so heavy" is a very common first comment. (Real pistols are not like toy guns!) The Lite's less than 23 ounce weight is appealing to new shooters, particularly women and youth.
As we all know, learning to shoot a handgun requires mastering the basic operation of the pistol, proper stance, trigger control and sight alignment. The shooter must learn to focus on the front sight, rather than the target, which means the target will appear blurry. This seems counter-intuitive to new shooters, who naturally want to focus on the target.
This is where the Lite's Weaver rail comes in. Mounting a red dot sight allows the shooter to see the target and the point of aim in one optical plane, greatly simplifying their work load. It allows them to score hits more easily, which is rewarding and fun, making it more likely they will enjoy our sport and become recreational shooters. It's a win-win situation for the new shooter and our sport.
After successfully mastering shooting fundamentals with a red dot sight, the new shooter can learn to use the pistol's Patridge type iron sights. The rear sight, screw adjustable for windage and elevation, makes zeroing the pistol for the desired load easy. To take advantage of the dozens of different .22 LR loads available, a fully adjustable rear sight is absolutely necessary.
Of course, we would prefer to start new shooters with a revolver, which is less accident prone than an autoloading pistol. Revolvers are simpler to operate (there is no magazine release, safety, slide lock, or take down lever) and to load/unload. They are also simpler to clean, with no field stripping required. .22 Revolvers also take less hand strength to operate than a blow-back .22 autoloading pistol. Unfortunately, very few (if any) full size .22 revolvers come with a fully adjustable rear sight and a Weaver rail for an optical sight, or are as lightweight as the 22/45 Lite. Life is, after all, compromise.
In addition to the attributes already mentioned, the 22/45 Lite's Zytel grip frame features serrated front and back straps. The checkered, 1911 style grip panels can be replaced with accessory grip panels, if desired. The end of the barrel, protected by the barrel nut, has a 1/2x28 thread intended to accept suppressors and other accessories.
The frame mounted safety button locks the sear when applied. Up is the SAFE position, while down is FIRE. The manual safety is similar in location and operation to previous generations of Ruger .22 pistols.
Unique to Mk. III models is an internal lock keyway, accessed via a small hole located immediately below the safety button. This can be used to lock the action, by means of the supplied key, when the pistol is not in use. It is accessible only when the safety is on (button up).
Additional Mk. III safety features include a magazine disconnect to prevent inadvertent discharge when the magazine is removed, a feature we detest on any pistol. There is also a visible/tactile loaded chamber indicator on the left side of the receiver. Mark III pistols are supplied with a padlock that can be used to lock the bolt open.
The magazine release on Mk. III pistols has been moved from the bottom of the grip to a more conventional button located behind the trigger guard. The Lite comes with two 10-shot magazines and a soft, padded case. We appreciate the extra magazine and the carrying case.
Specifications
Model number: 3908
Caliber: .22 LR
Magazine capacity: 10
Receiver material: Aerospace grade aluminum
Receiver finish: Blue anodize
Barrel: Stainless steel with threaded muzzle
Barrel length: 4.4 in.
Twist: 1:16 in. RH; 6 grooves
Grip Frame: Black polymer
Grip panels: replaceable; black molded rubber
Front sight: Fixed blade
Rear sight: Fully adjustable
Scope mount base: Weaver rail
Overall length: 8.5 in.
Height: 5.5 in.
Weight (empty): 22.73 ounces
2015 MSRP: $515
Since Ruger .22 pistols lack a conventional slide, the angled and serrated ears at the rear of the bolt are pulled rearward to manually open the action. One of the drawbacks of blowback action pistols is that the resistance of the heavy recoil springs must be overcome to retract the slide. When the hammer is down, the weight of the hammer spring must also be overcome. This is often not easy to do, especially for beginning shooters.
When shooting the pistol, the bolt stays open after the last shot and the hammer remains cocked, making operating the bolt easier. Just use the bolt ears to pull the bolt back slightly (about 1/4 inch), hold down the bolt release and let go of the ears to let the bolt snap closed. If you have inserted a loaded magazine, the top cartridge will be stripped from the magazine and loaded into the chamber, ready for firing.
After taking-up considerable slack and a little creep, our test gun's trigger released at a measured 4.5 pounds. There is only a little over-travel, which we did not find troubling. All things considered, this is a reasonable trigger pull for a plinking pistol. The aluminum trigger blade is wide with shallow grooves and comfortably curved.
The 22/45 takedown and reassembly procedure required for cleaning is generally similar to other Ruger Mk. III semi-autos. Rather than describe the operation here, we suggest you visit www.ruger.com. Go to the "News and Resources" section, click on "Videos" and then "Ruger Tech Tips." Scroll down to "22/45," where you can click on "Disassembly" and/or "Reassembly." Ruger recommends cleaning the barrel/chamber after every shooting session, but states that disassembly for internal cleaning is necessary only after an extensive amount of shooting.
Ruger claims the Lite's barrel sleeve and tensioning nut make it as accurate as previous 22/45 pistols. They also claim the pistol's internal, cylindrical bolt is inherently more accurate than conventional, moving slide designs.
Naturally, we were interested in getting the Lite to the range to find out for ourselves. Guns and Shooting Online staff members Chuck Hawks, Jim Fleck and Bob Fleck participated in our range work.
Due to the ongoing Obama ammunition shortage, our local sporting goods emporium had no .22 LR ammo for sale at the time of this review. Fortunately, we were able to provide three common types of .22 LR high speed ammo with copper plated bullets and one hyper-velocity hollow point (HP) load from our private stock.
The high velocity loads included CCI Mini-Mag 36 grain HP, Remington Golden Bullet 36 grain HP and Winchester Super-X 37 grain HP hunting loads. The hyper-velocity load was the CCI Stinger 32 grain HP.
We did our shooting at the Izaak Walton outdoor range south of Eugene, Oregon. The early March day was unseasonably sunny and warm, with a high temperature of almost 65-degrees F. There was no appreciable wind.
As usual when reviewing a handgun, we shot five shot groups for record at 25 yards from a bench rest. A sandbag was used to steady the pistol and we used Hoppe's 25 yard slow-fire pistol targets.
Shooting Results
CCI Stinger HP: Smallest group 1-5/8", Largest group 2-7/8", Mean average group = 2.42"
CCI Mini-Mag HP: Smallest group 1-1/2", Largest group 3", Mean average group = 2.33"
Rem. Golden Bullet HP: Smallest group 1-1/4", Largest group 3", Mean average group = 2.04"
Win. Super-X HP: Smallest group 1-1/4", Largest group 2", Mean average group = 1.50"
Average group size for all loads: 2.07 inches
This time out, Jim shot our best individual group. If you look only at the best groups with each type of ammo, this is adequate accuracy for small game hunting. Unfortunately, our average group sizes, while acceptable for plinking at 25 yards, don't equal what we normally expect from a Ruger .22 pistol or recommend the 22/45 Lite as a hunting handgun.
Jim praised the Lite's target type open sights, but found the considerable trigger take-up distracting. Neither Chuck nor Bob mentioned being bothered by this, although we would all have preferred a three pound trigger pull.
We had several stove pipe jams when shooting the Winchester Super-X ammunition, but none with the CCI or Remington loads. We attribute this to the considerable age of the Winchester test ammo, which had been sitting on a shelf for many years. Unlike centerfire ammo, rimfire ammo seems to deteriorate with age, losing some of its potency. We don't blame the pistol for these stove pipe malfunctions. Otherwise, the 22/45 Lite functioned correctly and reliably.
The single stack magazine is relatively easy to load, particularly if you don't insist on cramming in all 10 cartridges. The button used to compress the magazine spring helps.
The magazine enters the grip at an angle that is not parallel to the grip. This is because the Ruger .22 pistol action was originally designed for a more swept-back Luger or Colt Woodsman style grip. Since the 22/45 uses a more upright 1911 pistol grip angle, the magazine must be angled forward inside the grip to properly feed cartridges. This makes inserting the magazine seem a bit odd until you adjust.
The magazine body is sheet steel, while the follower and the oversize bottom plate (it is much wider than the magazine body to fill the bottom of the 1911 grip frame) are made of black plastic. When inserting the magazine, give it a rap on the heel to ensure that it seats fully, with an audible click. It is easy to put the mag in the grip without it catching, in which case the bolt will not chamber a cartridge when the action is closed. The magazine does not drop free when the release button is pressed; it just pops out about 1/4 inch, so you can grasp the front and back edges of the long bottom plate with your fingers to pull it out.
Conclusion
We hate to mention it, but it occurs to us that the CIA, Mossad, SAS and other secret services will probably find the 22/45 Lite ideal for covert assassinations, particularly given its reasonable weight, medium barrel length and a muzzle already threaded for a silencer. Paint the muzzle cap bright red, fit brightly colored plastic grips and, at a glance, it might even be mistaken for a toy pistol. What more could a secret agent want?
For civilian shooters, its intended market, we figure the 22/45 Lite is most suitable as a plinking and trail gun. Its full size and moderate weight should make it popular with backpackers and campers. Equipped with a red dot sight, it should be a good pistol for introducing beginners to the sport of handgun shooting.
Note: This review is mirrored on the Product Reviews page.