The Ruger 77/50RSO "Officer's Model" Rifle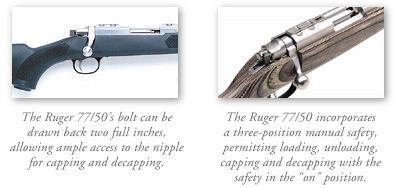 Illustration courtesy of Sturm, Ruger Co., Inc.
The Ruger 77 / 50 "Officer's Model" inline .50 caliber muzzleloader is well made and extremely attractive with its walnut stock and deep bluing. A 22" barrel and the lack of a pistol grip made this rifle relatively light weight, and the weight combined with a hard plastic, curved butt plate made it uncomfortable to shoot with heavy loads. Ignition, as supplied, was #11 percussion cap.
As an "open action" in-line, with a generic 3-9x40 scope mounted so close to the open action, nothing was present to stop external blowback. And by not bothering to wrap the scope with a few layers of black electrical tape, the finish was quickly destroyed on the bottom. The #11 caps had no problem igniting loose powder so long as the nipple was probed every ten shots or so, but Pyrodex pellets exhibited a few misfires and hangfires. The musket cap option would likely take care of this, but necessarily barbecue a scope that much more rapidly.
Stripping the gun requires the removal of the barrel band, and I quickly managed to destroy two of them. The bolt is a pain to clean. As Ruger says:
TO DISASSEMBLE THE BOLT
"While holding the bolt, rotate the bolt sleeve clockwise (as viewed from the rear of the rifle) to position shown in Figure 18, p. 24. The bolt sleeve should be in the same position it is in when taken out of the receiver, but the bolt sleeve may need to be rotated clockwise until the disassembly hole is fully exposed. Insert the small end of breech plug wrench handle (or suitable nail) into the "disassembly hole" in the striker/cocking piece assembly to hold it in the rear position (Figure 19). NOTE: The pin should be as close as possible in size to the hole diameter, and at least 2 inches long so that it can be used to 'lever' the cocking piece to the rear when reassembling the bolt stop assembly into the bolt. Do not use a soft paper clip, etc. Note that if you use the breech plug handle as the bolt disassembly pin, you will be unable to use the breech plug wrench to remove the breech plug until you reassemble the bolt."
And so it goes. This is a part of regular maintenance. The Ruger design is not particularly user friendly.
This "me too" muzzleloading offering has been stagnant since its introduction, aside from a few stock options. Ruger has discontinued their black powder rifles for 2005. I wasn't sorry to see it go./P>
Note: A complete review of the Ruger M77-50RSO rifle can be found on the Product Review Page.