Ruger LC9s Pro 9x19mm Pistol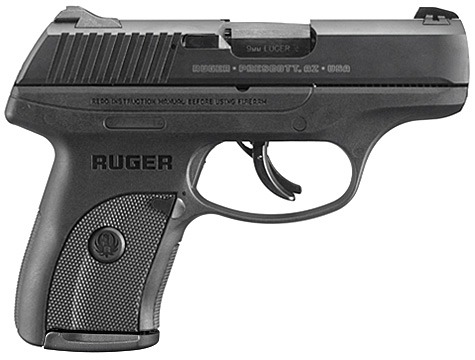 Illustration courtesy of Sturm, Ruger.
The LC9 is four years old by now, having been introduced at the 2011 SHOT Show. The striker-fired version was released late in 2014 and the LC9s Pro model was added this year (2015).
To get right to the point, Ruger got it right with the LC9s Pro model. It weighs little more than a pound, is easily concealable, feeding is reliable, ejection is reassuringly strong and the trigger is good. It finally gets rid of the clutter of external safeties and the irritating magazine disconnect that have plagued Ruger pistols for too long.
Features
The LC9s Pro model has no external manual safety or magazine disconnect.
Striker-fired version of the award-winning LC9s has a short, light, crisp trigger pull.
Uses all existing LC9 accessories including lasers, holsters and extended 9-round magazines.
Slim, lightweight and compact for personal protection.
Rugged construction with blued, through-hardened alloy steel slide.
Black, one-piece high-performance, glass-filled nylon grip frame.
Checkered grip frame provides a secure and comfortable grip.
Includes finger grip extension floorplate that can be added to the magazine for comfort and grip.
Dovetailed, high-visibility 3-dot sight system with windage adjustable rear sight and fixed front sight.
Blued, alloy steel barrel.
Safety features include integrated trigger safety and a visual chamber inspection port.
Also Includes: one 7-round magazine; soft case.
Specifications
Barrel Finish: Blued
Model Number: 3248
Caliber: 9mm Luger
Capacity: 7+1
Slide Material: Blued steel
Slide Finish: Blued
Barrel Material: Alloy steel
Barrel Length: 3.1 in.
Twist: 1:10 in. RH
Grooves: 6
Grip Frame: Black glass-filled Nylon
Sights: 3-dot, drift adjustable
Length: 6 in.
Width: 0.9 in.
Height: 4.5 in.
Weight: 17.2 oz.
2015 MSRP: $449
On this LC9s Pro, the trigger breaks at a consistent 5 pounds, 2 ounces. It is extremely easy to shoot and the felt recoil with 115 grain Federal hollow point ammo is surprisingly mild, especially considering that the smallish grip is hard plastic.
A pistol like this could not be simpler to use: you just keep your finger out of the trigger guard until you deploy it. List priced at $449, the current (2015) discount retail price is about $350.
I really like this pistol just as supplied. Some will no doubt want a bit larger grip, the aftermarket sight choices are endless, but that is all a matter of personal preference. My particular preference is for the Big Dot Tritium Express Set from XS Sight Systems. As for grips, I prefer the rubber Talon grips.
There is really nothing to gripe about with the LC9s Pro itself, although I think that Ruger should supply a second magazine with it, and the nine round magazine is ridiculously overpriced at $44.95 + $8 for Priority Mail from Ruger. You read this right, it is $52.95 to get a nine round magazine direct from Ruger: too bad there is no easy self-defense against this stunt.
In the ammo area, the Hornady 9mm Luger 115 grain FTX Critical Defense loads have been quite good, rated at 1140 fps from a 4 inch test barrel. Those looking for a soft-shooting load might want to consider the Hornady 9mm Luger FTX Critical Defense Lite, which is a similar velocity (1125 fps) offering with a lighter 100 grain bullet.
You might also want to consider the Speer Gold Dot Short Barrel Ammunition 9mm Luger +P 124 Grain and the Barnes 115 grain rounds. Although we readily accept that all rifles are individuals, handguns are as well. Thus it takes a bit of experimentation to find the penultimate load for any firearm.
In any case, Ruger has hit a home run with the LC9s Pro. It is an ideal close-range self defense pistol.