Ruger SP101 .327 Mag. Revolver w/4.2 inch Barrel
By the Guns and Shooting Online Staff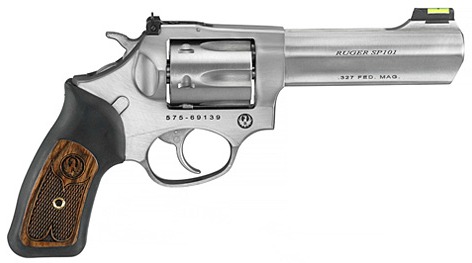 Illustration courtesy of Sturm, Ruger.
Federal introduced the .327 Magnum revolver cartridge at the 2008 SHOT Show in cooperation with Ruger, who introduced the first revolver (an SP101 three inch snubby) to shoot it. Federal, Speer and American Eagle brand ammunition is available in the caliber, providing a good choice of factory loads with bullet weights ranging from 85 grains to 115 grains.
The actual bullet diameter is .312 inch and the case head diameter is .337 inch, the same as previous ".32" handgun cartridges. Thus, any .327 Magnum revolver can also shoot (and properly eject) .32 Short, .32 Long and .32 H&R Magnum revolver cartridges. A .327 can even shoot .32 ACP autoloader ammo, but the fired cases must be pushed from the cylinder individually.
The .327 is the most powerful .32 handgun cartridge ever offered. It also hits about twice as hard as the .32 H&R Magnum. For example, the American Eagle factory load using a 100 grain jacketed soft point bullet has a catalog MV of 1500 fps with ME of 500 ft. lbs. (That ME puts it in the power class of .45 ACP +P loads!) These ballistics were achieved in a 4" vented test barrel and, based on our chronograph testing, are close to reality.
The .327 is also a very flat shooting cartridge, offering the flattest trajectory of any conventional revolver or auto pistol cartridge, including the .357, .41 and .44 Magnums. Naturally, this level of performance comes at the price of increased muzzle blast and recoil compared to less powerful .32 cartridges. It is, however, noticeably more pleasant to shoot than a .357 Magnum in a revolver of the same weight and barrel length. For most purposes, including practice and small game hunting, shooting .32 H&R Mag. ammo makes the 4" Ruger SP101 fun to shoot. We reserve full power .327 ammo for use in the field when larger animals, such as coyotes, javelina or predatory primates, might be encountered.
That first Ruger SP101 .327 Revolver (three inch barrel) was a handful to shoot. Fortunately, Ruger subsequently saw the light and offered the cartridge in their larger and heavier GP100, Blackhawk and Single-Seven revolvers, all with fully adjustable rear sights. We found all of these later .327's much more comfortable to shoot than the original .327 snub-nose SP101.
Now we have Ruger's .32 trail gun entry, the double action (DA) SP101 with a heavy 4" inch barrel, which is the subject of this review. This is a more sensible SP101 platform for the potent .327 cartridge than the earlier concealed carry version, although we would like to see a six inch barrel option. Improvements include a fully adjustable rear sight, ramp front sight with a green fiber optic insert, 4.2" barrel with a grooved top rib and attractive checkered laminated wood inserts in the rubber grip (instead of grooved plastic).
Except for caliber, this .327 SP101 is very similar to the previously reviewed .22 LR caliber SP101. The primary difference (aside from caliber) being the .327's full length under-barrel lug.
Like other SP101s, this .327 incorporates a stub grip frame, transfer bar ignition, front and rear cylinder locks and rubber grips. Ruger SP101s come in a handy, gray plastic, carrying case. Inside, in addition to the revolver, there is a gun lock, Instruction Manual and miscellaneous paperwork.
Like most Ruger revolvers, our test gun came with an overly heavy hammer spring (probably around 16 pounds). The solution, as almost every experienced Ruger revolver shooter knows, is to order a set of Wolff replacement springs. This is a practical necessity with any Ruger double action revolver. The SP101 spring pack (#17113) comes with 9, 10 and 12 pound reduced power hammer springs. The Instruction Manual explains how to remove the main (hammer) and trigger springs, which you need to know to install your Wolff replacement springs. Just follow the directions.
We found the Wolff nine pound spring unreliable with the Federal Premium Low Recoil factory load in our test gun, although it worked fine with Federal's American Eagle brand ammo (go figure). We were forced to switch to the 10 pound hammer spring, which solved the problem.
Unfortunately, we had used the Wolff replacement trigger spring from this particular set in another SP101, so for this review we used the stock trigger spring. Combined with the Wolff 10 pound hammer spring, this gave a single action (SA) trigger pull of 4.75 pounds per our RCBS pull scale. The double action pull was, as usual, beyond the range of our nine pound scale.
The grip shape is rather square in cross-section. If you don't like the stock grip, the stub grip frame makes changing the grip easy. One of our favorites for the SP101 is the Pachmayr Compact grip.
The SP101 frame has solid steel sidewalls. Access to the lock work is from the bottom of the frame, after removing the grip and trigger guard.
Depressing the release button on the left side of the frame allows the cylinder to swing out for loading/unloading in typical Ruger fashion. The chambers are not recessed to enclose the cartridge rims, allowing the rims of cartridges in a loaded cylinder to be seen from the side.
A single press of the hollow ejector rod ejects all six empty cases. The ejector rod does not turn with the cylinder.
The cylinder crane to frame fit is about average. Cylinder to barrel gap is tight and consistent. The cylinder star is symmetrical and uniformly machined. Cylinder locking is tight with little movement. The cylinder rotates counter-clockwise (out of the frame), making the front and rear cylinder latches a pious idea.
Ruger's satin stainless external polish is among the best, attractive without being highly reflective. It is a definite improvement compared to full matt stainless polishes.
The hammer supplied in 2015 SP101s has been improved. The new hammer has a substantially larger thumb spur with a gentle downward curve. The checkered top surface now has a border with a rounded edge. The new checkering is coarser, but not as sharp, to help avoid abrading the shooter's thumb pad. The result is a hammer that is more comfortable to thumb cock.
Specifications
Model #: 5773
Type: Double action revolver
Caliber: .327 Magnum
Cylinder capacity: 6 rounds
Barrel length: 4.2 inches
Grooves: 6
Twist: 1:16 inches RH
Material: Stainless steel
Finish: Satin stainless
Sights: Fully adjustable rear, fiber optic front
Grips: Rubber with wood inserts
Overall length: 9.1 inches
Height: Approx. 4.75 inches
Max. width: 1.35 inches (cylinder)
Weight: 29.5 ounces (empty)
Country of origin: USA
2015 MSRP: $719
As usual, we conducted the shooting part of this review at the Izaak Walton outdoor range south of Eugene, Oregon. This facility offers covered bench rests and 25 to 200 yard target stands. We did our shooting for record at our usual handgun testing distance of 25 yards, using 25 yard slow fire bullseye targets.
We fired five shot groups (less called flyers) using three .327 Magnum factory loads and one .32 H&R Magnum factory load. These included Federal Premium .327/85 grain Hydra-Shok JHP (1400 fps), American Eagle .327/85 grain JSP (MV 1400 fps), American Eagle .327/100 grain JSP (MV 1500 fps) and Hornady .32 H&R/80 grain FTX (MV 1150 fps) loads. Our friends at Federal Ammunition kindly provided the Federal and American Eagle .327 Magnum ammo for this review, for which we are very grateful.
This time out, Guns and Shooting Online regulars Chuck Hawks, Jim Fleck and David Tong participated in the shooting chores, using a sandbag rest on the shooting bench. We appreciated the covered benches, as the autumn weather was a chilly 45-degrees F with rain showers.
Shooting Results
Federal H-S .227/85 gr. JHP: smallest group 1-1/4", largest group 3-13/16", mean average group size = 2.37"
Am. Eagle .327/85 gr. SP: smallest group 1-1/4", largest group 3-3/4", mean average group size = 2.27"
Am. Eagle .327/100 gr. SP: smallest group 1/2", largest group 4-5/8", mean average group size = 2.63"
Hornady .32 H&R/80 gr. FTX: smallest group 1", largest group 3", mean average group size = 1.79"
AVERAGE GROUP SIZE FOR ALL LOADS = 2.27"
This time, Jim managed the smallest single group, a 1/2 inch wonder with most holes touching. We figure his wiggles compensated for his wobbles on that one!
Our shooters liked this .327's Patridge type adjustable sights. They are easy to align and we judged the size of the rear notch and the width of the front blade to be about right for a gun to be used in the field.
For best accuracy, all groups for record were fired single action. This is the most accurate way to shoot any DA revolver and the way it will normally be fired in the field.
We found the hammer draw good (using the Wolff 10 pound hammer spring) and the SA trigger pull (using the stock trigger spring) acceptable. Based on our previous experience, a Wolff trigger spring should reduce the 4-3/4 pound trigger pull to around 3-1/2 pounds.
This all steel revolver has a solid feel in the hand. No one complained about the size of the grip, which was satisfactory (but not generous) for our medium size hands. Chuck mentioned that he would prefer a more oval grip cross-section, but didn't feel the gun's rather rectangular grip shape had any appreciable effect on his ability to shoot from a bench rest at 25 yards.
The 4" SP101's recoil is rather sharp with full power .327 cartridges, indicating considerable recoil velocity to our educated hands. However, the blow to the hand is much less that it would be from a 30 ounce .357 Magnum revolver. With .32 H&R Magnum loads (consider them mid-range ammunition), it is a pleasure to shoot.
The little SP101 worked fine during our testing. There were no malfunctions with the reduced power 10 pound mainspring installed.
Conclusion
With factory loads available in power levels ranging from .32 S&W Short to full power .327 Magnum, the 4" SP101 reviewed here is just about the most versatile DA revolver on the market. This is an important factor in the ongoing Obama Administration inspired ammunition shortage, which at the end of 2015 appears to be far from ending anytime soon. The shooter can pick the load that best suits his or her purpose, budget and skill level.
Although we see the .327 Federal Magnum as primarily a cartridge for use in the field, the SP101 4" .327 should also make a very satisfactory home defense handgun. The Federal Premium 85 grain Hydra-Shok .327 Mag. defense load certainly delivers plenty of power, maybe too much for most shooters to unleash indoors. In that case, consider the Hornady .32 H&R Mag. FTX load. Its 1150 fps MV and 235 ft. lb. ME seems like a reasonable compromise.
Our .327 Magnum Ruger SP101 4" test gun would make a good centerfire trail gun. Carried in a field holster or a backpack, it would be a useful hiking and camping companion, providing both recreation (plinking or hunting) and protection. .32 H&R Magnum ammo should suffice for most purposes and with .327 Magnum ammo it shoots very flat and hits hard. The SP 101 #5773 is a controllable, well made, small frame, medium size revolver with fully adjustable sights and the price is right.