The Ruger SR9 9mm Pistol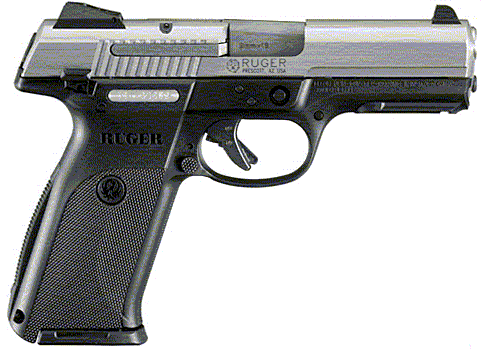 Illustration courtesy of Sturm, Ruger, Inc.
Sturm, Ruger and Company has been many things lately: all the right things, it seems. It is one thing when awards and accolades come from within the industry, but quite another when they are independent and mainstream. Forbes magazine, in their November 8, 2010 issue, named Ruger & Co., Inc. (NYSE: RGR) one of "America's 100 Best Small Companies" in 2010. Ruger has no debt; their stock price has soared over the last couple of years and in 2010 close to 25% of their sales was attributed to newly introduced product. They are doing a lot of things right and people are noticing, both in and outside the industry.
Over the years, I have had good results from a variety of Ruger products. Their .22 rimfire autoloading pistols have always been an excellent value and the 10/22 autoloading rimfire rifle has been an industry leader for a couple of decades. The classy No. 1 single shot rifle started a trend that is still going strong. Ruger single action revolvers are among the best ever made. The Ruger Super Redhawk .44 Magnum DA revolver has been my favorite hunting handgun for many years. More recently, the Ruger LCR has gained high praise. The lightweight, snub-nose, double action revolver has been done before, but never with so much innovative thinking.
Although many Ruger firearms have been very successful, their centerfire, autoloading pistols have been largely forgettable. This includes the "P" Series and the original SR9 from October 2009, which had trigger issues. Ruger offers a no-charge retrofit of the 2007-2008 SR9 to the new trigger with a free magazine as a thank you. This apparently applies to SR9 models with serial numbers below 30,000.
All this past ambivalence has changed, in a big way, with the current production SR9. It is a full size 9mm Luger autoloader, with the following basic specifications:
<![if !supportLists]>· <![endif]>Model Number: 3301

<![if !supportLists]>· <![endif]>Caliber: 9mm Luger

<![if !supportLists]>· <![endif]>Slide Material: Stainless Steel

<![if !supportLists]>· <![endif]>Slide Finish: Brushed Stainless

<![if !supportLists]>· <![endif]>Grip Frame: Black, High Performance, Glass-Filled Nylon

<![if !supportLists]>· <![endif]>Sights: Adjustable 3-Dot type

<![if !supportLists]>· <![endif]>Barrel Length: 4.14"

<![if !supportLists]>· <![endif]>Overall Length: 7.55"

<![if !supportLists]>· <![endif]>Height: 5.52"

<![if !supportLists]>· <![endif]>Width: 1.27"

<![if !supportLists]>· <![endif]>Weight: 26.50 oz.

<![if !supportLists]>· <![endif]>Capacity: 17+1

<![if !supportLists]>· <![endif]>Twist: 1:10" RH

<![if !supportLists]>· <![endif]>Grooves: 6

<![if !supportLists]>· <![endif]>2011 MSRP: $525.00
Several things are notable about this revised SR9. Where the Ruger pistol triggers have been rated from adequate (at best) to inadequate in the past, this 9mm has a Ruger rendition of the Glock "Safe Action" trigger. The SR9 is striker fired with the same trigger pull weight every shot. According my Lyman digital trigger gauge it breaks right at five pounds, the same pull weight as a standard Glock trigger is supposed to be. However, the test SR9's trigger is noticeably lighter than my personal Glock 19, which is stiff by comparison.
The Ruger SR9 is also a good-looking pistol. The frame is glass-filled polymer and the slide is stainless steel. The SR9 has a reversible rubber back strap. I prefer it as supplied, with the curved side facing outward. The white three dot sights are adjustable and easy to use. There are plenty of safety features, including large flip-up chamber-loaded indicator you can quickly note by sight or feel and an ambidextrous manual slide safety, a magazine disconnect safety and a striker indicator. For many shooters this is all self-explanatory. The only unusual thing to note is that Ruger warns you must keep an empty magazine in the SR9 when dry firing or risk striker damage.
There is an integral M1913 rail built into the front of the frame for mounting a tactical light or laser sight. Accessories are widely available for the SR9. After the initial range work, I installed a set of Crimson Trace laser grips on the test pistol. They are actually the LG-449 LaserGuard set designed for the compact version of the SR9, the SR9c.
Most of my initial shooting was at 15 yards with 147 grain Remington match ammo. The handling and shooting characteristics of this pistol are excellent. Through designed with a slim profile (the widest part is the ambidextrous manual safety), this gun minimizes felt recoil. I found it easy to keep the gun on target and put 17 shots in a four inch area, firing offhand at 15 yards, as fast as I could pull the trigger. It is the opposite of all those nasty little hand-slapping .380 ACP pistols. The SR9 is fun to shoot and easy with which to hit. There were no malfunctions whatsoever.
The cartridge referred to as the 9mm Parabellum, 9mm Luger or 9x19mm has been around, courtesy of Georgi Luger, since 1902. With the recently renewed interest in self-defense handguns, vast improvements have been made in 9mm ammunition. Most of my test shooting was with Remington R9MM9 147 grain match ammo (990 fps), but there are better options for defense purposes, such as the 115 grain Hornady Critical Defense loads (1140 fps) that offer 15% or so less free recoil, less muzzle flash and positive bullet expansion with adequate penetration.
The Ruger SR9 is the most pleasurable, thoroughly satisfying, 9x19mm pistol I have tested in many years. Everyone who shot this pistol had the same reaction: I have to get one. The build quality is confidence inspiring and the SR9 is about as ambidextrous (including the magazine release) as one can hope for in a pistol.
The SR9 is a dream to shoot and easier on the eyes than some of the tacti-cool offerings out there. The SR9 pistol is made in the USA and comes with two 17 round magazines from Mec-Gar in Brescia, Italy. They are superbly formed and function perfectly. With a MSRP of $525, street price is more in the $425 - $450 range, making the SR9 a superb value in today's market. It is hard not to wax enthusiastic over this pistol. It lacks nothing and if you try it, you will want to own one. The 2011 version of the Ruger SR9 is simply outstanding.
Note: A review of the Ruger SR9c compact pistol can be found on the Product Reviews page